I think we can all agree the market can at times be, shall we say myopic? But in the long run, the market has a great way of separating the winners from the losers. It is the summation of all thoughts, fears, demand, supply, and even a bit of greed. The market is the consummate weighing machine of not the past, but the prospects of a company.
So, when I see Costco (NASDAQ: COST) trading at all-time highs, with a large expansion in its market multiple its easy to dismiss this as Ahh the market is overvaluing this company and to be skeptical. I was cautious on the stock at $158. But it is more prudent to try to understand just why the market seems so in love with Costco lately and why I had it so wrong.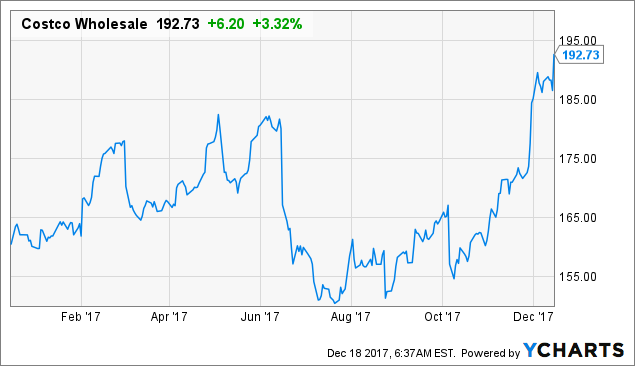 COST data by YCharts
Nice chart lately. You can see the noise effects of Amazons (NASDAQ: AMZN) foray into Whole Foods. The pros/cons of that purchase have been repeatedly covered here on Seeking Alpha. A 2nd chart below, with a more expanded time frame, shows Costcos Trailing Twelve Month (TTM) P/E Ratio. Note, the stock is not that far above its historical average P/E multiple.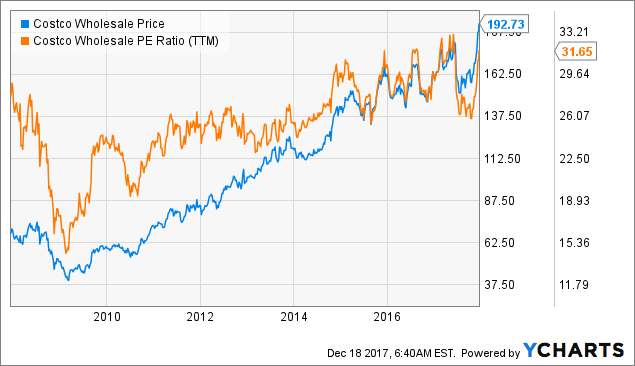 COST data by YCharts
The value folks are screaming Sell! and the long-term holders are simply saying Yawn. If the short argument is that the stock is overvalued that is a bit of a stretch, but you could make that case. But how overvalued? 20-30 points or so? Not a compelling risk-reward. Shorting stocks on valuation is almost always the wrong approach.
Sometimes its just as simple as this, the best stocks always seem overvalued. But in Costcos case, Im going to outline 4 reasons why the market might have this one right. I progress from the rather obvious point 1 to the bit more obscure point 4.
Point 1 – Solid management and a long-term, laser-like focus on its customers and needs.
No new revelations here, but Costcos management is well regarded. Employees are treated rather well for a retailer. 88% of Costco Employees have company-sponsored healthcare. Coincidentally, 88% of Costco employees think they are Fairly Paid. A loyal workforce and low turnover have always been a Costco staple. Not an earth-shattering observation I know, but still refreshing to see.
Point 2 The membership program, and the effect on gross margins.
Of course, we all know that Costco has a membership fee. This allows the company to sell products at a razor-thin margin. The company's yearly gross margins, dating back to 2008, can be seen here. Lately, margins have been about 13.3%. Yes, that includes its membership fees. But the world is changing. Here is where Amazon might have helped Costco. It is now very well engrained into the customer's behavior to pay membership fees. There is always the bull/bear argument on whether or not Costcos fees are sustainable. I would bet they are. It is not a "one or the other" type of arrangement for customers. You can have an Amazon Prime membership and a Costco membership. The disloyalty police do not come knocking on your door. I would like to know the statistics on how many customers have both. I think the results would be surprising. For now, that will have to be a number we can only guess at, as I dont see Amazon and Costco working together to reveal that information.
But at Costco, it seems you really do get something for your membership. Here is where Costco shines. By only having a limited inventory and limited SKU selection it can really drive value on its customers' needs. Here is a quote right from its corporate web page
Commitment to quality. Costco warehouses carry about 4,000 SKUs (stock keeping units) compared to the 30,000 found at most supermarkets. By carefully choosing products based on quality, price, brand, and features, the company can offer the best value to members.
So, lets take a real-world example. While researching this piece, I took an item from Costco and compared it directly to the same item on Amazon. I was more than a little surprised by the price disparity.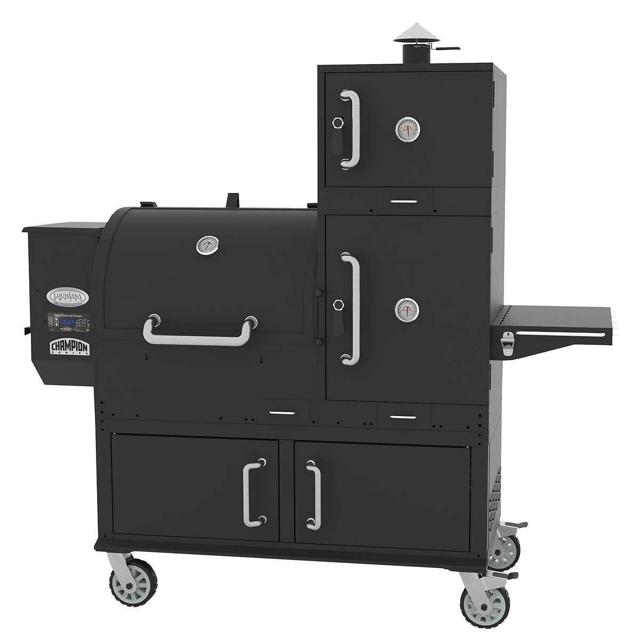 At Amazon, this Louisiana Grills Champion Pellet Grill retails for $1533 + $230.49 shipping. The same exact item at Costco is listed at $1,199.99 with Shipping & Handling included. Thats pretty big savings! Seems a popular item as when I checked back, it now says Out Of Stock on Costcos site. Looking at the comments section on Amazon, some noted the item on Costcos site as listing at $999 at one point.
In general, I would say nearly any item you find at Costco will be of value. When Costco only marks the product up 15-17%, It would be difficult for any other retailers to match.
With more and more people accepting the concept of membership fees (thank you, Amazon), I dont think the bears' argument that people will stop paying is rational.
Point 3 Lets talk about quality
In the new world of retail, where nearly anything can be bought online, how do you control the quality? With everyone and their brother setting up Shopify (NYSE:SHOP) stores and selling direct from Aliexpress and Alibaba (NYSE:BABA), whos keeping an eye on the quality?
I recently served as COO for a large manufacturing company here in Cebu, the Philippines. Costco was one of our newer customers. The level of quality control it required of us was incredibly detailed. The weight (of a hand cast, stone cast item) had to be in a range of 0% to +5% of list. Most of our customers give us a 20% leeway. Our first samples went to a testing lab where it conducted 47 pages of tests on the product. These included special designed weight tests (It was a Garden stepping stone item) with various forces applied for various times from different angles. Sun exposure tests, chemical tests, every paint was tested for lead. It performed acid tests on durability, finish strengths, color, nearly everything and more, that one could think of. Before final shipment, Bureau Veritas, a highly regarded 3rd party testing agency, sent three people who tested our final products for two days straight. Costcos testing requirements are much more rigorous than what we observed for other mass market retailers.
Because Costco has such a narrow SKU focus, it can really attend to the marketability, quality, price, and function of its products. I came away from that experience thinking to myself I feel pretty good about anything I buy at Costco.
Amazon does not have this luxury. The company cannot possibly perform this level of detailed quality control on its items.
Costco 4000 SKUs.
As of January 2017, Amazon had 372.5 million SKUs.
This gives Costco an enduring and competitive advantage on quality.
Point 4 Here is where I think the market really has Costco right. Retail 3.0
Yes, it seems an expensive stock. Yes, it has run straight up lately. But lets think about how retail has changed. Uh oh, did he just say, This time is different? Yes, I did! This time it is different and thats what the stock chart has been telling us.
Lets explore what has changed.
Retail 1.0 First we had the good old-fashioned stores. They put up a physical presence in an area, sold their wares, tried to get more traffic and expand locations. They traded at conventional market multiples of, lets just say, X times earnings/cash flows etc. Fine
Retail 2.0 Then of course came the internet. No longer should we be burdened by the overhead of those pesky, out-of-date, Brick & Mortar retailers. Everything was going to go online. Every B&M was going to be put out of business. As trust grew with online purchases, the market potential (and some market caps) began to soar.
But what multiple should Retail 2.0 trade at? Still a work in progress on figuring that out, but the market has come a long way in the last 20 years on this topic. At least we arent referencing internet stocks like the old days as a multiple on eyeballs and page views. Matter of fact, we really dont even call them internet stocks anymore.
But doesnt it make sense that a company with less physical assets and without the burden of rents/employees/overhead should trade at a larger multiple maybe 2x or 3x. I dont really know the answer to that question, but I do know the answer to the next point.
Retail 3.0 Somewhere along the way of all B&M going out of business, a funny thing happened it didnt. Suddenly, many of the traditional B&Ms learned how to compete online. Home Depot (NYSE: HD) is one of the greatest examples. Just considering its e-commerce sales, Home Depot is the #7 largest internet retailer!
Suddenly having physical locations across the country is no longer a liability. It is a real asset. Costco can out Amazon (its a verb), Amazon. It has many ways to leverage its physical assets.
BOPIS Buy Online, Pickup in Store today BOSS Buy Online, Ship to Store BORIS Buy Online, Return to Store BODFS Buy Online, Deliver from Store
As Amazon tries to build out a physical footprint, Costco is already there. You could even say that Amazons purchase of Whole Foods was a complete validation of the Retail 3.0 concept. Amazon recognized its weakness and is moving to correct it. The market is finally beginning to validate the physical presence of companies who also sell online. Retail 3.0 is the integration of B&Ms into an online world.
Shouldnt companies, with these new revenue levers, simply trade at higher multiples than the Five & Dimes of the past? Can you really value these stocks in the same manner as before?
So how about the stock?
I understand Im taking a big risk here. Ive gone full heretical. This is exactly what a top-tick article looks like. But I will be buying my first purchase of Costco stock this week. Would I love to wait for a pull-back? Sure, but not even a Genie can tell you when and how that will happen. Ill build a small and growing position. It really wont matter that much whether I bought at 180 or 190 when the stock reaches 500. How long will that take? Probably more than a few years, but I can be patient. Sometimes you have to leave the meat in the smoker for good long while.
Why not buy your full position now then? Well, I still think Costco will have some margin pressure (due to packaging article in link) in the next 6-12 months. Not sure how much that will be. If it takes the stock down some, Id like to have room to buy more. Plus, as I rotate out of other stocks, Ill have more available capital to put to work in Costco. This isnt a short-term trade for me. If my theory is correct, that Costco will begin to be more appreciated by the market for its retail 3.0 progress, my holding period will be measured in years. If Im wrong, and the world hasnt changed, well there is that nice dividend still right?
As always, best of luck to all. I'll continue to update the Asia packaging problems in my blog as I have new information.
Disclosure: I/we have no positions in any stocks mentioned, but may initiate a long position in COST over the next 72 hours.
I wrote this article myself, and it expresses my own opinions. I am not receiving compensation for it (other than from Seeking Alpha). I have no business relationship with any company whose stock is mentioned in this article.
Additional disclosure: Largest holdings are HOME, BP, NEWR. I will be purchasing COST this week.
About this article:ExpandAuthor payment: $35 + $0.01/page view. Authors of PRO articles receive a minimum guaranteed payment of $150-500.Tagged: Investing Ideas, Long Ideas, Services, Discount, Variety StoresWant to share your opinion on this article? Add a comment.Disagree with this article? Submit your own.To report a factual error in this article, click here