tags:
Corsair Gaming (NASDAQ:CRSR) designs, markets and distributes gaming and streaming peripherals, components, and systems in the Americas, Europe, Asia Pacific and the Middle East. The company's recent second-quarter 2021 results were strong, but CRSR stock still declined.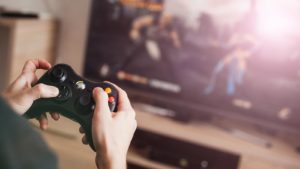 Source: Shutterstock
This could be an interesting investment opportunity as the fundamentals of the company are strong and its valuation also seems to be attractive.
CRSR stock has been discussed in online forums this year and one could argue that it has been a meme stock.
But is it really?
CRSR Stock: More Than Meme
My opinion on meme stocks is that until today, I have not found any with good fundamentals that someone should buy based on facts.
To me, CRSR stock is not a meme stock because it delivered growth, profitability and plenty of value in the form of free cash flow. Yes, the stock's short ratio could make it a candidate for a potential short-squeeze.
7 Dividend Stocks to Avoid Until They Start to Shape Up Again
Is it the perfect stock now? No it isn't. But there are plenty of things for potential investors to like.
A strong second-quarter earnings report on Aug. 3 has yet to be reflected in the stock price. CRSR stock is down 25% in 2021 but this selling pressure could change based on the latest quarterly report:
"Net revenue was $472.9 million, an increase of 24.3% year-over-year. Gamer and creator peripherals segment net revenue was $155.2 million, an increase of 40.9% year-over-year. Gaming components and systems segment net revenue were $317.7 million, an increase of 17.6% year-over-year. "Gross profit was $130.4 million, an increase of 24.1% year-over-year, with a gross margin of 27.6%, flat year-over-year. Gamer and creator peripherals segment gross profit was $54.6 million, an increase of 41.0% year-over-year. Gaming components and systems segment gross profit were $75.7 million, an increase of 14.2% year-over-year. "Net income was $27.7 million, or $0.28 per diluted share, compared to net income of $22.6 million in the same period last year, or $0.26 per diluted share."
But not all key metrics were good. The company reported operating income of $34.7 million, which was a 4.7% decrease year-over-year. Cash flows from operations also dropped from $73.6 million to $31.6 million in the same period.
Improvement in Major Metrics
A turnaround for Corsair is evident. The annual 10-Q form for the fiscal year 2020 showed that the company is delivering strong financial performance.
I want to focus on the following key metrics:
Net revenues: $1,7 billion in 2020 versus $1,09 billion in 2019 or 55% increase. Net income: $103 million in 2020 versus a loss of $8.3 million in 2019. Operating income: $158 million in 2020 versus $23,7 million in 2019, 566% increase. Debt net: $321 million in 2020 versus $505 million in 2019.
I like the revenue growth, profitability improvement and the reduction of debt making the balance sheet stronger. But where Corsair seems to be making tons of financial progress is free cash flow. According to MarketWatch, in 2019 Corsair reported a free cash flow of $28.26 million. This marked a 456.62% increase compared to a negative $7.92 million in 2018.
And in 2020, the company reported a free cash flow of $159.77 million, an increase of 465.46% increase versus 2019.
Valuation of CRSR Stock
An article by ReportLinker titled "Gaming Market – Growth, Trends, COVID-19 Impact, and Forecasts (2021 – 2026)" mentions that solid growth is expected for the world's gaming industry.
This growth could strengthen further Corsairs' revenue and profitability.
Meanwhile, an analysis of Corsair's share valuation by CSIMarket shows that the decline in 2021 makes CRSR stock more attractive.
The price-earnings ratio for Q2 is 29.1. This compares well to ratios for the professional services industry (49.01) and services sector (48.87). respectively. The price to sales ratio for Corsair is 2.76, well below the 5.1 for its industry and 3.17 for the sector.
Overall, I like CRSR stock. The company has found the way to deliver strong financial results. And if 2020 was a transitory year due to the pandemic, 2021 shows that revenue growth continues to be strong. This, combined with the substantial free cash flow growth, makes me optimistic about the future of Corsair.
On the date of publication, Stavros Georgiadis, CFA did not have (either directly or indirectly) any positions in the securities mentioned in this article. The opinions expressed in this article are those of the writer, subject to the InvestorPlace.com Publishing Guidelines.
Stavros Georgiadis is a CFA charter holder, an Equity Research Analyst, and an Economist. He focuses on U.S. stocks and has his own stock market blog at thestockmarketontheinternet.com/. He has written in the past various articles for other publications and can be reached on Twitter and on LinkedIn.