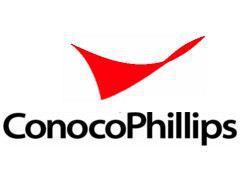 ConocoPhillips (COP) is a preferred investment in the energy sector as energy prices continue to recover. The energy company took a major hit during the last energy bear market which resulted in a dividend cut. But oil prices are in an upward trend, the company has reduced operating costs and divested non-core assets to delever its balance sheet. I consider ConocoPhillips to be an excellent choice to play a continued recovery in oil prices.
ConocoPhillips did have a hard time in 2014-2016 when energy prices fell to their lowest levels in more than a decade. As a matter of fact, ConocoPhillips was one of the hardest hit oil majors, which was largely due to its heavy reliance on the upstream business to drive profit and free cash flow growth.
Upstream Business Is A Cyclical Bet On Price Recovery
A drop in price realizations hurts energy businesses that only operate upstream businesses more than others as they don't have a hedge in place to diversify away price risk. Typically, downstream businesses work as a hedge for integrated energy companies: Lower price realizations in the upstream segment imply lower input costs in the downstream part of their portfolio, which in turn is a catalyst for higher margins and better free cash flow.
ConocoPhillips' reliance on the upstream business – the energy company spun off its refinery assets in 2012 into Phillips 66 (PSX) – hurt the energy company and its shareholders during the last bear market. In fact, ConocoPhillips' shares have experienced more downside and volatility than the shares of other major U.S. energy companies.

Source: CNBC
While ConocoPhillips was kicked to the curb during the last downmarket due to its sole dependence on the upstream business, the company is a promising bet in an environment of rising oil prices, in my view. Since ConocoPhillips continues to rely on its upstream business to drive total profits and cash flow, higher energy prices could potentially be a bigger catalyst for ConocoPhillips than they could be for Chevron Corp. (CVX) or ExxonMobil (XOM), for example.
The good news is that oil prices are in a bullish setup and could edge higher as long as global economic growth remains robust, and OPEC continues to restrict output. The recently agreed oil cut extension between OPEC and Russia further supports oil prices and an investment in a pure upstream play like ConocoPhillips.
Oil prices have come a long way since the first quarter 2016.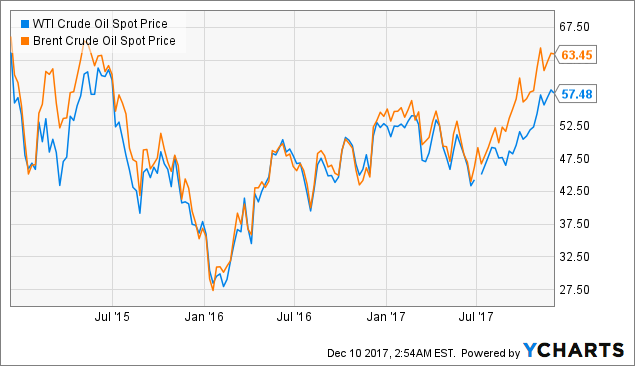 WTI Crude Oil Spot Price data by YCharts
The Dividend Is Growing Again… And Is Now A Top Priority
ConocoPhillips slashed its dividend payout in the first quarter of 2016 from $0.74/share to $0.25/share which contributed to the company's underperformance. On the other hand, ExxonMobil and Chevron both grew their dividend.
That said, ConocoPhillips' dividend has started to grow again as the company restructured its costs and sold non-core assets.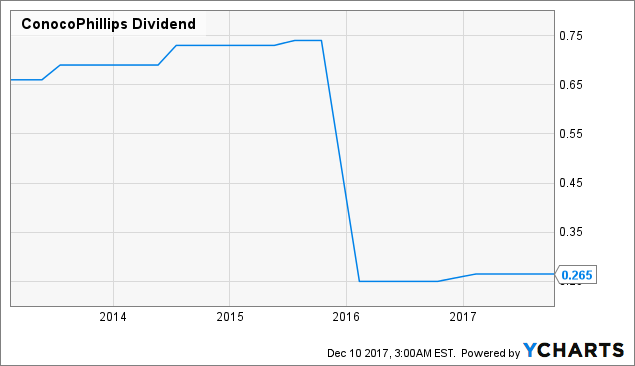 COP Dividend data by YCharts
ConocoPhillips has presented an operating framework for the next three years that lays out its financial targets and priorities. The company targets a 20-30 percent payout ratio, but that payout ratio could in fact rise if price realizations stabilize in the $60/barrel price region (base case planning scenario rests on $50/barrel oil prices).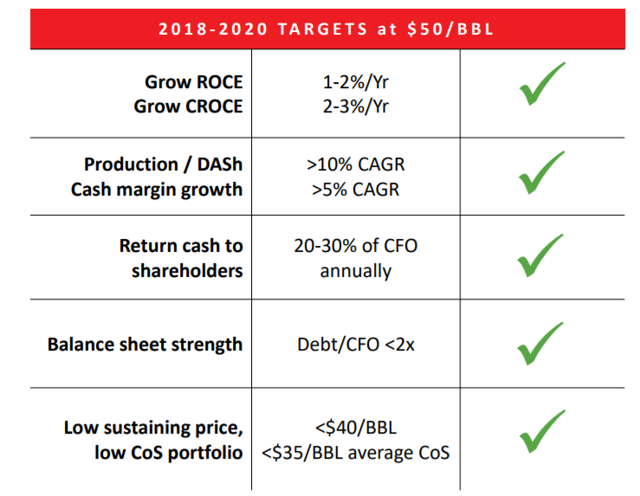 Source: ConocoPhillips
Though management is determined to grow production and repurchase shares, the company's top priority is to maintain and grow its dividend.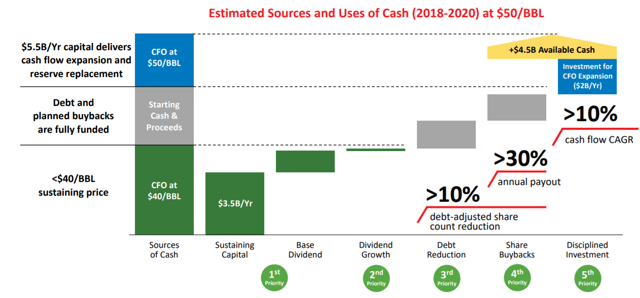 Source: ConocoPhillips
Valuation – Higher Risk, But Also Higher Reward
ConocoPhillips is more expensive on a forward P/E basis than the other major U.S. energy companies, which is a reflection of ConocoPhillips' higher risk due to its outsized upstream exposure.
Here's a valuation table comparing ConocoPhillips to ExxonMobil and Chevron.

Source: Achilles Research
Your Takeaway
The lack of a downstream business (hedge) hurt ConocoPhillips during the last energy market downturn, but a concentrated upstream business is poised to benefit ConocoPhillips in an energy bull market. Since oil prices are in a bullish setup and have edged back up to ~$60/barrel, ConocoPhillips is the most attractive energy company to invest in, in my opinion. ConocoPhillips' dividend is growing again on the back of recovering price realizations, too, and the dividend could grow faster than the dividends of ExxonMobil and Chevron going forward, thanks to ConocoPhillips' more cyclical earnings profile. Buy for income and capital appreciation.
If you like to read more of my articles, and like to be kept up to date with the companies I cover, I kindly ask you that you scroll to the top of this page and click 'Follow.' I am largely investing in dividend-paying stocks, but also venture out occasionally and cover special situations that offer appealing reward-to-risk ratios and have potential for significant capital appreciation. Above all, my immediate investment goal is to achieve financial independence.
Disclosure: I am/we are long XOM, COP.
I wrote this article myself, and it expresses my own opinions. I am not receiving compensation for it (other than from Seeking Alpha). I have no business relationship with any company whose stock is mentioned in this article.
About this article:ExpandAuthor payment: $35 + $0.01/page view. Authors of PRO articles receive a minimum guaranteed payment of $150-500.Tagged: Investing Ideas, Long Ideas, Basic Materials, Oil & Gas Drilling & ExplorationWant to share your opinion on this article? Add a comment.Disagree with this article? Submit your own.To report a factual error in this article, click here