Series Introduction:
This will be a four-part series on China's rapid technological growth in the past few years. Each part will focus on a different investment you could make today in order to get a piece of China's booming technology sector.
Tencent Overview: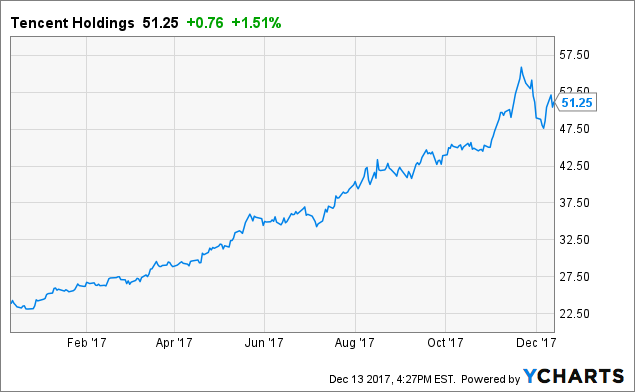 TCEHY data by YCharts
If you spend any amount of time in Beijing or Shanghai, you'll notice something interesting almost right away. No one is carrying cash or credit cards, and almost no one uses their cellphone number as their primary means of communication. Instead, they're using an app called WeChat, which is similar to having Facebook (FB), PayPal (NASDAQ:PYPL), Skype, and text messaging all bundled together into one app. Tencent (OTCPK:TCEHY) (OTCPK:TCTZF) owns this application, which has over 950 million active users.
Tencent's revenue growth has been astounding, and analysts expect that trend to continue into the future: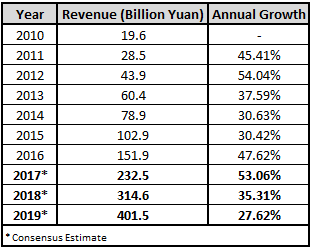 The reason for this massive growth is because Tencent owns people's screen time in China. Whether you're paying bills, playing a game, talking with friends, or hailing a taxi, you never have to leave Tencent's world.
Speaking of games, Tencent also just happens to be the world's leader in mobile gaming based on revenues. It's currently ahead of Apple (AAPL), Microsoft (MSFT), Sony (SNE), King (KING), Electronic Arts (EA), Zynga (ZNGA), etc. What's even more impressive is that despite being the top player in this area, it still grew its gaming revenue by 39% in the past year, and its market share in the space is continuing to increase.
Tencent has accomplished this dominance in the gaming sphere by partnering with a lot of the major players in the space to bring online versions of FIFA, Call of Duty, NBA 2K, and other extremely popular games to China.
Another interesting area where Tencent operates is streaming. Basketball is a perfect example of its foresight into this space. The popularity of the sport in China has exploded over the past decade, thanks in large part to Yao Ming. So what did Tencent do? It went out and struck a deal with the NBA to stream games in China. 65 million people watched the NBA finals last year from their phones in China through Tencent.
Besides gaming and streaming, Tencent's other two major areas are social networks and advertising, which grew by 51% and 55% in the past year, respectively. Tencent is a $488 billion company that is still growing like a start-up. If you scroll back to the revenue chart above, you'll see that the company's revenue is expected to double by 2019.
Tencent's social networks are particularly interesting to me. We've already discussed WeChat a little, but it has another app called QQ that has 850 million active users. Both QQ and WeChat together dominate China's mobile payment space. Today, QQ and WeChat have over 300 million bank accounts linked to their mobile payment system.
As if all this wasn't enough, QQ also has an application called QQMusic, which is considered to be the Spotify of China. This is an area where I anticipate Tencent will see a lot of growth moving forward.
Growth Potential:
Tencent has numerous potential catalysts that could push the stock price higher, but there are a handful that I want to specifically point out that are quite promising.
The first is in the gaming space, specifically with e-sports. China has the world's largest video game market, which is expected to generate about $27.5 billion in sales this year. This incredibly large video game market has spurred an immense interest in e-sports in China and other Asian countries. In fact, the Olympic Council of Asia recently announced that it would be including e-sports at the Asian Games in Hangzhou in 2022.
E-sports have grown so popular in Asia that a crowd of more than 40,000 people recently packed into a stadium to watch two of South Korea's biggest gaming stars play each other head-to-head. Tencent has a stranglehold on this market. The company recently signed a deal with the city of Wuhu to build an e-sports university and a stadium for events.
Tao Junyin, the market director of a top e-sports content company recently said, "Tencent has a controlling power in the whole industry, so we have to find a way to work with Tencent. You either die or you go Tencent." Tencent has a stranglehold on the e-sports market in Asia and will benefit tremendously from its rapid growth.
Another area where the company could see growth is the music streaming space. Tencent owns QQ music, KuGou, and Kuwo, which together make up over 75% of China's music streaming market.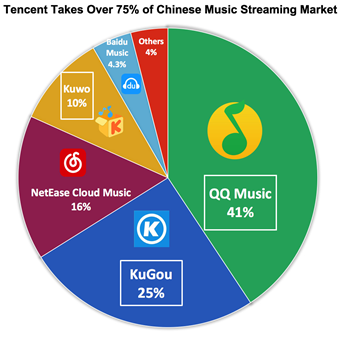 (Source)
Tencent has exclusive online distribution deals with Sony Music, Warner Music Group, and Universal Music Group. Its deals with the three largest music labels and dominance of market share put Tencent in a great position to control China's music streaming market, which is relatively immature at the moment.
While China is the world's most populous country, with over 1.3 billion people, it is only 12th in the world in terms of recorded music revenue. That's up from 14th in 2015 according to the International Federation of Phonographic Industry (IFPI). This jump was largely due to the 30.6% growth in streaming and China's 20.3% growth in music revenue, which was almost four times the 2016 global average of 5.9%.
Despite these impressive growth numbers, China's music industry is still lagging behind the rest of the world. This gap won't last forever, and as China begins to catch up with everyone else, Tencent stands to be the main beneficiary.
Finally, I just wanted to quickly point out that China's mobile internet use is only expected to grow faster in the coming years, something that will clearly benefit Tencent.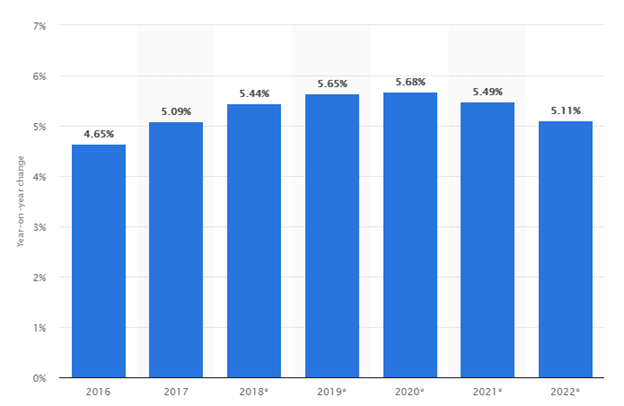 (Source)
Risks:
There are two main risks I want to point out before you invest your money into Tencent. The first is its valuation. After everything we just discussed, it should be no surprise that you're going to have to pay a premium to get into this name. Tencent's 51.69 P/E ratio currently reflects that.
Tencent has enjoyed a nice run-up over the past year, so some short to medium-term weakness certainly wouldn't surprise me. If you plan on investing money that you may need within the next year, Tencent might not be the best investment for you. That being said, I'm a long-term investor, so some short to medium-term weakness would allow me to add to my current position at a cheaper price.
The second risk comes with investing in almost any Chinese company, and that's the risk of regulation. Any regulations in China dealing with the internet could make life more difficult for Tencent and potentially limit its capabilities.
Conclusion:
Tencent seems to be doing everything right. They are major players in almost every facet of China's tech revolution, which is why some people expect Tencent to become the world's biggest company by 2025.
If you want to own some of China's technology revolution, Tencent is one of the best places to start. Stay tuned for Part 2 of this series coming in the next few days.
Author's note: If you would like to follow along with my China Series and other analysis, I would encourage you to hit the follow button next to my name at the top of the page. I enjoy interacting with my followers, so please comment below!
Disclosure: I am/we are long TCEHY.
I wrote this article myself, and it expresses my own opinions. I am not receiving compensation for it (other than from Seeking Alpha). I have no business relationship with any company whose stock is mentioned in this article.
Editor's Note: This article discusses one or more securities that do not trade on a major U.S. exchange. Please be aware of the risks associated with these stocks.
About this article:ExpandAuthor payment: $35 + $0.01/page view. Authors of PRO articles receive a minimum guaranteed payment of $150-500.Tagged: Investing Ideas, Long Ideas, Technology, Application Software, ChinaWant to share your opinion on this article? Add a comment.Disagree with this article? Submit your own.To report a factual error in this article, click here