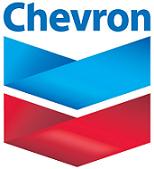 As I mentioned in a previous Seeking Alpha article earlier this month, Chevron (CVX) is expected to be a prime beneficiary of two recent developments in the Asia LNG market:
Higher spot prices (see CVX: Strong Spot Pricing For Asia LNG). Higher LNG contract prices due to long-term Brent indexed pricing.
These two developments, coming on the heels of Chevron placing its two massive Australian LNG mega-projects into service (Gorgon and Wheatstone), mean production, and cash flow will jump dramatically in Q4. And this comes as Chevron announced its 2018 capital budget of $18.3 billion is $1.5 billion lower as compared to this year. As a result, Chevron hit a three-year high yesterday and it's likely to head even higher: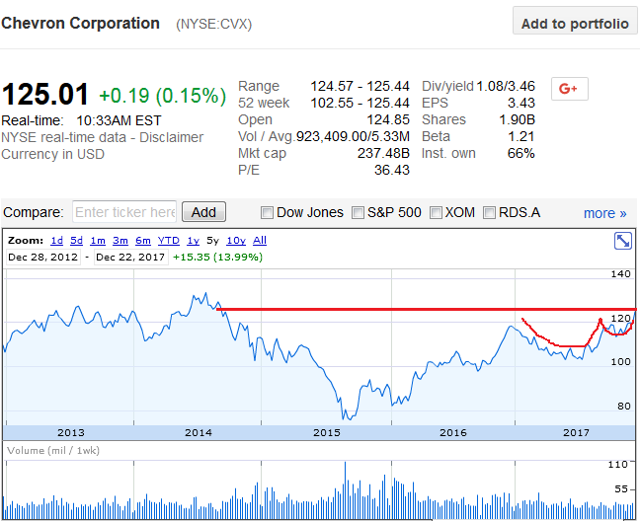 Source: Google Finance
I say that for two reasons. Number one, and while I'm not the biggest fan of technical trading, Chevron has a well-defined, long-term cup-and-handle configuration. The cup-and-handle chart pattern was made famous by Investors Business Daily many years ago. According to IBD, what's now needed for a real breakout in Chevron's stock is another move up on significantly higher volume – 40-50% higher than CVX's average daily volume of 5.3 million shares. So that is something for investors to watch.
But my followers know I put more stock (pun intended) into market fundamentals as compared to technical chart patterns. While the LNG dynamics are exhibit No. 1 in that respect, what I feel is being overlooked with Chevron is the benefits of the recent "tax reform" bill that drops the U.S. corporate rate from 35% to 21%.
The dirty little secret behind this legislation is that many U.S. corporations never paid 35% to begin with due to all the loopholes built into the tax code. Studies suggest the average real corporate tax rate in the U.S. was closer to 24%: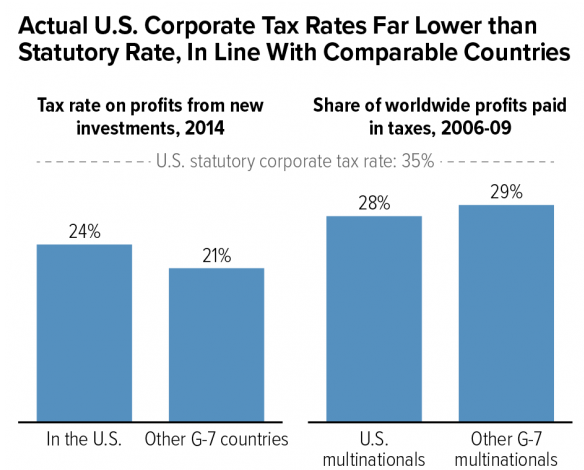 Source: Center On Budget and Policy Priorities
However, one sector of the economy that has been paying close to the 35% statutory rate has been energy companies. A recent Forbes article said the energy sector would be the biggest beneficiary of the new tax regime. The article pointed out that ConocoPhillips (COP) paid a corporate tax rate of close to 50%. It said the lower tax rates mean Phillips 66 (PSX) is expected to grow earnings 16% next year just due to the new tax rate.
But what about Chevron? In another Forbes report on the 25 highest taxed U.S. corporations, Chevron was identified as paying the second highest tax rate: 43%: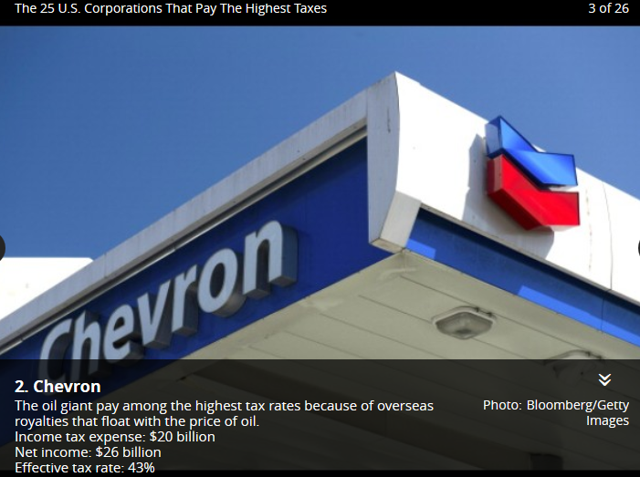 Source: Forbes
The No. 1 highest taxed company? Another energy company – you guessed it: Exxon Mobil (XOM).
Another kicker for Chevron as we head into 2018 was the announcement yesterday that CPChem had wrapped up construction of the USGC petrochemical project. CPChem is a 50/50 JV with partner Phillips 66: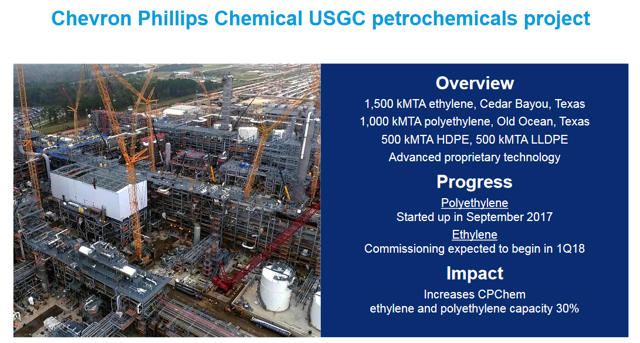 Source: November Presentation
Summary and Conclusion
In my recent article on the Asia LNG spot price, I finally upgraded my rating on Chevron from hold to buy. That was earlier this month when Chevron was at $119/share. I reiterate the buy rating and raise my 2018 price target from $133 to $140. This is based on higher Brent and WTI prices, a significantly lower tax rate, an excellent production growth profile, and a bullish view on the upcoming Q4 EPS report. In addition, the significantly lower 2018 capital budget leaves room for another dividend increase on top of the already attractive 3.5% yield. Over the past decade, CVX has grown the dividend at a CAGR of 7%.
Disclosure: I am/we are long COP, CVX, PSX, XOM.
I wrote this article myself, and it expresses my own opinions. I am not receiving compensation for it (other than from Seeking Alpha). I have no business relationship with any company whose stock is mentioned in this article.
Additional disclosure: I am an engineer, not a qualified investment advisor. While the information and data presented in my articles are obtained from company documents and/or sources believed to be reliable, they have not been independently verified. Therefore, I cannot guarantee its accuracy. I advise investors conduct their own research and/or consult a qualified investment advisor. I explicitly disclaim any liability that may arise from investment decisions you make based on my articles. Thanks for reading and I wish you much success with your investments.
About this article:ExpandAuthor payment: $35 + $0.01/page view. Authors of PRO articles receive a minimum guaranteed payment of $150-500.Tagged: Investing Ideas, Long Ideas, Basic Materials, Major Integrated Oil & GasWant to share your opinion on this article? Add a comment.Disagree with this article? Submit your own.To report a factual error in this article, click here