Chesapeake Energy (NYSE:CHK) is testing a very important price range this morning that I believe could mark the launching point for this out of favor oil stock.
Chesapeake Energy produces natural gas, oil and natural gas liquids (NGL) in the United States. It operates in two segments: exploration and production; and marketing, gathering and compression.
Exploration and production is engaged in finding and producing oil, natural gas and NGL. Marketing, gathering and compression is engaged in marketing, gathering and compression of oil, natural gas and NGL.
As of December 31, 2016, it owned interests in approximately 22,700 oil and natural gas wells throughout the country.
Why Buy Chesapeake Energy Now?
As a trader, I enjoy looking for chart patterns that show capitulation near or at a level of long-term support at a multi year low. I also look for a positive catalyst in the near future that could set up a longer-term rally.
A look at this YTD chart.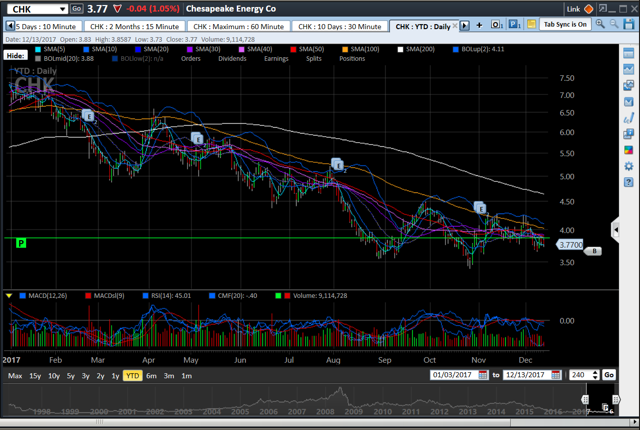 As you can see from the chart above it has been a painful journey for shareholders that have stayed long the stock. I have traded in and out of the name all year.
I am disappointed with the share count at 909M shares and expensive refinancing that the company has conducted over the last year. In my opinion this has weighed heavily on the stock.
Balance Sheet issues
To say Chesapeake has a stretched balance sheet is an understatement. At the end of the last quarter the company had $5M, (yes, that's right) in cash on the balance sheet. To be fair they have a substantial credit line of $4B to use for business operations, but cash is king and they have none.
Here is a clip from the 8k.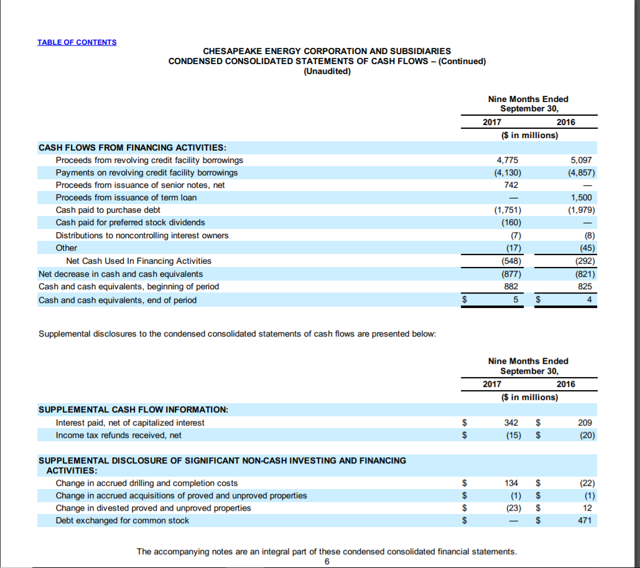 The above statement from page 6 of the 10Q caused me concern, which is why I wrote an article in August telling investors to stay away. You can view that article here.
Here are a few negative highlights.
Net cash used in financing of $548M. Proceeds from issuance of senior notes of $742M. That rate was too high at 8%. In short they are paying too much to refinance their debt and that must stop. Interest paid net of cap interest stood at $342M up from $209 in the year ago period.
On the positive side Chesapeake is starting to make a profit after years of massive losses.
Earnings Growth?
Here is an interesting clip from the earnings report showing net income swing from a $4.1B loss through September 30, 2016, to a gain of $506M net income through 9/30/2017.
Revenues are also rising from $5.85B a year ago to $6.97B through the first three quarters of this year for a gain of 19%. That will only get better with the pricing of oil and gas this quarter.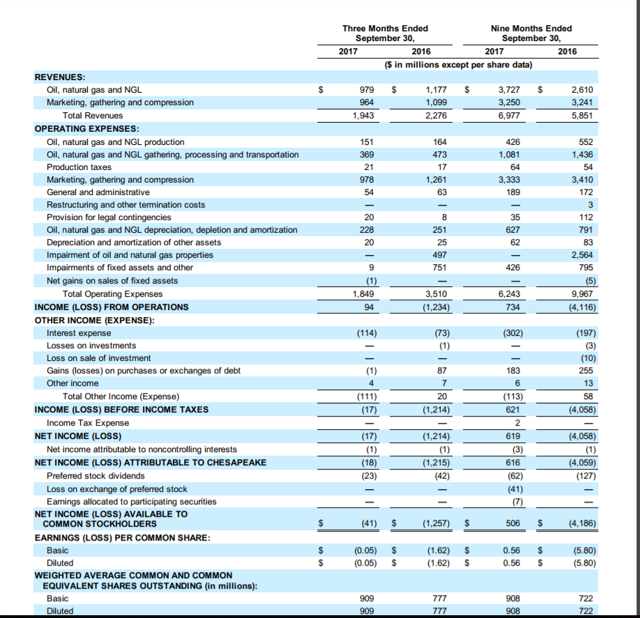 I am in the camp that believes oil is going to rally into the new year on a strong global economy and powerful forces that will take WTI into the $60s.
While BP (NYSE:BP) is and has been my favorite pick in oil the space, the stock has rallied 25% since August with no slowdown in sight.
Any pullback in oil will likely be met with buying as the world experiences global growth accelerating before our eyes.
Chesapeake is hedged over $3.10 on nat gas with approximately 70% of their production. This caps their profits on a strong move over $3.10 in nat gas but helps them when the price drops like it has down to $2.67 yesterday.
Chesapeake has great assets that it can sell to right the balance sheet; the question is when they will announce a significant sale.
I see CEO Lawler making a move in the first or second quarter of this year as the rising price of crude will bring better pricing for a significant asset sale.
One last look at an intraday 60 minute chart to show the buy point on this pullback from the $4.20 level of 10 days ago.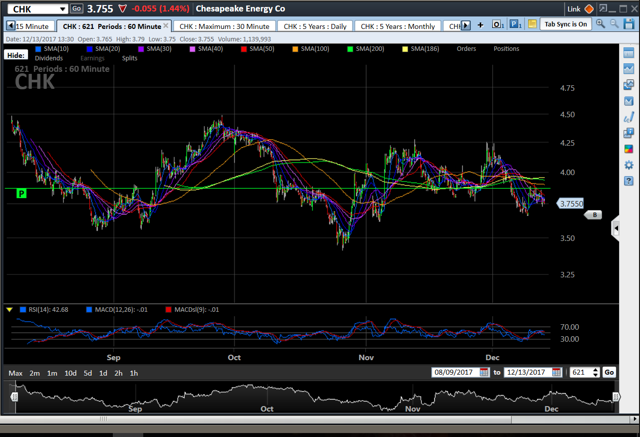 This chart goes back to the beginning of August. It is a 60 minute chart that shows you the ride that is typical of this stock. I have been in and out at various points in this shakeout, trading the ranges.
I am now becoming very convicted on the stock at this price. My reasoning is grounded in behavioral finance and the process of grinding down stock holders.
The stock recently made a yearly low $3.41. I am considering this a hard bottom, and what we are looking at today is a third retest of the $3.65 to $3.70 level. If you're risk-adverse and don't mind missing a big rally, then look for a buy point at the 3.41 level on a hard retest.
In my view the price action is offering those short a gift to cover and those that are long, an opportunity to capitalize on a rally in crude that has yet to materialize in high debt oil producers.
Conclusion
I am a buyer of Chesapeake Energy right here and now at the level of $3.73 as I finish this piece. I encourage investors to do their own due diligence and make their own decisions. It is important to always have an exit strategy in place for making any trade.
If you enjoyed this article then please click on the link and follow me. I discuss real time trades on my premium site Bargain Hunter.
Disclosure: I am/we are long CHK, GE, LYG, BAC.
I wrote this article myself, and it expresses my own opinions. I am not receiving compensation for it (other than from Seeking Alpha). I have no business relationship with any company whose stock is mentioned in this article.
About this article:ExpandAuthor payment: $35 + $0.01/page view. Authors of PRO articles receive a minimum guaranteed payment of $150-500.Tagged: Investing Ideas, Long Ideas, Basic Materials, Independent Oil & GasWant to share your opinion on this article? Add a comment.Disagree with this article? Submit your own.To report a factual error in this article, click here