Over the past week, I've traveled about 3,000 miles — from the east coast to Breckenridge Colorado and back.
And there's one thing that I saw all along the way. From my car while driving to the airport, from the skies as I passed over dozens of U.S. cities and towns, and from the mountaintops as I was skiing and snowboarding with my son…
Construction…
New neighborhoods being graded and zoned. New homes in progress. New "for sale" signs out front. And new model homes being shown. It's like a resurgence of the housing bull market from a decade ago. Except without the speculation and predatory lending.
Today's real estate boom is very real. And according to the data, there's still plenty of room for investors to make serious returns!
The Best Data In…. Well, EVER!
While it's always nice to see investment trends in my own neighborhood (and throughout a cross-country vacation), it's much more important to look at the hard data.
And that data is pointing to much more growth in the housing market
This week, I happened upon a chart that caught me off guard. I knew that this was a good period for the housing market, but I didn't realize how good the data had become. Take a look for yourself: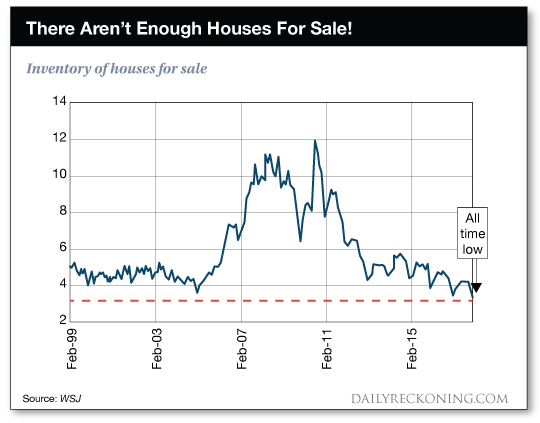 I posted this chart on our Facebook page yesterday, with a note about the strong housing market.
[Editor's Note: By the way, our Facebook page is a great way to keep up with opportunities that I'm watching on a daily basis. Real quick while you're thinking about it, go ahead and follow our page here. And be sure to comment and let me know what you think about any of our posts!]
This chart simply tells us that despite all the construction projects underway, there aren't enough houses available for buyers to choose from. The number of available homes (measured in days of supply available) is the lowest level ever!
Keep in mind, demand for new homes has picked up dramatically this year (as we've noted several times here at The Daily Edge). And new housing starts are also at the highest level in a decade.
With so much demand, and so few homes for sale, the laws of economics state that prices will naturally rise. And that's great news for current homeowners and for companies selling new homes to investors.
Here's How to Profit
Forgive me if I sound like a broken record, but I want to make sure you don't miss out on this opportunity.
Home builder stocks have had an exceptional year, rising nearly 70% from the fourth quarter last year. And this trend should continue in 2018 thanks to the supply / demand imbalance.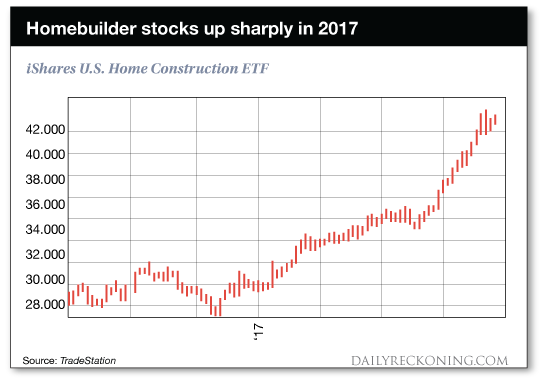 The chart above is for the iShares US Home Construction ETF (ITB). This is a great proxy for homebuilder companies who build and sell new homes in the U.S.
I would recommend using this ETF to watch the overall trend in the homebuilder market, and then picking out individual stocks like Pulte Homes (PHM), Toll Brothers (TOL), and DR Horton (DHI) to hold in your investment account.
As demand continues to push prices higher, these companies should report strong earnings and shares should trade higher.
I'm also a big fan of investing in actual residential real estate.
Of course you need to be knowledgeable of your local real estate market. And it helps to be handy… (Buying a property in bad shape and fixing it up to rent or flip is still a great way to make real estate profits).
If you're willing to get your hands dirty and spend some time managing a property, physical real estate is a great investment to make today. But even for passive investors, buying shares of a homebuilder stock in your brokerage or IRA account is a great way to profit from this vibrant market.
Here's to growing and protecting your wealth!
Zach Scheidt
Editor, The Daily Edge
Twitter FacebookEmail