CBL & Associates (CBL) has been a train wreck for retail investors, in a large part because I think publicly available analysis doesnt really get into the grit of the problems facing the firm. Ive covered the company in the past (laying out the short thesis in August of last year, positing on the implications of the Moodys downgrade in February of this year) trying to get some deeper information out there on corporation outlook. Perpetual dip-buying on this firm has cost investors nearly a billion dollars in the last year alone. After the awful guidance laid out on the Q4 conference call (particularly against peers like Washington Prime (WPG)), investors have to think more critically about whether the company survives over the next five years. This is not another superficial malls are dying, Amazon (AMZN) disruption thesis on a company levered to distressed retailers.
There is a clear course for potential creditor interference if results degrade, namely through financial covenant violation on its unsecured term loans. Such an event could see lenders force the company to liquidate assets at a time that most bulls view the mall market as being at the bottom. At the very least, restrictive covenants limit management flexibility to deploy recycled capital effectively. I think this is the clear answer as to why 33% of the float short. While coverage on Seeking Alpha is near universally bullish, no one has really stopped to ask a simple question: Why. Why are short investors, a generally astute and well-educated section of the market, so willing to pay borrow costs in excess of 20% or more annually? A potential covenant violation is a primary driver.
Ive made calls like this in the past on Seeking Alpha, such as Aceto (NASDAQ:ACET), a company that was riding tight on its financial covenants back in February of 2018. Last week, the stock price collapsed more than 60% after management announced a major write-down and that it had entered renegotiations with its lenders. Aceto looked like a value play prior to that announcement: dirt cheap valuations versus peers, high trailing twelve-month free cash flow. Traits such as those doesnt preclude equity investors from being obliterated because of where they fall in priority versus bondholders. Just like Aceto, the bull case on CBL & Associates revolves around deep value:
Trading at very low multiples of funds from operations (FFO). Dividend is (currently) covered and the company cannot cut materially without violating REIT rules. Management does a great job of laying out the bullish case on redevelopment, high rate of return given time. While owning lower end properties in weak suburban markets, company malls are the only option for miles; "monopolistic".
None of that matters if the company violates its credit agreements. Lenders are going to look out for themselves and recover their capital, not the holders of the equity. An action that is good for one group is not necessarily good for the other. Any forced restructuring could significantly impair value. Avoiding this will be difficult if results degrade since the company is essentially locked out of the capital markets and cannot get rid of these problem unsecured term loans before they come due. Current unsecured bonds trade at 9% yield to maturity; the company cannot borrow more without stressing financial covenants and triggering default. Issuing equity, even preferred, is out of the question given the high cost of capital. Its a tough situation, and for high yield investors seeking safe and secure returns, there is little reason to be long the common stock.
The Current Debt Structure
At the end of the fiscal year, CBL & Associates consolidated and unconsolidated debt totaled $4,744M. Investors do need to remember to include CBL & Associates' share of the $1,254M in debt not included on the companys balance sheet when viewing leverage. The vast majority of this debt load is mortgage-related debt and is non-recourse to the firm. That mortgage wont cause issues, and neither will the unsecured notes due 2023, 2024, and 2026 ($1,141M outstanding in total). At least not immediately. What will cause trouble is the unsecured term loans that have $800M outstanding.
While CBL & Associates modified two of the three unsecured term loans in July of 2017 as they were about to expire, one ($350M in debt outstanding) was not rolled over. Instead, management only exercised the first of two options to extend the maturity date. In October of 2019, this last option will have run its course and the debt will need to be dealt with. This will be a critical refinance for CBL & Associates, particularly given current guidance by management points toward 2019 being a turnaround year with stabilized/positive comps. If lenders see no signs of that, investors should expect extremely tough terms – if any are offered. Investors will notice that the unsecured term loans that were refinanced in July had their maturity dates extended to before the unsecured term notes come due. In my view, this illustrates that lenders were potentially cautious on extending due dates beyond the maturity of those large unsecured notes.
The July 2017 refinancing occurred when overall sentiment, while also in the dumps, was much higher. CBL & Associates could argue that sentiment was transitory in nature; that doesn't make for a valid argument now. The equity has been more than cut in half since then; unsecured bond pricing is down as well. Its unlikely that the $350M term loan will be done on similar terms.
In the meantime, CBL & Associates must deal with these financial covenants:
Debt to total asset value must be less than 60%. Unsecured indebtedness to unencumbered asset value less than 60%. Unencumbered net operating income (NOI) to unsecured interest expense be greater than 1.75x. EBITDA to fixed charges (interest expense) to exceed 1.5x. The 2023 and 2024 notes also require secured debt to total assets be less than 45%.
At the end of 2017, the company was in compliance with all of these at what appeared to be material levels at the end of the reporting period. This was disclosed in the companys 2017 10-K. The greater issue is how coverage changes:

To understand these covenants, investors have to read the actual loan documents. Much like when a consumer gets a mortgage for a home, the paperwork often has quite a bit of fine print. Total asset value in particular is unusual because, contrary to what an investor might guess, total assets is not defined as what is listed as GAAP value on the balance sheet. Instead, properties are valued on a ratio of proportionate EBITDA to capitalization rate. The capitalization rate being used in that calculation is currently very low and no longer reflective of the reality of mall ownership:
Capitalization Rate means (a) 6.50% for a Property having average sales per square foot of more than $500 for the period of 12 consecutive months most recently ending and (b) 7.50% for any other Property.
This line item is the largest risk for CBL & Associates when the Term Loan comes due in 2019 in my opinion. Even the most ardent of bulls acknowledge (or at least they should) that 7.5% cap rates are simply no longer realistic in the lower end mall space. Given the current environment, it would not be surprising to see lenders balk at the idea of using this for the calculation of asset value in the future. For background as to why 6.5-7.5% cap rates are not achievable, investors can look at 1) CBL & Associates' own assumptions and 2) private market survey data. The company itself used the below capitalization rates when calculating impairment charges in 2016 and 2017; investors can find these malls referenced in the 10-K. While these are examples of more distressed properties, it does not paint the prettiest picture:
Acadiana Mall, 15.5% Hickery Point Mall, 18% Midland Mall, 9.75% Wausau Center, 13.25% One and Two Oyster Point, 8.0% Cobblestone Village at Palm Coast, 9.0%
Those are largely reflective of the realities of the market today, with cap rates on the 2016 impairment charges having worsened; further impairment charges on some of these properties (e.g., Oyster Point) would not be unusual. Bolstering that view, CBRE, one of the largest research shops on commercial real estate globally, recently released its 2H 2017 cap rate survey. This data is sourced from analysts that go out into the market and talk directly to commercial property owners on what the perception of normal cap rates are in certain markets. This is incredibly important as often there is not a lot of actual buying and selling activity to look towards for comparison. While CBRE does not have a mall classification, US Retail Power Centers unenclosed shopping centers provide the best comparison. Within that released 2H 2017 data, Tier III metro, Class C assets are now being valued at 9.55% for U.S Retail Power Centers on average: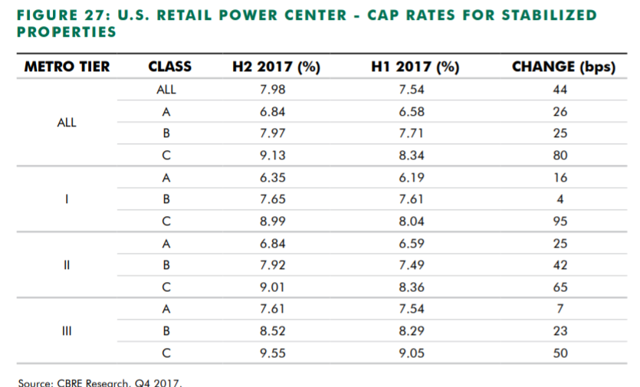 This has worsened materially since earlier this year. Trends in cap rates continue to be a flight to quality, something I have emphasized in REIT coverage often over the past year. When thinking about CBL & Associates, Tier III, Class C is the best reflective comparison to use. It is important to remember that CBRE nomenclature is not the same as what CBL & Associates management uses. While management likes to classify their properties as Tier I, this is far, far away from what CBRE calls Tier I: markets like Manhattan or San Francisco. I'm sure Bismark, North Dakota, is a nice place… but it isn't Manhattan. Bottom of the barrel, or Tier III markets for CBRE, are defined as urban markets like Raleigh-Durham, Kansas City, Salt Lake City, and Tampa, most of which are seeing strong population growth and improving demographic trends like wages. These cities all see stronger valuations than the traditional markets CBL & Associates' assets are located at (non-urban markets) across all property types, not just malls. Only a small portion of company malls fall into the CBRE Tier III bucket, most are below that level. Using Tier III valuations for CBL & Associates is, in fact, overly kind to fair valuation.
Investors can see this reflected in the valuation of CBL & Associates' common stock: given the guided 6% decline in same-center NOI for 2018, CBL & Associates will generate $631M in NOI next year. The public market is valuing all of CBL & Associates at 12.6% cap rate. Markets make mistakes; they dont make mistakes that wide that often. If lenders force a change in the capitalization rate metric to more realistic levels (e.g., 9%), CBL & Associates would be in default today given its thin coverage. No question.
Even if this capitalization rate is not amended by some miracle, debt to asset value and other associated covenants do have large implications for the steps CBL & Associates can take in managing its business. For investors wondering why CBL & Associates is not selling properties and closing the difference between what management views as a disconnect between public and private values for its properties, this is the reason. Selling a property for 8-10% cap rates, while accretive versus how the firm is valued, has a negative effect on covenant coverage because of how total asset value is calculated. It also means that the company cannot redeploy cash from asset sales into redevelopment. Ideally, CBL & Associates could sell non-core malls it no longer wants and redeploy that capital where implied rates of return are strong. This is, after all, a core reason most bulls are long the stock: redevelopment outlook. However, selling an asset lowers total assets immediately (assuming it generates positive EBITDA) and deploying that cash into redevelopment takes time and can have a long pay-off period. In the short term, this hurts financial covenant coverage and could cause default.
Takeaway
While cheap, there are some core issues facing CBL & Associates today. Given 2018 expectations of $590M in EBITDA, there is limited capability to self fund the companys needs once interest expense, maintenance capital expenditures, and the dividend are paid. Aforementioned covenant issues alongside limited access to capital impairs the companys ability to invest in its properties in a material way. Money could fix the problems the firm has – the question is where the company can get it. The lack of private equity interest, at least publicly known, should cause pause on whether there is a lifeline out there.
The reason why shorts are involved in this name so heavily is a bet on covenant violation and/or an inability to refinance the $300M term loan in October of 2019. If same-store results do not stabilize at a bottom in 2018 as management hopes, the stock is likely to be at the mercy of lenders despite high underlying cash flow. While it is usually not in the lenders best interest to force liquidation, steep concessions could occur that could impair managements ability to pay the dividend as it stands today and harm equity value.
Current guidance is for a 6% decline in same-store NOI during what is now the ninth year of economic recovery. 2018 is set to be a year where the United States sees a continuation of ho hum but positive GDP growth (perhaps as high as 3%) and consumers see more money in their pocket via tax reform. If the company is booking 6% NOI declines in this type of environment, what happens if GDP growth starts to slow? Consensus forecasts already are looking for a slowdown in 2019. The stock likely suffers from a lot of recency bias from investors, with CBL & Associates barely hanging on in what should be a fairly supportive macroeconomic environment. Taking a bullish stance via the preferred or the unsecured bonds is perhaps justifiable in my book, but I cant see the reasons why investors continue to try to call the bottom on the common equity. Buyer beware.
Disclosure: I/we have no positions in any stocks mentioned, and no plans to initiate any positions within the next 72 hours.
I wrote this article myself, and it expresses my own opinions. I am not receiving compensation for it (other than from Seeking Alpha). I have no business relationship with any company whose stock is mentioned in this article.