Carrizo Oil & Gas (CRZO) has completed its planned divestiture of non-core assets after selling its DJ Basin assets for $140 million plus up to an additional $15 million in contingent payments. This brings its total asset sales up to $286 million plus up to $37.5 million in contingent payments depending on oil and gas prices. Carrizo's divestiture goal was $300 million, so the combined value is around that amount depending on how the contingent payments shake out.
The DJ Basin Assets
Carrizo's DJ Basin assets produced 2,427 BOEPD in Q3 2017, of which 69% was oil. At the end of 2016, Carrizo had Carrizo had 31,355 net acres in the DJ Basin of which 16,800 net acres was undeveloped. Carrizo had no plans to further develop this acreage in 2017, and 6% of the undeveloped acreage was set to expire in 2017 (with another 8% in 2018).
The sale price for Carrizo's DJ Basin assets came in below expectations, as Williams Capital expected Carrizo to fetch $200 million versus the $140 million to $155 million that it actually achieved. If the current production is valued at $35,000 per flowing BOE, then Carrizo's acreage would be valued at $3,277 per undeveloped net acre ($1,756 per total net acre) with a $140 million deal price.
In terms of other transactions, Synergy Resources sold 10,000 undeveloped non-core acres in the DJ Basin at the beginning of 2017 for $71 million. This included 700 BOEPD in production, which if valued at $35,000 per flowing BOE would result in the undeveloped acreage being worth around $4,650 per net acre. A similar price for undeveloped acreage would have resulted in Carrizo's DJ Basin assets being worth $163 million.
There have been other recent transactions such as SRC Energy's $608 million purchase of 30,200 net DJ Basin acres along with 4,100 BOEPD of production from Noble Energy. That deal valuation is much higher than the metrics for Carrizo's deal, but it appears that involves significantly higher quality acreage.
Effect on Current Production
Carrizo's Q4 2017 guidance calls for 61,567 BOEPD in production at its midpoint. The Appalachian transactions closed in mid-November and were expected to contribute 3,050 BOEPD (2% oil) to Q4 2017 production. Subtracting that plus the DJ Basin production (Q3 2017 production of 2,427 BOEPD with 69% oil, 15% NGLs and 16% natural gas) would give a rough estimate of Carrizo's Q4 2017 production from continuing operations.
Carrizo's Q4 2017 production from continuing operations is estimated at 56,089 BOEPD, including 38,852 barrels per day of oil. Carrizo's oil percentage is expected to increase by around as the result of these transactions. Due to the lack of investment in the DJ Basin assets during 2017, Q4 2017 production from those assets is likely a bit lower than Q3 2017, so continuing operations probably made up a bit more of Carrizo's original Q4 2017 guidance, but the effect is probably fairly small (such as 50 BOEPD).
Effect of Divestitures On Production
| | | |
| --- | --- | --- |
| | Q4 2017 Guidance | Q4 2017 Pro-forma |
| Oil (Barrels/Day) | 40,600 | 38,852 |
| NGLs (Barrels/Day) | 8,300 | 7,876 |
| Natural Gas (Mcf/Day) | 76,000 | 56,168 |
| Total (BOEPD) | 61,567 | 56,089 |
Effect on Carrizo's Future
These divestitures (along with the ExL acquisition) result in Carrizo's oil percentage significantly increasing from around 63% oil to 70% oil, with the resulting positive impact on operating margin per BOE. Carrizo is also now able to focus on its key Eagle Ford and Delaware Basin plays, both of which are good assets even at lower oil prices.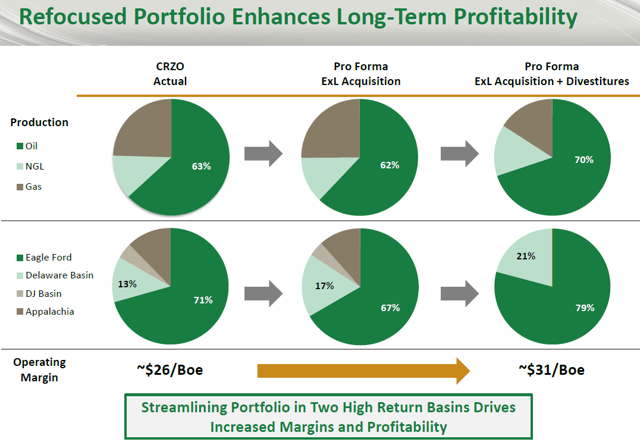 Source: Carrizo
Carrizo is using the proceeds from its Appalachian divestitures to reduce its debt and indicates that it will also use its DJ Basin proceeds to reduce debt. Carrizo anticipates reaching positive cash flow by the end of 2018, so I'd assume that some of the DJ Basin proceeds will fund its 2018 program as well.
Conclusion
Although Carrizo did not receive a premium price for its non-core divestitures, the proceeds to allow it to reduce its debt by a bit as well as give it additional liquidity as it strives to reach positive cash flow by the end of 2018. Carrizo is now focused on two core plays that offer good returns at even $45 oil, so it should be in a good position to deleverage itself via growth going forward. Carrizo does have a significant amount of remaining debt, but current oil prices appear positive for its future.
Latest Research and Reports
If you have found this research report helpful or interesting, please consider following me on Seeking Alpha for free access to future reports. Please also consider joining Distressed Value Investing for access to the top research and ideas.
Disclosure: I am/we are long CRZO.
I wrote this article myself, and it expresses my own opinions. I am not receiving compensation for it (other than from Seeking Alpha). I have no business relationship with any company whose stock is mentioned in this article.
About this article:ExpandAuthor payment: $35 + $0.01/page view. Authors of PRO articles receive a minimum guaranteed payment of $150-500.Tagged: Investing Ideas, Quick Picks & Lists, Basic Materials, Independent Oil & GasWant to share your opinion on this article? Add a comment.Disagree with this article? Submit your own.To report a factual error in this article, click here