Although the shares of Carnival Corp (CCL) are up about 28% over the past twelve months, I think they still represent good value at these levels for a few reasons. Ill go through my reasoning below by looking at the financial history here, and by forecasting the future price based on what I think is a reasonable forecast for the growth of the dividend. Ill then make a comment about Carnival Cruises relative valuation.
Financial Snapshot
After a quick review of the financial performance of Carnival, it becomes obvious that this has been a growth company since at least 2013. Revenue and net income have both grown consistently since that time, with revenue up at a CAGR of 1.4%, and net income up at a CAGR of about 26.7%, suggesting that this is also a scalable business. As the company grows, more and more revenue is thrown to the bottom line. This is exactly what I look for in a business.
This growth has allowed the company to reward shareholders handsomely by reducing the share count, and by paying dividends. In particular, the company has returned about $7.2 billion to shareholders since 2012. $2.7 billion of this has come from dividends, the balance has been paid out to shareholders as dividends. This is critical in my view, because its actions like these are the only means I have to judge the quality of management. Given their actions on reducing share count and paying dividends, its obvious that management is shareholder friendly. This is critical in my view, because in the absence of a shareholder friendly management, loss is almost inevitable. A friendly management team doesnt guarantee a positive outcome, but if they are not friendly, you should avoid.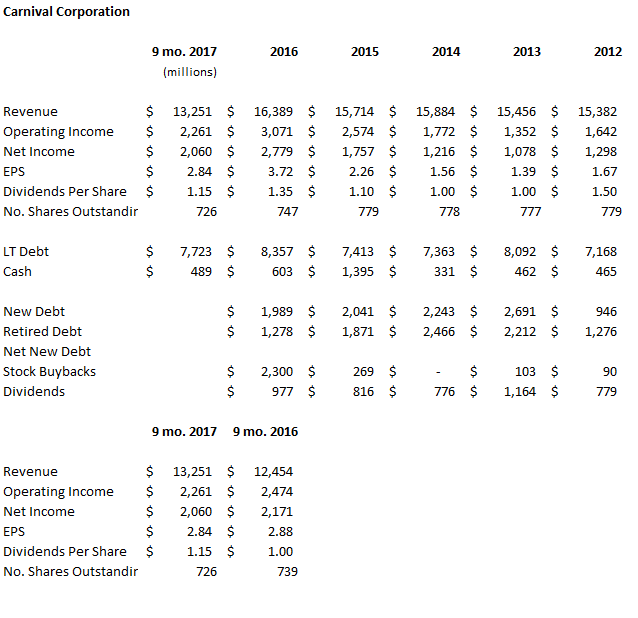 Turning very quickly to the capital structure, Im actually not that concerned about the level of debt here for a few reasons. First, its been coming down (having dropped 7.6% during the first nine months of 2017). Second, most of it (82%) is due after 2022, suggesting theres little short term risk from the debt. Finally, the interest rate of about 2.67% is very reasonable in my view, so in some sense it makes little sense to pay off much of the debt in the short term.
Modelling The Dividend
Its obvious that investors care more about the future than the past, so I must spend some time forecasting, in spite of the fact that forecasting the future is much more difficult and perilous a task than forecasting the past. Whenever I forecast, I engage in a ceteris paribus assumption, meaning that I change only one variable while holding all else constant. In this case, I move the dividend while holding yield constant to calculate price.
The aforementioned combination of increasing dividends and reduced share count has grown the dividends per share at a CAGR of about 8.9% since 2013. I think this is a reasonable growth rate to forecast, in light of the growing business, and the fact that the payout ratio is only about 40%.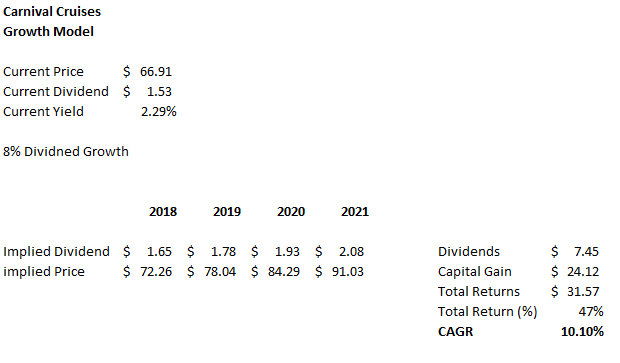 When I hold yield constant, and forecast the dividend to grow at an 8% rate over the next four years, I estimate a total return of about 10% for the shares going forward. I consider this to be a very reasonable rate of return, in light of the very moderate risks present.
Technical Snapshot
As per our ChartMasterPro Daily Trade Model, the trend for CCL would turn bullish with a daily close above $67.00. This would signal a bullish breakout from an Ascending Triangle on the daily charts. From here, we see the shares climbing to the $71.00 level over the next three months.
We will buy CCL call options that will provide us with approximately 12x leverage on our long trade on the next daily close above $67.00. Our initial stop-loss exit signal will be a daily close below $66.00.
For investors in the shares, we recommend that you hold for three months or $71.00, whichever comes first. For longer-term investors (years, not months), we believe CCL is a solid addition to any dividend growth portfolio over the next four years.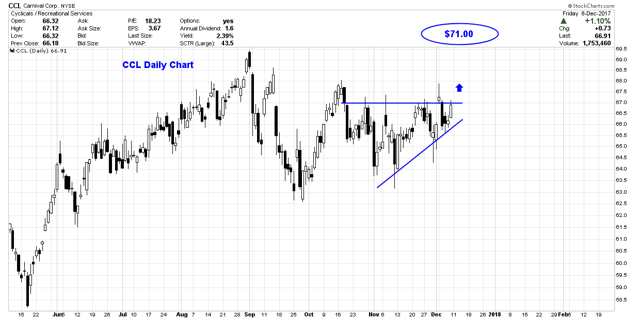 Source: stockcharts.com
Conclusion
Investing is a game whereby we must choose the best option from a host of choices. Best is sometimes challenging to spot, especially when such overpriced high flyers have captured the crowds attention for the moment. The crowd is fickle, though, and sooner or later, quality wins. In my view, a quality stock is one that represents an excellent combination of growth and very reasonable price.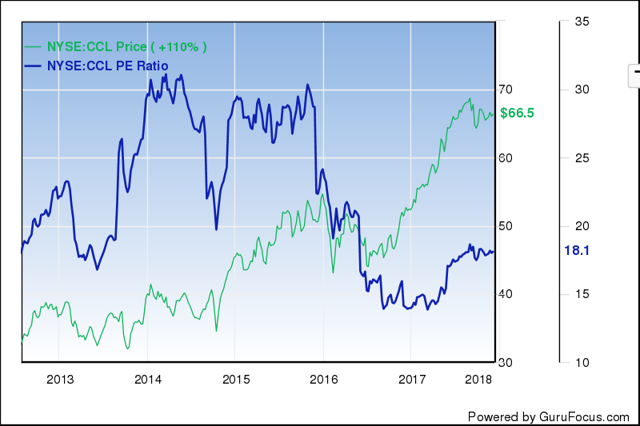 While not the cheapest in its recent history, it is certainly trading on the low side of its own valuation history. In addition, the company is trading at a 30% discount to a market that represents some slow growth companies that are far more expensive.
Disclosure: I/we have no positions in any stocks mentioned, but may initiate a long position in CCL over the next 72 hours.
I wrote this article myself, and it expresses my own opinions. I am not receiving compensation for it (other than from Seeking Alpha). I have no business relationship with any company whose stock is mentioned in this article.
About this article:ExpandAuthor payment: $35 + $0.01/page view. Authors of PRO articles receive a minimum guaranteed payment of $150-500.Tagged: Investing Ideas, Long Ideas, Services, General EntertainmentWant to share your opinion on this article? Add a comment.Disagree with this article? Submit your own.To report a factual error in this article, click here