Shares of Amazon.com, Inc. (NASDAQ:AMZN) battled to maintain their early gains on Tuesday amid continued pressure from President Donald Trump and his ongoing war of words with the e-commerce company. Trump on Tuesday morning tweeted negative comments about Amazon for the fourth time in one week.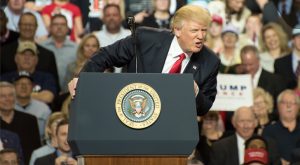 Source: Shutterstock
Today's criticism included another assessment that Amazon is costing U.S. taxpayers "many billions of dollars" through the United States Postal Service.
I am right about Amazon costing the United States Post Office massive amounts of money for being their Delivery Boy. Amazon should pay these costs (plus) and not have them bourne by the American Taxpayer. Many billions of dollars. P.O. leaders don't have a clue (or do they?)!
— Donald J. Trump (@realDonaldTrump) April 3, 2018
In recent days, Trump has claimed that the Post Office loses a "fortune" from Amazon's heavy shipping volumes. Others have argued, on the other hand, that Amazon's business has kept the USPS afloat while demand for physical mail continues to decline.
Trump's disdain for Amazon also seems focused on the e-commerce behemoth's disruption of the traditional retail industry. The president has remarked that Amazon's tax policy, including its practice of not collecting state taxes from most third-party sellers, threatens "many thousands of retailers."
Amazon does, however, collect state and local taxes from some third-party sellers and on sales of products it sells directly. The company's third-party business represents about half of its total unit sales.
Trump's Personal Beef With Bezos
But lying just under the surface of Trump's rebuke of Amazon's business model is the president's personal beef with the Seattle-based firm's CEO, Jeff Bezos. The enigmatic Bezos also owns The Washington Post—a newspaper that has been vocal critic of the Trump administration. Trump has repeatedly referred to the publication as the "Amazon Washington Post."
The Trump administration is certainly no stranger to singling out perceived enemies and critics, and if the president can find a legal way to target Amazon for legitimate issues, it stands to reason that he would love to settle his score with Bezos by levying the e-commerce brand with new regulatory headwinds.
Still, the news was not all bad for Amazon investors on Tuesday, with analysts from Cenkos Securities highlighting the company's budding advertising business and its new efforts to challenge the likes of Alphabet Inc (NASDAQ:GOOGL) in search.
"I think Amazon will do retail search and take Google to the cleaners on retail search using their estate," the firm's Alex DeGroote told CNBC. "Slowly over time you will use Amazon as your retail search engine rather than Google."
DeGroote estimates that North America's ad market is worth about $200 billion right now. Google and Facebook Inc (NASDAQ:FB) currently hog the majority of this market, but the analyst expects Amazon could increase its share to $8 billion in North America and $20 billion globally as soon as 2020.
Amazon and Google already face off in the public cloud computing space, so the two companies should be accustom to battling it out for control of a key tech business. But a growing advertising industry should give both firms a healthy opportunity, and any additional share that Amazon can steal should be a bullish catalyst.
Want more market analysis from this author? Make sure to follow @Ryan_McQueeney on Twitter!
The Hottest Tech Mega-Trend of All
Last year, it generated $8 billion in global revenues. By 2020, it's predicted to blast through the roof to $47 billion. Famed investor Mark Cuban says it will produce "the world's first trillionaires," but that should still leave plenty of money for regular investors who make the right trades early.
See Zacks' 3 Best Stocks to Play This Trend >>
Compare Brokers