Campbell Soup (CPB), the worlds largest producer of canned soup, has lost nearly 21% value of over the past one year. This steep drop in stock price is a buying opportunity for the long-term gains despite ongoing weakness in the soup industry. The reason is quite straightforward. The recent acquisition of Snyder's-Lance (LNCE) will not only change the business risk profile of Campbell Soup but also significantly improve long-term growth prospects.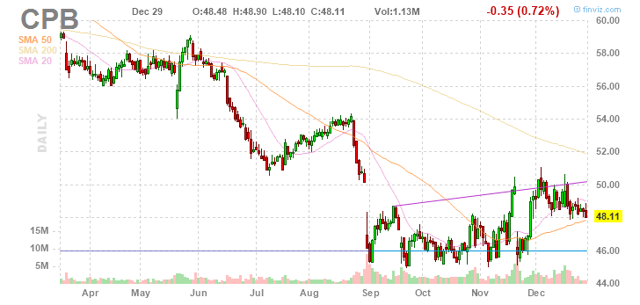 Source: Finviz
Background
The processed food industry has been struggling to keep up with the changing consumer preferences. The result is quite worrying as sales of many companies continue to decline. It is a challenging task for the big players to revamp a significant portion of their multibillion-dollar product portfolio, and an overlong lead time is another story. The big players have adopted an inorganic growth strategy to protect market share and revive sales growth. No wonder: The food industry mergers and acquisitions activity has exceeded $42 billion this year, up from $27.1 billion in 2016.
Campbell Soup is quite active in this area as it has acquired six companies over the past five years. After completing its acquisition of Pacific Foods, Campbell Soup has recently announced it will acquire Snyders-Lance for $4.9 billion. The deal is a little bit pricey because Campbell Soup has valued Snyders-Lance at an expected adjusted EBITDA multiple of 16x and a P/S multiple of 3.02x. For reference, Hershey (HSY) has acquired Amplify Snack Brands (BETR) for an EBITDA multiple of 12x and a P/S multiple of 2.5x. The following chart shows that the median multiple is 12x.

Source: Baker Tilly
The deal is a bit pricey in my view, but it could pay off in a big way if the execution is spot on.
Some Historical Numbers
Campbell Soup is in trouble. The company has witnessed an average 1.5% annual decline in revenue over the past three fiscal years. The fiscal year 2018 is not so different as sales have dropped another 1.86% during the first quarter due to continued weakness in soup and V8 beverages.
There is also a bright spot. The companys biscuits and snacks brands are performing relatively well, which is evident from a 2% sales growth during the first quarter. Campbell Soup has been cutting corners to preserve profitability amid stiff pricing pressure. The companys profit margins have recovered as of lately due to the optimization of cost structure.

Source SEC Filings – CPB, LNCE
As opposed to Campbell Soup, the top-line of Snyders-Lance has expanded at a CAGR of 6.2% over the past four years due to continued demand for core brands, including Late July, Pretzel Crisps, and Cape Cod. However, the problem is that Snyders-Lance has failed to accelerate operating income growth despite healthy growth in revenue and gross margin. With the execution of a transformation plan, Snyders Lance is hoping to achieve 14% operating margin by 2020.
A Dramatic Change
The fundamental reason for this deal to increase exposure to snacks industry. After the merger, Campbell Soup will be driving 46% of revenue from snacks business, whereas contribution from the soup will slip to 27%. The dramatic change in revenue mix will position Campbell Soup to revive long-term profitable growth. The odds are now in favor of Campbell Soup.
According to Nielsen, snacks have a 98% household penetration and buying households spend an average of $133 per year. The savory snacks market is outpacing the overall packaged food industry, which is reflecting in an impressive 17% increase in retail sales over the past five years. The growth momentum will continue, and retail sales will grow at a CAGR of 2% over the next five years. The opportunities are even better on the global scale, and rapidly increasing for snacks demand in the emerging markets will help attain a mid-single-digit growth in the future.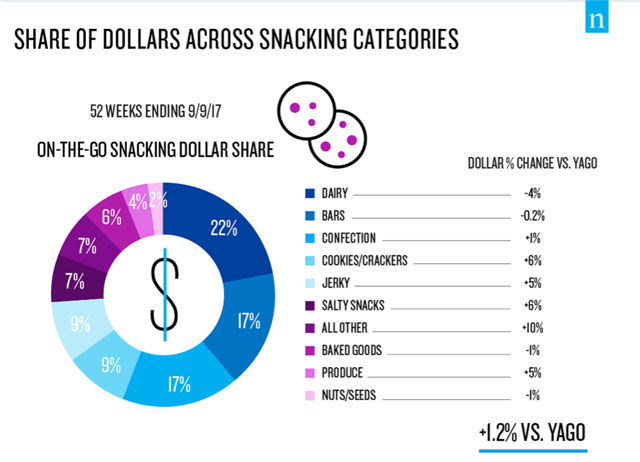 Source: Nielsen
Snyder's-Lance has a presence in a broad range of snacks categories, including pretzels, crackers, tortilla chips, and popcorn. Furthermore, the company generates almost one-third of total sales from organic and healthier products. Snyders-Lance is on track to end 2017 on a high note with a $2.25 billion in sales. The expected sales growth of 7% shows that the demand Snyders Lance is witnessing continued demand for its snacks brands. The demand is likely to remain intact over the long run. Therefore, the addition of Snyders-Lance could yield promising results. The integration of distribution channels will be the key to expand the geographic reach of high-growth snacks brands of Snyder's Lance.
Campbell Soup drives 33% of total sales from its global operations, but there will be no meaningful change in exposure to international markets because Snyders Lance generates only 5% of revenue from outside the U.S. Thus, Campbell Soup can accelerate growth by leveraging its extensive distribution network to roll out Snyder's-Lance snacks brands in the international markets.
Snyders-Lance has struggled to optimize cost structure. Therefore, Campbell Soup intends to continue the transformation plan laid by Snyders-Lance. The implementation of zero-based budgeting to optimize cost structure and SKU rationalization will help fuel profit margins over the next three years.
Outlook Is Not That Bad
The soup industry is struggling to stay relevant among young consumers. Millennials have been moving away from high sodium food. As a result, soup consumption has declined by 2% over the past five years. With a 42% market share, Campbell Soup is the leading player in the U.S. soup industry. However, Campbell Soup has been losing its market share to relatively small competing firms that offer premium and organic soups. The troubles aren't over yet, and Campbell Soup expects further weakness in its soup business.
The industry outlook is not that bad. Despite challenging dynamics, the soup industry is likely to reflect flat to slightly positive growth in the coming years. According to Euromonitor, soup retail sales in the U.S. will reach $5.2 billion by 2021 due to continued momentum in shelf stable and chilled soup categories. The outlook is a bit better on a broader scale. The market research report estimates that the North American soup market will grow at a CAGR of 2.6% by 2021.
Campbell Soup is taking some critical initiatives after witnessing a deep 9% drop in soup sales during the first quarter of 2018. The company has announced to adopt a direct-to-consumer model to reach out tech-savvy young consumers. Campbell Soup will leverage its acquisition of Chefd to achieve $300 million in annual sales from its direct-to-consumer platform over the next five years. This projection is not that big, but at least direct-to-consumer sales will positively impact gross margin to some extent.
Campbell Soup is also leveraging its history book to introduce limited-edition innovation recipes. On the other hand, the more frequent rollout of distinct soup flavors will help the company win back customers. The recent addition of Pacific Foods will enable Campbell Soup to make a stronger push into rapidly growing premium organic soup category.
Debt Problem
Campbell Soup will finance the deal through $6.2 billion of long-term and short-term debt. The sharp increase in debt level will push the debt/EBITDA ratio to 4.8x – significantly higher than the industry median of 2.3x. However, it will deleverage the balance sheet over the next five years to achieve a debt/EBITDA ratio of 3x. The target is achievable due to healthy cash flows position.
Both companies have generated $1.5 billion in operating cash over the past twelve months. The cash flows will grow with the continuation of cost savings and integration plan. The optimization of manufacturing facilities, integration of distribution network, and reduction in marketing and R&D spending will positively impact the overall profitability. Campbell Soup invests significantly higher than competing firms, which means some reduction in marketing spending should not materially affect the competitive advantage. However, more budget allocation to digital media and increased focus on social media marketing will help boost brand appeal among young consumers.
Concluding Remarks
Campbell Soup has taken some much-needed steps to revive profitable growth, including the rollout of new innovative products and digital advertising efforts. It remains to be seen whether these initiatives will help make a turnaround. However, the addition of Snyder's-Lance will dramatically improve future growth prospects of Campbell Soup due to a significant increase in revenue contribution from snacks business.
With a 21% decline in stock price. Campbell Soup has significantly underperformed the packaged food industry. The sharp decline in stock value is due to continued pressure on soup volumes and prices. The stock is currently trading at a forward PE multiple of 15.6x while the market is valuing packaged food stocks at a forward multiple of 18x. The long-term growth prospects and business risk profile of Campbell Soup will significantly improve with the acquisition of Snyders-Lance. Therefore, in my opinion, buying Campbell Soup for the long run will pay off big time.
Disclosure: I/we have no positions in any stocks mentioned, and no plans to initiate any positions within the next 72 hours.
I wrote this article myself, and it expresses my own opinions. I am not receiving compensation for it (other than from Seeking Alpha). I have no business relationship with any company whose stock is mentioned in this article.
About this article:ExpandAuthor payment: $35 + $0.01/page view. Authors of PRO articles receive a minimum guaranteed payment of $150-500.Tagged: Investing Ideas, Long Ideas, Consumer Goods, Processed & Packaged GoodsWant to share your opinion on this article? Add a comment.Disagree with this article? Submit your own.To report a factual error in this article, click here