In my previous two series, I had explained why I believe both the TAVR and SAVR segments of Edwards Lifesciences (EW) are capable of becoming long-term growth drivers for the company. Since then, the company has seen some drop in share prices, especially in the aftermath of rather weak third-quarter performance.
The company failed to meet EPS expectations in Q3 2017, due to changes in accounting for stock-based compensation expenses. The quarter also saw disruptions in manufacturing activity for its Critical Care products at the companys Puerto Rico and the Dominican Republic facilities, due to natural disasters in the Caribbean and US. A significant number of heart valve procedures in Florida and Houston had to be postponed due to hurricanes, Irma and Harvey. These natural disasters affected Edward LifeSciences topline by around $2.0 million.
It can be seen that the weak performance in Q3 2017 was mainly due to several uncontrollable one-time events. However, investors also seem worried about future expectations of sales moderation for the companys TAVR products. I believe that this is a normal trend for any product line, with growth numbers narrowing with increasing base. Besides, with Edwards LifeSciences continuing to focus on expanding access to these novel heart valve therapies as well as working to expand label for existing therapies, the revenue growth trend will be strong for this company in the coming years.
In this article, I will explain why I continue to recommend Edwards LifeSciences as an investment opportunity in 2017.
Despite gradually normalizing revenue growth expectations, Edwards LifeSciences continues to be confident about its TAVR growth guidance.
Certain companies are associated with certain behaviors, and even a slight deviation may be punished by investors. Edwards LifeSciences has been known to increase its full-year revenue guidance in almost all quarterly earnings. Hence, when the company did not change its revenue guidance in Q3 2017, investors were disappointed.
However, it should be remembered that the company has not even lowered its full-year 2017 revenue guidance, and especially its lofty target of reporting revenue growth close to midpoint in the 20% to 25% (linked above) range as compared to 2016, for its transcatheter aortic valve or TAVR segment.
TAVR procedures, especially those using SAPIEN 3 valve, are witnessing strong demand, across hospitals in the US. Even in newly launched international markets such as Japan and some European markets, TAVR therapies have been increasing preferred over surgical valves, at rates even higher than those seen in more established markets. Japan has mainly been focused more on high-risk severe symptomatic aortic stenosis patients, while there remains much more market to explore in the lower-risk patient segments.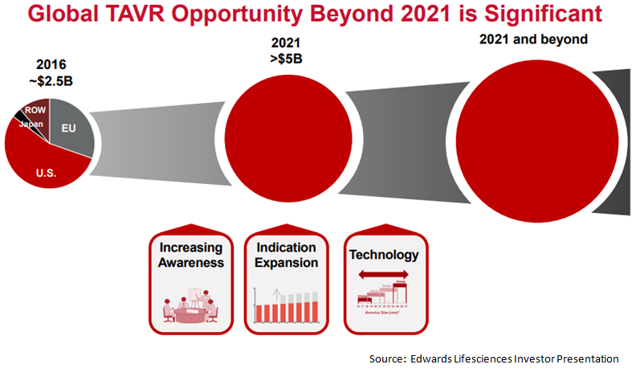 Combined with the addition of new indications and new transcatheter products to the portfolio, Edwards LifeSciences continues to believe in the $5.0 billion (linked above) worth market potential for its TAVR segment by year 2021. This implies that the company anticipates around 20% annual growth for its TAVR portfolio, despite FDA approval for Medtronic in the intermediate-risk symptomatic severe aortic stenosis indication. The long-term TAVR revenue guidance also considers future competitive threats, and thus presents a pretty alluring picture in the highly competitive medical technology segment.
Edwards Lifesciences expects to launch SAPIEN 3 Ultra System and CENTERA system by end of 2017.
Edwards Lifesciences has been working on the SAPIEN 3 Ultra system, a transcatheter valve that comes with taller outer skirt, is expected to simplify heart procedures, while reducing time as well as possibility of complications. The company plans to launch this system in Europe by end of 2017 and in the US by late 2018 (linked above). Further, based on robust six month clinical data, the company also plans to launch self-expanding valve system, CENTERA, in Europe by end of 2017 (linked above).
Beyond these late-stage pipeline candidates, Edwards is also exploring safety and efficacy of its best-in-class, SAPIEN 3 transcatheter valve, in low risk patients with aortic stenosis, in ongoing PARTNER III trial. The company is also studying use of transcatheter therapies in patients with Asymptomatic Severe Aortic Stenosis in EARLY TAVR trial.
These next-generation valve programs are expected to further consolidate Edwards LifeSciences position as a leading provider of transcatheter therapies in the world. Besides revenues, increasing adoption of transcather therapies is also expected to boost Edwards Lifesciences margins due to improving product mix.
Going beyond aortic valve replacement, Edwards Lifesciences is also exploring growth avenues for its transcatheter therapies in other structural heart segments such as mitral and tricuspid disease areas. While there is not much sales impact anticipated from these novel technologies in 2018, they nevertheless remain a major mid- to long-term growth driver for the company.
Added to Edwards Lifesciences portfolio through acquisition of Valtech cardio Ltd, announced in late 2016, Cardioband Reconstruction System is being further studied as a transcatheter repair system for the hearts mitral valve and tricuspid valve.
Cardioband has already received a CE Mark in Europe for annular reduction and mitral valve repair in patients suffering with functional mitral regurgitation. A small 31-patient study had confirmed feasibility of transcatheter annuloplasty in FMR patients and had highlighted comparable safety, improved success in implantation rates, and better clinical outcomes as compared to other transcatheter mitral procedures. While the company is enrolling test patients in the ACTIVE trial for testing Cardioband for mitral repair, the system has already earned $1.0 million worth sales in Europe. Cardioband system is expected to emerge as a first-line therapy for mitral disease patients.
Besides, Edwards Lifesciences is also studying the PASCAL Transcatheter Mitral Valve Repair system in CE MARK trial, CLASP. This coupled with Edwards CardiAQ mitral valve replacement system can prove to be significant extensions to the companys transcatheter therapy portfolio in future years.
Finally, based on clinical data and commercial strategy, Edwards Lifesciences will decide on exercising the option to acquire the minimally invasive Harpoon Medical chordal repair system.
INTUITY surgical heart valve may start seeing some traction in late 2017.
While Edwards Lifesciences continues to forecast underlying sales growth in the range of 3% to 4% (linked above) for its surgical valves segment, it is mostly driven by increasing demand for its INTUITY Elite valve system in the US and demand for surgical valves in international markets. The surgical valve market in the US and Europe has been witnessing rapid shift of patients to SAPIEN 3 transcatheter aortic valve system.
INTUITY valve has been approved for add-on payment under the Medicare program starting October 01, 2017. This may help hospitals opt for these valves, since the Medicare program may help reduce their expenses while deploying these rapid-deployment valves for complicated and minimally invasive surgical procedures.
Edwards Lifesciences has also launched INSPIRIS RESILIA aortic valve in Europe, and will allow for valve-in-valve procedures. The company expects to continue with the launch of this valve in the US and European markets in 2018. This technology is mainly targeted towards active and younger patients, who want to move away from mechanical valves due to complications and risks of blood thinners.
HemoSphere will emerge as a potent tool for monitoring hemodynamic status of patients.
Despite multiple setbacks in its Critical Care business, Edwards LifeSciences is confident of reporting 5% to 7% (linked above) underlying growth for this business in 2017. The company is also aggressively moving ahead with the commercial launch of HemoSphere, the companys next-generation hemodynamic monitoring platform. When enhanced with novel surgical recovery capabilities, HemoSphere will be a major differentiating factor and a long-term growth driver for Edwards LifeSciences.
Certain company-specific risks cannot be ignored by investors.
While risks such as increased regulatory oversight and foreign exchange headwinds affect many global medical technology providers, there are certain risks very specific to structural heart disease playerEdwards Lifesciences.
It is no secret that the company depends extensively on the success of its TAVR therapies, as patients and physicians have been actively shifting away from surgical options. However, this segment is expected to face some tough competition from other transcatheter aortic valve players such as Boston Scientific (BSX) and Medtronic (MDT). Edwards Lifesciences did not revise up its full year 2017 revenue growth estimate, despite exceptional performance in first three quarters of 2017. Hence, it has been inferred that the sequential growth in TAVR segment revenues will be much lower, close to 16% (linked above) in Q4 2017.
This growth number seems especially small, considering that in 2016, TAVR penetration in high-risk severe symptomatic aortic stenosis was only 20%. Further, despite approval in intermediate-risk indication, Edwards Lifesciences has already got any major headwind from this label expansion. This has put a dampener on the investor sentiment for the company in late 2017.
Edwards Lifesciences novel Cardioband system which is being developed for mitral valve repair, is also facing competition from peers working on transapical mitral valve replacement technologies.
Then, Edwards Lifesciences has also projected tougher foreign exchange headwinds for Q4 2017, which may have an impact on the companys full year 2017 margins.
All these risks, and especially lower-than-anticipated revenue and margin performance in Q3 2017, has cast a dark shadow on Edwards share prices.
However, I believe that the recent sell-off is not completely justified.
Wall Street analysts have pegged 12-month target for Edwards Lifesciences at $129.42, which will be return on current share prices of about 24.6%. Based on its strong fundamentals, I believe that the company will easily reach these price levels. The recent dip in share prices is more of a knee-jerk reaction and hence, investors should consider this period to be a good entry point for picking up the companys stock.
With multiple positive drivers and strong commercial strategy, the company is bound to make a comeback in 2018. Hence, I recommend investors to consider investing in Edwards LifeSciences in 2017.
Disclosure: I/we have no positions in any stocks mentioned, and no plans to initiate any positions within the next 72 hours.
I wrote this article myself, and it expresses my own opinions. I am not receiving compensation for it (other than from Seeking Alpha). I have no business relationship with any company whose stock is mentioned in this article.
About this article:ExpandAuthor payment: $35 + $0.01/page view. Authors of PRO articles receive a minimum guaranteed payment of $150-500.Tagged: Investing Ideas, Long Ideas, Healthcare, Medical Appliances & EquipmentWant to share your opinion on this article? Add a comment.Disagree with this article? Submit your own.To report a factual error in this article, click here