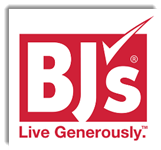 Quick Take
BJs Wholesale Club (BJ) intends to sell shares of its common stock for gross proceeds of $100 million from a U.S. IPO, according to an S-1 registration statement.
The firm serves as a warehouse club operator on the East Coast of the U.S. The company offers perishable products, general merchandise, gas and other ancillary services.
BJs is continuing to expand its footprint and is investing in online ordering and delivery capabilities to compete better, but its financial results have been uneven and growth lackluster.
Ill provide an update when we learn the IPO details.
Company & Technology
Westborough, MA-based BJs Wholesale Club was founded in 1984 as a warehouse club channel in the U.S. The company offers discounted prices and a selection of SKUs and services in a warehouse format.
Management is headed by President and CEO Chris Baldwin, who has been with the firm since 2015. Baldwin was previously the CEO of Hess Retail Corporation from 2013-2015 and SVP Marketing and Refining of the same company from 2010 – 2013. Baldwin also served as President (Snacks) of Kraft Foods Group from 2007 – 2010.
BJs target market includes price-sensitive customers with large household sizes within the United States. The company targets households with an average annual income of approximately $75,000.
5% or greater shareholders in the firm include CVC Beacon and Green Equity Investors. CVC is a fund of CVC Capital Partners, a large UK-based private equity firm that along with Green Equity took BJs private in mid-2011 for approximately $2.8 billion.
BJs is based on a warehouse club model that sets it apart from other retail formats. The company offers membership fee subscriptions and limited and bulk sized-SKUs. It pursues low operating costs from low club labor requirements, efficient distribution, and high inventory turnover.
Below is a brief overview video of the services/products that the company offers:
(Source: BJs Wholesale Club)
The company operates 215 clubs in the Eastern United States. BJs has five million paid memberships. Membership options include Inner Circle memberships which cost $55 annually and BJs Perks Rewards memberships which cost $110 annually.
(Source: S-1 statement)
Members of the clubs are able to shop in-stores, the website, and mobile app. Instacart same-day delivery is offered for the online options. The company has two private label brands, Wellsley Farms庐 and Berkley Jensen庐. These brands represent over $2 billion in sales and are the companys largest brands.
BJs claims to offer 25% or more savings on a basket of manufacturer-branded groceries compared to typical supermarket competitors.
Customer Acquisition
Customer acquisition for the company is accomplished through channels such as social media, public relations, direct mail, public relations efforts, radio advertising, community involvement, new club marketing programs and various publications.
In addition, marketing staff contacts potential business members and other selected organizations. BJs also offers free promotional membership and initially discounted membership promotions to generate awareness and attract new customers.
Management is confident that the company is well-positioned to continue taking market share due to a growing consumer focus on value, driven by such factors as the growth of ecommerce, an increase in price transparency and demographic trends.
BJs cost of revenue for the past three years has slightly decreased to 82%:
FYE 2018: 82% FYE 2017: 82% FYE 2016: 84%
Selling and G&A costs as a percentage of total revenue have been trending upward, indicating less efficiency over the period:
FYE 2018: 15.7% FYE 2017: 15.4% FYE 2016: 14.4% Market & Competition
According to a 2017 market research report by IBISWorld, the Warehouse Clubs and Supercenters Industry generates $457 billion in revenue and experienced an annual growth of 0.8% from 2012 – 2017.
The main factors driving forecasted market growth are increased per capita disposable income and corporate profit. During the next five years industry revenue is predicted to rise with the improving economy.
Below is a U.S. warehouse club growth history graphic, 2007 – 2017:

(Source: S-1)
Major competitive vendors within this industry include:
Amazon (AMZN) Costco Wholesale (COST) Walmart Stores (WMT) Other grocery chains and stores
Management of the company believes that a differentiated shopping experience, well-positioned footprint and flexible new club model, large and loyal membership base, attractive strong free cash flow across economic cycles, and an experienced management team are competitive strengths of BJs.
Financial Performance
BJs recent financial results can be summarized as follows:
Uneven topline revenue growth Increasing gross profit Steadily increasing gross margin Uneven cash flow
Below are the companys financial results for the past five years (Audited GAAP for full years):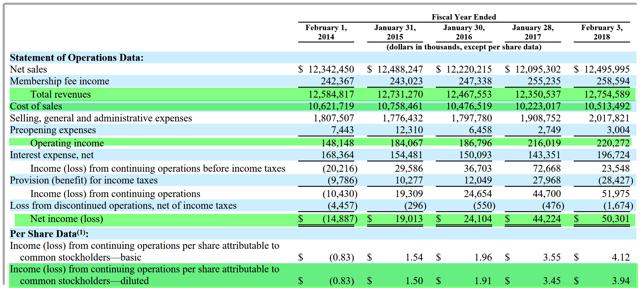 (Source: S-1 statement)
Total Revenue ($)
FYE 2018: $12.8 billion, 3% increase vs. prior FYE 2017: $12.4 billion, 0.8% decrease vs. prior FYE 2016: $12.5 billion
Gross Profit ($)
FYE 2018: $2.2 billion FYE 2017: $2.1 billion FYE 2016: $2.0 billion
Gross Margin (%)
FYE 2018: 17.6% FYE 2017: 17.2% FYE 2016: 16.0%
Cash Flow from Operations ($)
FYE 2018: $210.1 million FYE 2017: $297.4 million FYE 2016: $159.4 million
As of February 3, 2018, the company had $35.0 million in cash and $3.57 billion in total liabilities.
IPO Details
BJs Whole Club intends to raise $100 million in gross proceeds from an IPO of its common stock.
Management says it will use the net proceeds from the IPO as follows:
We intend to use the net proceeds from this offering, together with cash and borrowings under the ABL Facility, to repay … indebtedness plus accrued and unpaid interest and prepayment premium under the Second Lien Facility. To the extent any proceeds from this offering remain after the repayment in full of our Second Lien Facility, including any accrued and unpaid interest and prepayment premium thereon, we intend to use such remaining proceeds for general corporate purposes.
Managements presentation of the company roadshow isnt available yet.
Listed bookrunners of the IPO are BofA Merrill Lynch, Deutsche Bank Securities, Goldman Sachs & Co. and J.P. Morgan.
Expected IPO Pricing Date: Not on calendar.
An enhanced version of this article on my Seeking Alpha Marketplace research service IPO Edge includes my commentary and opinion on the firm's IPO prospects.
Members of IPO Edge get the latest IPO research, news, market trends and industry analysis. Start with a Free Trial.
Disclosure: I/we have no positions in any stocks mentioned, and no plans to initiate any positions within the next 72 hours.
I wrote this article myself, and it expresses my own opinions. I am not receiving compensation for it (other than from Seeking Alpha). I have no business relationship with any company whose stock is mentioned in this article.