Earnings Season Wrap Up- The last batch of third quarter earnings get announced this week, putting an end to another strong season. On Monday, Palo Alto Networks and Intuit report earnings. On Tuesday, Lowes, Dollar Tree, Salesforce and HP are scheduled to announce. And on Wednesday, John Deere reports its third quarter figures.
Tax Reform Update- After the House passed their version of the tax bill last Thursday, it's now up to the Senate to have their say. Congressional Republicans are still aiming to have a bill on the President's desk to sign by Christmas which means that changes should come sooner rather than later. A major change that just got proposed yesterday was the willingness to remove the provision that removes the ObamaCare individual mandate. Stay tuned to our Facebook page as these updates keep rolling in.
Economic Data Dump- Although the trading week is cut short by the holiday, the economic calendar is still quite full. On Tuesday, the National Association of Realtors report their U.S. existing home sales figures for October. This comes after last month when they reported the first decline in sales since July 2016. And then on Wednesday, U.S. durable goods orders are scheduled to be released as well as the Fed minutes from its Oct 31-Nov 1 meeting. Is a December rate hike still on the table? Find out Wednesday.
Bitcoin Spikes- Over the weekend, Bitcoin rallied all the way up to $8,100 and now sits around $8,150 as I write this Monday morning. This is just 1 week after plummeting below $6,000. Some investors are clamoring for $10,000 due to the record number of new wallets opened daily. But remember, if you're invested in cryptocurrencies, I recommend that you only use money you can afford to lose. Because although this crypto in particular keeps making new highs, not every investor can stomach the ups and downs.
Trading Schedule- Happy Thanksgiving! On Thursday, November 23rd the markets will be closed for the holiday so enjoy time with your friends and family. And then on Friday, November 24th, the markets will be closing early at 1pm EST. The day after the holiday is usually a dull day in the market anyway, but if you do plan on buying or selling that day, make sure you get those orders in on time.
Now let's get to today's alert…
One Party. One Wedding. One Chaotic Market.
Whew! What a chaotic weekend!!
It started with our holiday Agora Financial party Friday evening. Always a great time to kick back, enjoy chatting with so many of our great team members, and toast the exciting year that we've had.
After the party, I took an early Saturday flight to meet up with my family and drive to my little brother's wedding.
Somewhere between Saturday morning and when I fell into bed last night, I traveled 1,000+ miles, changed my wife's flat tire, helped my son get home from a school trip (complete with a stomach bug and a broken down car 2 hours from his destination), got my little brother married, chatted with friends and family I haven't seen in years, and managed to keep some semblance of sanity through it all!
And now this week, we're gearing up for Thanksgiving with the in-laws, getting a set of new tires for the suburban, getting my son's car repaired and picked up, packing to take David on an 18th birthday gift trip, and a few other things I'm probably forgetting!
As silly as it might sound, the whirlwind of this special weekend actually reminds me of how I used to feel about investing! After all, researching different investment opportunities can be incredibly chaotic at times…
Finding Beauty in Chaos
Years ago I used to get overwhelmed when too many things were happening at once. This was a common occurrence while managing a hedge fund and taking care of a growing young family.
I would struggle to figure out what to pay attention to. And as a result, I wouldn't do anything with excellence.
The problem with being so overwhelmed is that it's easy to completely overlook life's special and memorable moments. Like getting a chance to dance with my twin girls at this weekend's wedding reception.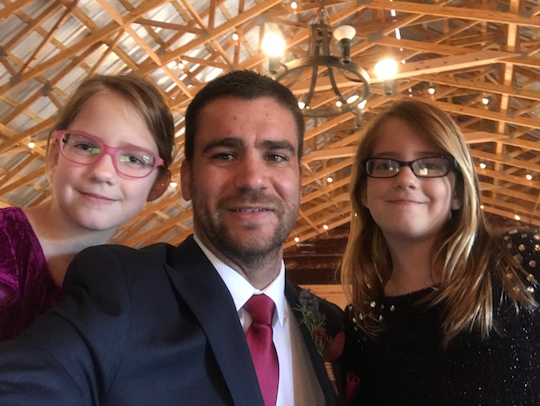 One of the best ways to avoid getting caught up in life's drama, is to build skill in taking a deep breath, quickly listing the things that need to be done, and then working through those things one-by-one.
So whether I'm navigating a family wedding weekend, organizing a busy work schedule, or sifting through a market full of exciting opportunities, I try to take things one step at a time. And that way, I can shoot for excellence with each of the tasks (or special moments) that I'm focusing on.
Let's take a quick look at how this works when it comes to a market full of investment opportunities:
Keeping Focus in a Chaotic Market
Each day, there are literally thousands of different investment opportunities you can track and participate in. So how do you identify the best opportunities and stay focused?
Of course there are as many different processes as there are investors… (And there's not necessarily a "right" or "wrong" way to invest). But having a process for looking at opportunities is the best way to stay focused and find great investments.
I thought today I could share how I track markets. And maybe this overview will help you better invest in the opportunities best for you.
1) Big Picture Overview — I start by looking at big picture trends. Is the economy expanding? What's going on with the job market? With interest rates? With commodities like oil and gold? Understanding the big picture will give you clues as to what areas of the market will be strongest.
2) Sectors & Industries — Next, I look for business areas that work well with the big picture. For instance, home builders do well with low interest rates. Companies sell more cars and big ticket appliances when consumers have jobs. Picking out sectors that are growing helps to narrow the search.
3) Individual Stock Research — Now, we look at the individual stocks inside the specific areas we've identified. This is when we look for profit expectations, the price of stocks compared to profits, specific company risks or opportunities, and so forth.
4) Stock Price Trends — A final review of a stock's trading pattern helps to know when to buy or sell. I like to buy attractive stocks when they are trending higher and when it is clear that other buyers are willing to step in and keep pushing stock prices higher.
Of course there are plenty of additional nuances. And the more time you spend looking at investment opportunities, the better you'll be at finding the best ones.
But having a set process for sifting through the market will help you focus on the best opportunities and avoid getting distracted by too many opportunities.
Here's to growing and protecting your wealth!
Zach Scheidt
Editor, The Daily Edge
Twitter FacebookEmail