U.S. equities suffered another wild ride on Monday, surging at the open on excitement over the GOP's successful passage of their tax reform bill over the weekend.
Yet rotation selling out of big-cap tech stocks and lingering fears over a possible government shutdown this week resulted in a persistent downtick into the closing bell.
In the end, the Dow Jones Industrial Average gained 0.2%, the S&P 500 lost 0.1%, the Nasdaq Composite lost 1.1%, and the Russell 2000 lost 0.3%. The result was the largest reversal in the S&P 500 since February 2016.
Performance divergence between the S&P 500 and the Nasdaq has continued for six days now, reaching the highest level since May 2009.
Microsoft Corporation (NASDAQ:MSFT) lost 3.8% and was among the hardest hit tech stocks as it fell out of a three-month trading range. Amazon.com, Inc. (NASDAQ:AMZN)lost 2.4%, Facebook Inc (NASDAQ:FB) lost 2.1% and Apple Inc. (NASDAQ:AAPL) lost 0.7%.
Broadcasters and food retailers led the way with gains of 3.1% and 3%, respectively. Toys and leisure goods were the laggards down 4.8% and 4% respectively, which isn't what you want to see in the midst of the holiday shopping season.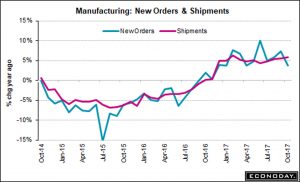 Click to Enlarge The latter will be closely watched as the Federal Reserve prepares for another interest rate hike this month with Deutsche Bank looking for another four hikes in 2018.
There also remains media chatter concerning a possible "Obstruction of Justice" charge against President Trump as a consequence of the ongoing investigation into his campaign and any possible connections to Russia. This was the reason for the big selloff seen in Friday.
Overall, the government shutdown threat is probably the largest since catalyst in play. It's worth noting that stocks actually rose during the last shutdown in 2013, adding 3.1%.
Today's Trading Landscape
To see a list of the companies reporting earnings today, click here.
For a list of this week's economic reports due out, click here.
Anthony Mirhaydari is the founder of the Edge (ETFs) and Edge Pro (Options) investment advisory newsletters. Free two- and four-week trial offers have been extended to InvestorPlace readers.