While most investors are trying to wrap their head around the soaring price of Bitcoin, I'm more focused on its underlying technology (blockchain) and its impact on the future of banking. Blockchain is here to stay and Bank of America (NYSE:BAC) is staking its claims.
Blockchain
So, what is this revolutionary technological innovation called blockchain? It's pretty simple really. As most know by now, it's a decentralized, digital accounting of transactions in chronological order. Each transaction builds on top of the other. When one "block" is complete, another begins in linear, chronological fashion.
The technology is more complicated and powerful than that simple explanation, so I encourage the reader to google Blockchain for a more definitive description. My focus instead will be on Blockchain in banking, and I'll be content letting others dream of becoming Bitcoin billionaires. At current valuations, there's a good chance that ship has sailed. I'm going to take a different tack.
The Search
When investing in new technologies and looking for the latest ideas, I start with the U.S. Patent and Trademark Office. Patents provide a good guidepost to what companies are working on for the future. When searching a topic, you will typically find some companies that are public while others are private startups worthy of putting on a watch list for investment opportunities down the road. The list of companies is usually interspersed amongst creative individual inventors. The search for blockchain patents was no different.
A query for blockchain-related lists show there are hundreds of separate patents. Of those, a sizable number are large cap corporations trying to get a jump on the competition. While the majority of the patents assigned have been in the IT industry, "Bank of America" is among the top 10 assignees.
Bank of America has been granted eight patents. It also has several (approximately 53 last count) patent applications pending while continuing to be one of the most active banks filing for blockchain and cryptocurrency-related patents to date.
The Future of Secure Banking
Let's talk about patent 9,825,931 which is the most interesting and carries the most impact. The title of the patent is "System for tracking and validation of an entity in a process data network," which sounds fairly benign. However, the possible implications are astounding. Think of yourself and everyone you know as blockchains. That's BAC's patent 9,825,931.
The abstract is provided below:
"Embodiments of the invention are directed to a system, method, or computer program product for generating and using a blockchain distributed network for tracking and validating a user identification morphing over time. The blockchain database comprises a distributed ledger that is updated with real-time identification information including an initial identification of the user. Subsequent identifications are stored and changes or morphs in identification, such as signatures, physical attributes, or locations of the user are identified. User facts are correlated with the identifications to build a timeline for the user. Subsequently, the system generates authentication questions based off of the timeline generated. The authentication questions allow for authentication of a user into a third-party system."
As individuals, we all morph over time as we age. To record us using blockchain in real time over time is a reflection of who we are. It's a general ledger of our lives. Talk about know your customer!
It doesn't take much of an imagination to consider the uses. For security purposes, BAC will have a much better understanding of our behaviors and habits, and if anything deviates from our normal pattern of living, it can automatically make an inquiry and, based on the database, easily identify us.
Taking it a step further, the identification process can be used to access areas that require higher levels of security as described below:
"In some embodiments, generating the one or more authentication questions based on the user facts and timeline further comprises generating a tier level authentication question based on authentication strength requirements for accessing the third party secure location."
Blockchain and Artificial Intelligence in Banking
Humans represented as blockchains is a powerful concept. Coupled with artificial intelligence, it could be taken to an even higher level. That clearly is where it's headed which brings us to patent 9,773,285, also granted to BAC, titled "Providing data associated with relationships between individuals and images."
The following is the abstract:
"In general terms, embodiments of the present invention relate to methods and apparatuses for providing information regarding relationships between individuals, who may be associated with a user of a mobile device, and objects (e.g., products, locations, businesses, etc.) identified in an image. In some embodiments, this image may be captured by a mobile device. For example, in some embodiments, a method is provided that includes: (A) receiving first information associated with an image, where the image was captured by a mobile device operated by a user; (B) receiving second information regarding one or more individuals; (C) determining, based at least partially on the first and second information, one or more relationships between information regarding individuals and information associated with the image; and (D) presenting, via the mobile device of the user, information associated with the one or more relationships."
Here's the part in the Background section that ties it together:
"The Layar platform technology analyzes location data, compass direction data, and the like in combination with information related to the objects, locations or the like in the video stream to create browse-able 'hot-spots' or 'tags' that are superimposed on the mobile device display, resulting in an experience described as 'reality browsing'. One purpose for which "reality browsing" would prove advantageous is assisting an individual to identify products, locations, businesses, etc. that are associated with the likes, dislikes, interests, hobbies, preferences, purchases, etc. of other individuals such as the individual's friends, family, colleagues, neighbors, etc.
An individual's likes, dislikes, interests, hobbies, preferences, purchases, etc. are usually influenced by other individuals, e.g., the individual's friends, family, colleagues, neighbors, etc. Therefore, a need exists to implement real-time video analysis, i.e., AR or the like, to assist a user of mobile devices with the identification of products, locations, businesses, etc. that are associated with the likes, dislikes, interests, hobbies, preferences, purchases, etc. of other individuals such as the individual's friends, family, colleagues, neighbors, etc."
Now add data from the blockchain of those individuals. Can you imagine walking through a store using augmented reality to Christmas shop for family members who are also customers of Bank of America? That's just one example – a luxury I could sure use right now! The possibilities seem endless.
Monetizing Blockchain
Blockchain has the potential of affecting almost every aspect of Bank of America's consumer banking division, which is one of the largest in the world. As of December 31, 2016, Bank of America operated in all 50 states, the District of Columbia, the U.S. Virgin Islands, Puerto Rico and more than 35 countries. Its retail banking footprint covers approximately 80 percent of the U.S. population and serves approximately 46 million consumer and small business relationships with approximately 4,600 retail financial centers, approximately 15,900 ATMs, and leading online and mobile banking platforms with approximately 34 million active accounts and more than 22 million mobile active users.
In 2016 consumer net charge-offs were $3.3 billion. Blockchain could have a powerful impact on its consumer platform. For example, even a modest 10% improvement in charge-offs from better understanding the credit profile of customers leads to an increase of $330 million to the bottom line.
Blockchain was incorporated in Bank of America's vision for the future of digital technology. At the 2017 shareholder meeting, the CEO presented a presentation, which included streamlining processes through blockchain technology and implementation of artificial intelligence. Below is an illustration from one of the slides: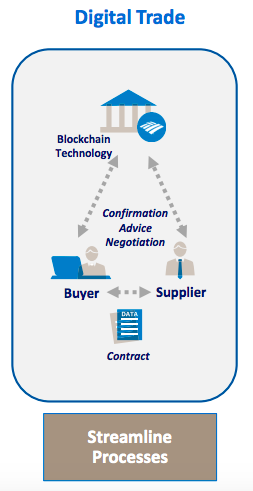 Streamlining processes translates into improved efficiency ratios and improved efficiency ratios translate into increased earnings and share price. At Bank of America, it appears the future is now!
Conclusion
Banking has come a long way over the years from its simple beginnings of taking in deposits, lending out money and earning the spread on the difference. Today's banks have to innovate to stay ahead. It's not surprising that due diligence around blockchain led to Bank of America. Obviously, Bank of America is not alone in its thinking. There are plenty of financial institutions looking at the new technology for innovative ways to service their customers. Bank of America's activity, and results, in the blockchain-related patent arena prove it is a jump ahead!
Disclosure: I/we have no positions in any stocks mentioned, and no plans to initiate any positions within the next 72 hours.
I wrote this article myself, and it expresses my own opinions. I am not receiving compensation for it (other than from Seeking Alpha). I have no business relationship with any company whose stock is mentioned in this article.
About this article:ExpandAuthor payment: $35 + $0.01/page view. Authors of PRO articles receive a minimum guaranteed payment of $150-500.Tagged: Investing Ideas, Long Ideas, Financial, Regional – Mid-Atlantic BanksWant to share your opinion on this article? Add a comment.Disagree with this article? Submit your own.To report a factual error in this article, click here