Here Comes The Judge
U.S. District Judge Richard Leon, the same federal judge who previously oversaw and signed off on the Comcast (CMCSA)/NBCUniversal deal, has been assigned to the U.S. Justice Department's (DoJ) lawsuit to block the AT&T (T)/Time Warner (TWX) merger.
As most readers are undoubtedly already aware, the DoJ filed suit, claiming that the proposed merger in its current structure would result in less choice and higher bills for consumers and, in the words of Makan Delrahim, newly appointed head of the DoJ's antitrust division, limit the development of "new, emerging innovative options that consumers are beginning to enjoy."
Deja Vu All Over again
If these concerns sound like deja vu all over again, it's because they are the same ones used by opponents of the Comcast/NBCUniversal deal when it was reviewed by Judge Leon back in 2011. As a condition of the DoJ's approval at the time, had Comcast already agreed to a host of conditions and rules that it would abide by to ensure that the merger did not stifle competition in the media industry, but it was not requested by the DoJ to structurally change the makeup of the combined entity.
When presented with the solution agreed to between the DoJ and Comcast/NBCUniversal, Judge Leon, being no proponent of government oversight, expressed his doubts that the agreed upon conditions would be subject to any effective oversight or enforcement and that online video content distributors such as Netflix (NFLX) could be placed at a disadvantage with no effective remedy when he wrote:
"The government's ability to 'enforce' the final judgment, and, frankly, this court's ability to oversee it, are, to say the least, limited."
As a result, he imposed a few of his own conditions, primary among them that the merged entity report to the DoJ any arbitration claims brought against it with regard to content disputes. Skeptical as Judge Leon was, however, he was not about to overturn decades of anti-trust precedent regarding vertically integrated mergers, and he ultimately approved the deal.
Comcast/NBCUniversal Merger Hasn't Hindered Competition
Of course, with the benefit of hindsight, the judge's 2011 concern for the wellbeing of Netflix seems quaint to say the least. In fact, the success of Netflix and other online video entities that have proliferated and thrived in the six years since the judge approved the Comcast/NBCUniversal deal is likely to be Exhibit A and proof positive that the nearly identically proposed vertical merger of AT&T/Time Warner won't hamper competition nor limit consumer choice. No doubt an argument could be made that AT&T and Time Warner need to combine forces in order to remain competitive themselves or continue to lose market share to OTT services and content.
AT&T's Words May Come Back To Haunt It
For his part, Delrahim, who has pushed for a structural solution by insisting AT&T divest itself of its DirecTV holdings, or spin off Time Warner's Turner Broadcasting division, which includes TNT, Turner Sports, and CNN, is likely to use the merging party's own words against it. For example, as AT&T and TWX management justified the merger to shareholders, the combined entity was characterized as providing a competitive advantage in the overall media space, resulting in more profit for investors. An excerpt from the DoJ's filing gives us a hint at its strategy, when on the very first page it cites:
"As AT&T has expressly recognized however, distributors that control popular programming have the incentive and ability to use (and indeed have used whenever and wherever they can) that control as a weapon to hinder competition."
Plenty Of Drama And Anyone's Guess On An Outcome
Adding to the drama, especially in light of President Trump's claim while he was still a candidate that he was not in favor of the merger when it was first announced, and his very public and ongoing feud with CNN over what he deems as "fake news", is Makan Delrahim – himself a recent Trump appointee – insisting that CNN be carved out of any merger before he would bless it.
No doubt with valid arguments from both sides of the coin and plenty of drama to speculate on, M&A experts and armchair attorneys alike will have more than enough material to discuss the merits of the case and the likelihood of the merger being ultimately approved or not. That question, however, is really moot for our purposes. The real question investors should be asking is not necessarily "How will the court decide"? Rather given that the situation has come down to a binary outcome, the question should be "How will the stock react if/when the merger is approved/not approved and what, if anything, should I be doing about it from an investor standpoint?"
What's An Investor To Do?
Regardless of the legal precedent, various merits of either position in the case, or jurist disposition, what does this all mean from an investor perspective? How is the stock likely to react when a ruling is eventually made one way versus another? What should current shareholders do, if anything, to hedge their positions against further downside? As shares are trading just off lows for the year, and likewise trading at close to a low on an earnings multiple basis, is this an opportunity to establish a position ahead of a potential upturn or a value trap?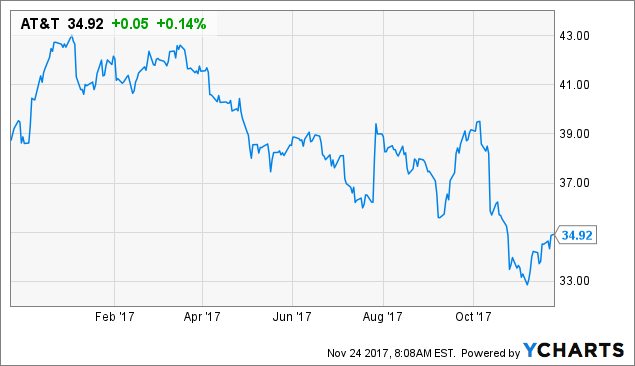 T data by YCharts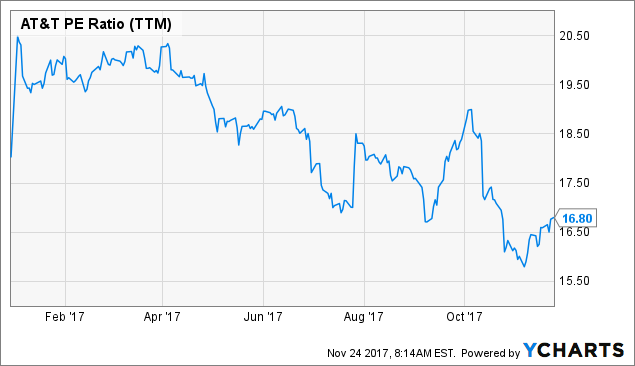 T PE Ratio (TTM) data by YCharts
If the court ultimately rules against the approval for the merger, it certainly would be a setback for AT&T CEO Randall Stephenson's strategy of building an integrated network of broadband, content, and distribution. But it would not mean that strategy cannot still be achieved.
Certainly with regard to its sheer size and collection of content, adding Time Warner with a single stroke of the pen is preferable to adding the various pieces on a more ad-hoc basis over time. To be sure, without the content ownership Time Warner brings to the table, AT&T would have less leverage over content costs and distribution rights than it otherwise would have, but regardless, with or without Time Warner, AT&T would still need to acquire additional content rights from third parties. Therefore, its business plan would not be ultimately defeated if the deal doesn't happen, and the long-term strategy would remain intact with or without the deal.
In the near term, as I had pointed out in a previous article, the actual financial impact of a broken deal would be relatively minor to the company the size of AT&T, as it would be required to pay a $500 million breakup fee. In addition, debt issued to fund the cash part of the deal would be redeemed at 101% of the principal amount plus accrued but unpaid interest – approximately an additional $300 million. As a result of the redemption of the bonds, the balance sheet would immediately be delevered, taking pressure off the company's credit rating status, which would benefit bondholders, and income focused shareholder could breathe a sigh of relief as speculation over the continuation of the dividend would subside.
In other words, without Time Warner, life goes on for AT&T. While the stock may take an additional hit if this time Judge Leon rules against a vertical merger, such a reaction would likely be short-lived and provide value hunters with an even more attractive entry point.
I think the more uncertain and perhaps more interesting scenario would be if the deal is ultimately approved. Especially if, as often happens in Judge Leon's courtroom, the case drags on longer than anticipated.
Currently, and as long as the legal review drags on, AT&T's cash flows will be pressured as it is saddled with servicing the $30 billion of incremental debt of the aforementioned bonds – without the benefit of additional cash flows from Time Warner.
And if/when the deal is finally approved, management has a lot of wood to chop, and quickly, in order to implement synergies and start to reduce and sustain leverage back towards the 2.5x or lower level as it has expressly indicated would be its focus. To do so, my guess is that management's strategy would be to incrementally raise the price of its broadband access. However, any conditions that Judge Leon may impose, as he did with the Comcast/NBCUniversal case, on the combined entity's ability to raise prices anywhere along the value chain may throw a wrench into those works.
Therefore, if the merger is ultimately approved and successfully completed, cash flow needs to improve and/or leverage needs to be reduced below 3x EBITDA on a sustained basis, or the company could be further downgraded. If there is one thing management is committed to more than sustaining and growing the dividend, it's maintaining its investment grade credit status. A downgrade to non-investment grade is NOT an option.
Investors hate uncertainty, and the AT&T/Time Warner merger is definitely in an uncertain territory at this juncture. Long term, an approval and successful integration of the merger is the best scenario for shareholders and bondholders alike. If the deal gets rejected by the courts, expect shares to take a quick dip and be prepared to buy on the news before cooler heads realize that it's just back to business as usual for AT&T. If the deal is approved, expect the stock to continue to be under pressure as management has a lot of work to do to prove the merger is a profitable one.
Disclosure: I/we have no positions in any stocks mentioned, and no plans to initiate any positions within the next 72 hours.
I wrote this article myself, and it expresses my own opinions. I am not receiving compensation for it (other than from Seeking Alpha). I have no business relationship with any company whose stock is mentioned in this article.
About this article:ExpandAuthor payment: $35 + $0.01/page view. Authors of PRO articles receive a minimum guaranteed payment of $150-500.Tagged: Investing Ideas, Long IdeasWant to share your opinion on this article? Add a comment.Disagree with this article? Submit your own.To report a factual error in this article, click here