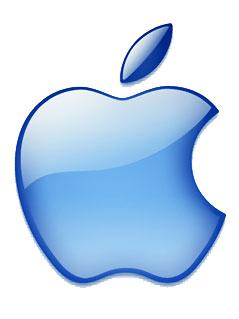 By Ophir Gottlieb
Preface
Apple announced a beat of EPS in the latest quarter and the stock jumped higher adding nearly $80 billion to its market cap over the last two days.
But, three things happened that have never happened before at the same time – which is to say, each has happened by itself, but the coincidence of all three may be the first time that Apple bulls can finally take a breath – they were right, we were right. The doubters, at least for one quarter, were wrong.
Story
While the headlines will have us look at the revenue and EPS beat (we discuss below), and the focus on Apple Services (which we also discuss below), the coincidence of these three things, as far as we know, have never happened:
* iPhone units missed estimates (52.5 million vs 53 million).
* EPS beat estimates ($2.73 vs $2.69) but revenue missed estimates ($61.1 billion vs $61.15 billion).
* The stock rose anyway.
Yes, for the first time since the iPhone became the dominant product for Apple, a unit miss and a revenue miss was applauded by Wall Street, and while a massive new stock buyback program was announced, that was not the reason for the rally, in our opinion.
Why The Rally
Apple bulls have, now for more than two-years, insisted that Apple is not just a phone company. As long as it was seen as such, every statistic about the iPhone, every nook and cranny by geography, drove the stock price.
Even further, the multiple the company received on its earnings (the Price to Earnings multiple) has been far lower than other mega tech peers, because hardware sales (read iPhone sales) are not recurring revenue, like, say, Amazon Prime memberships, or Microsoft word subscriptions.
But, this time around, Wall Street heard it loud and clear, Apple is not just a phone company. And while Tim Cook has been jumping up and down with this narrative for years, somehow, this quarter, Wall Street listened to the facts, and they were astounding.
Beyond iPhone
There are two massive trends that Apple is pushing forward outside of the iPhone. The first is Apple Services (App Store, Apple Music, iCloud and Apple Pay).
Apple says it now has 270 million paid subscriptions (subscriptions are recurring revenue), which is up 100 million on a year-over-year basis.
Apple Services delivered $9.2 billion in revenue in the last 3-months, which was up 30% on a year-over-year basis. And, according to Cook, the services growth was global. He says the "minimum" growth for services was 25% in each geography.
Not only are Services revenue booming, and not only is that revenue recurring, but it also carries with it a high margin. Apple doesn't divulge the numbers, but the gross margin on an Apple Music subscription or an iCloud subscription is massively higher than on a piece of hardware.
But, given all of that, we still don't feel like that, alone, would have moved Apple stock higher given the iPhone unit miss. Apple needed a second piece, and it got it, of course, from wearables.
We have written so many times about the Apple Watch that if you look at the original Top Pick dossier and scroll through the updates, it looks like we only update about the Watch (and China). But, yet again, here's why it matters.
Wearables and the Watch
On 4-9-2018 we wrote that "Apple Watch is Turning into a Huge Winner."
In that dossier we note that Apple is utterly dominating the wearable market, and in particular the smart watch market. Here's an image from that dossier:
Top 5 Wearable Companies by Shipment Volume, Market Share, and Year-Over-Year Growth, Calendar Year 2017 (shipments in millions)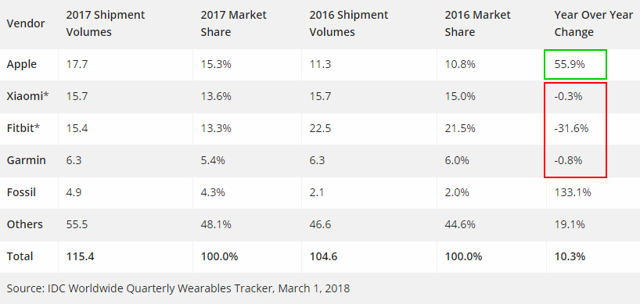 Source: IDC
While Apple is growing at 55% year-over-year, its next two closest rivals are shrinking. But, here's why that matters – from the earnings call:
Tim Cook said Apple's "wearables" business was up 50% and is now the size of a "Fortune 300" company. That implies its wearables – which include the Apple Watch, AirPods and Beats – is a $9 billion annual business, which is growing at a 50% rate. Cook said the Apple Watch grew at a "strong" double-digit rate and had its best ever March quarter performance.
As we continue to see Apple's results, and then research from IDC (and others), it looks like Apple is not only dominating this market, it looks like its growth is accelerating.
The Apple Watch appears well on its way to being a 25 million unit seller for the full year, and that, finally, is the scale of Apple.
Suddenly Apple's incredible ability to sell hardware that people want, and will pay up for, does have a second home – it's the wearable category, from Air Pods to watches. And the watch is turning into a serious driver for the company.
All of a sudden, a slight miss on iPhone units isn't that big of a deal – not when a Services Segment is now about the size of Facebook on its own, growing at a remarkable pace, and a second wave of hardware appears to bubbling to the surface with the wearables.
We also see a company that is using its more than one billion person user base into more businesses – away from just the iPhone, and even away from just hardware, like video.
A Reminder About Recurring Revenue
We've done this exercise before, but just as a reminder of how important it is to have recurring revenue, not just hardware sales, here are some stunning facts about Microsoft when it changed its business from selling office as a one-time sale, to turning it into a subscription (read: recurring) revenue model.
This is intentionally old data, to see how a shift in revenue type overcomes even a revenue short fall.
This is from January 2016:
While Microsoft's stock price is up 40% in the last two-years, it's earnings growth has turned negative as it has switched from a one-time sale to recurring revenue model. Here is the net income 1-year growth chart through time.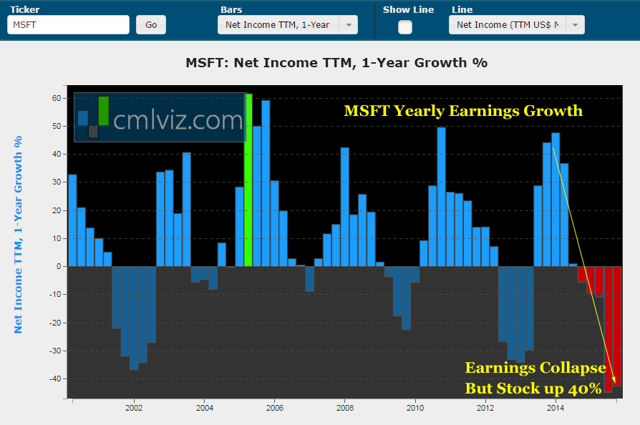 Yes, this is how important the revenue model is. MSFT is in an unabashed earnings recession while the stock is crushing it.
Now, let's fast forward to today. Here is a chart of Microsoft's revenue.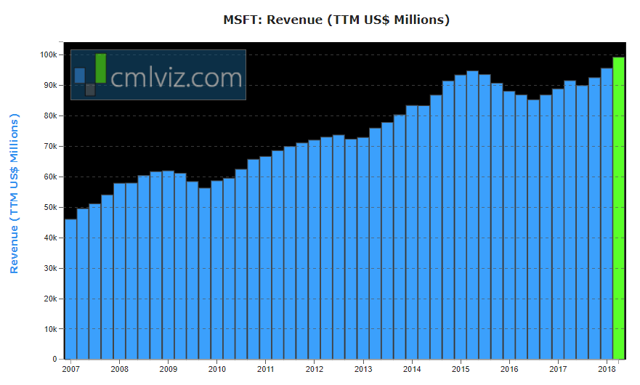 Since April of 2015, Microsoft has seen revenue "grow" by 5%. Yes, 5%. In those same three (ish) years the stock is up 126% while the S&P 500 is up just 26%.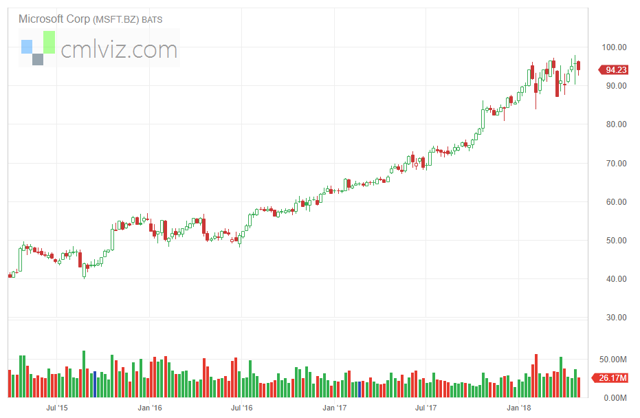 It's not that Wall Street has lost its mind. Quite the opposite. Microsoft has changed itself from a company selling software one at a time, to a company that has a massive subscription service, most of which is powering its cloud revenue.
This is what Apple is trying to do, but in the meantime, revenue is growing and so are earnings.
It's this goal that we see Apple pursuing – it's this phenomenon that could make this company's stock soar. And for the record, when we wrote that this could "double the stock," – well, we're already half way there, with a 50% rise.
Conclusion
The impossible happened – Apple missed on iPhone units and was at best at analyst expectations of revenue, but Wall Street (maybe) finally gets it. This company is changing – it will always be hardware heavy, but it will diversify that hardware into wearables, and it will (and has) create a massive recurring revenue business called Apple Services.
This is the bullish thesis for Apple. This is why it's a Top Pick. And this is why we still see upside for the company.
Thanks for reading, friends.
Legal
The information contained on this site is provided for general informational purposes, as a convenience to the readers. The materials are not a substitute for obtaining professional advice from a qualified person, firm or corporation. Consult the appropriate professional advisor for more complete and current information. Capital Market Laboratories ("The Company") does not engage in rendering any legal or professional services by placing these general informational materials on this website.
The Company specifically disclaims any liability, whether based in contract, tort, strict liability or otherwise, for any direct, indirect, incidental, consequential, or special damages arising out of or in any way connected with access to or use of the site, even if we have been advised of the possibility of such damages, including liability in connection with mistakes or omissions in, or delays in transmission of, information to or from the user, interruptions in telecommunications connections to the site or viruses.
The Company make no representations or warranties about the accuracy or completeness of the information contained on this website. Any links provided to other server sites are offered as a matter of convenience and in no way are meant to imply that The Company endorses, sponsors, promotes or is affiliated with the owners of or participants in those sites, or endorse any information contained on those sites, unless expressly stated.
Disclosure: I am/we are long AAPL.
I wrote this article myself, and it expresses my own opinions. I am not receiving compensation for it. I have no business relationship with any company whose stock is mentioned in this article.