A few days ago I was looking over Apple's (AAPL) fundamentals, and I bumped into a very interesting figure: The average 12-month forward price target for AAPL shares is only $188 (data via Yahoo). In my opinion this is very conservative. In fact, I think AAPL shares will reach $200 over the next 3-6 months at the most.
2016 was a record year for Apple (AAPL) in terms of revenue. Since then revenue declined a little, however it is now clear that on a 12-month forward basis, the company will break a new record.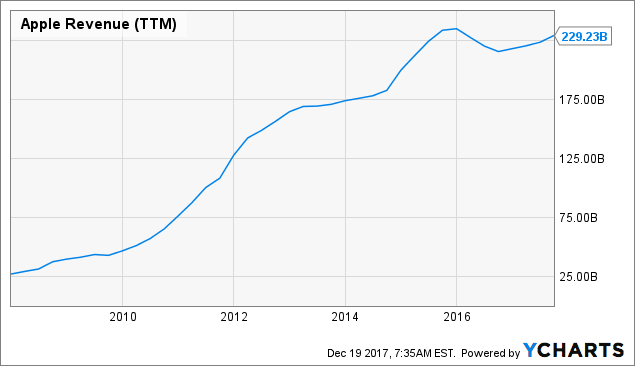 AAPL Revenue (TTM) data by YCharts
If analysts prove to be right, AAPL will do about $86.5B in revenue for the quarter ending December 2017, which will be a record quarter. And if analysts are right again, AAPL will end 2018 with about $274B in revenue, and $280B for 2019. So for starters AAPL is looking at record revenue over the next two years.
The second reason why we will see the $200 handle soon has to do with AAPL's installed base. Make no mistake, irrespective if AAPL's global market share goes up or down, AAPL will be selling more of everything, including services.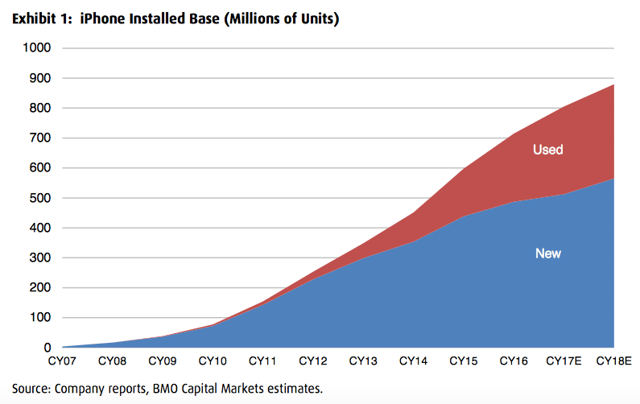 Source: Data from BMO via Philip Elmer-DeWitt's blog
And with a major upgrade cycle underway, my guess is that this install base will continue increase. So irrespective if iPhone 8 sales miss a little, in my mind it does not really matter. Revenue and the install base will keep on increasing for the foreseeable future.
Another reason has to do with EPS and outstanding shares. Please note that repurchases have been the No. 1 reason in my book to own APPL for a long time now.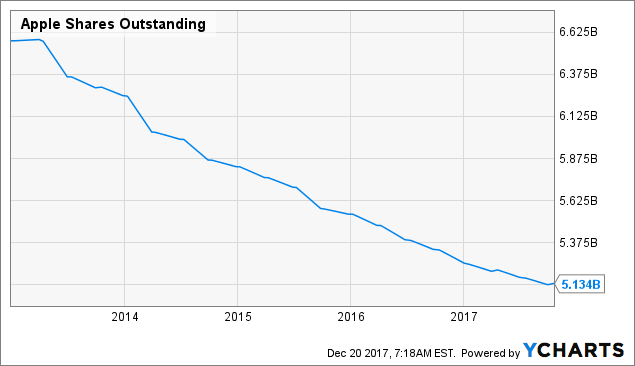 AAPL Shares Outstanding data by YCharts
In fact, as long as APPL continues to produce billions in free cash flow every year, permitting it to repurchase shares after paying a dividend, EPS will continue to grow irrespective if revenue and overall company profits stay stagnant.
Another reason why AAPL shares could (should) increase by at least 20% over the next several montha has to do with it valuation. Despite the increase of AAPL shares over the past year, AAPL still trades at a discount to the market.
AAPL's current 12-month trailing P/E stands at about 19, and its forward 12-month P/E at about 14. That's a good sized discount to the overall market, and what most large-cap technology companies trade for.
So why is $200 around the corner?
According to data from Birinyi Associates (via the WSJ), the current trailing P/E of the Nasdaq 100 stands at 26.37, with the estimated 12-month forward P/E at 21.17.
So if the market will continue to value AAPL shares at a 19 P/E next year, its shares have to increase by at least over 30% over the past 12 months, in order for the current forward P/E of 14, to reach 19 this time around next year. If we add 30% to today's price, AAPL shares this time around next year should be around $230.
And while there's no guarantee the market will value AAPL at a 19 P/E next year, I see very few reasons not to, given the share repurchases, revenue growth over the next two years, its discounted valuation, and strong cash flow.
So not only do I think the 12-month forward price target of $188 as too conservative, I also think AAPL shares should trade at about $200 over the next 3-6 months.
Bottom line
I don't really have a 12-month forward price target for AAPL. However the $188 figure analysts have is way too conservative. In fact, in my opinion (for the reasons stated above), with the exception of a major market correction, AAPL shares should trade at around the $200 handle in the next 3-6 months.
Disclosure: I/we have no positions in any stocks mentioned, and no plans to initiate any positions within the next 72 hours.
I wrote this article myself, and it expresses my own opinions. I am not receiving compensation for it (other than from Seeking Alpha). I have no business relationship with any company whose stock is mentioned in this article.
About this article:ExpandAuthor payment: $35 + $0.01/page view. Authors of PRO articles receive a minimum guaranteed payment of $150-500.Tagged: Investing Ideas, Long Ideas, Technology, Personal ComputersWant to share your opinion on this article? Add a comment.Disagree with this article? Submit your own.To report a factual error in this article, click here