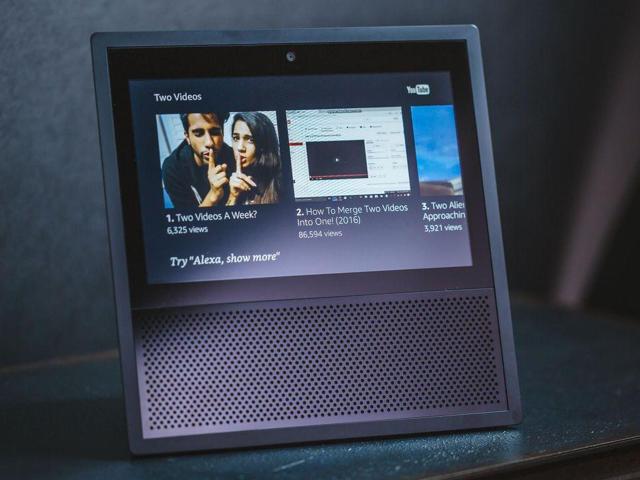 source: Cnet
For the first time ever, Amazon recently released its full-year shipping numbers for Amazon Prime, saying for 2017 it delivered more than 5 billion products around the world, and increased its prime subscriber base at a pace it never has reached in the past.
It also said in the Christmas season of 2016 it delivered 1 billion products – although it didn't release full 2016 shipping figures.
It also said the biggest seller among its Prime members in the U.S. was Echo Dot and Fire TV Stick. The Fire TV Stick can communicate with Alexa if the remote has a Voice button, further locking in consumers to Amazon's ecosystem. Most if not all the things you can do using an Echo can be done with a Fire TV is you want.
Besides the lock-in, Amazon (AMZN) has revealed where it's taking all of this: Developing an ad model around the devices it makes that use Alexa. The significance of Prime members buying the two devices in large numbers points to Amazon having a sizable consumer base to work from.
Combined with other Prime perks, it's going to be difficult for competitors to dislodge customers from the integrated services and products.
Ad potential
Even though Amazon is easily the market leader in e-commerce, that's not the case with its advertising business, which is fifth among U.S.. companies. The bulk of Amazon's ad revenue comes from sponsored placements on its website.
In the third quarter of 2017 ad sales came in at over $1 billion. According to eMarketer, that will grow by 42 percent in 2018, to $2.4 billion. That pales in comparison to Facebook's (NASDAQ:FB) $21.6 billion and Google's (NASDAQ:GOOG) (NASDAQ:GOOGL) $40.1 billion. From that reference point, Amazon has nowhere to go but up with its ad growth.
As for voice search and related ad potential, Google said as far back as May 2016 that 20 percent of searches on mobile were from voice. Looking ahead, comScore has said it believes voice-initiated searches will account for about half of all searches by 2020.
This is a powerful ad revenue catalyst for Amazon, which holds close to 75 percent market share at this time, and may have increased that in the Christmas shopping season.
A report from CNBC noted that sources tell them it is in negotiations with a number of large brands, including Clorox (NYSE:CLX) and P&G (NYSE:PG), either to promote products within Alexa skills, or to sponsor products when Alexa provides suggestions. That would be similar to shopping within the existing Amazon interface, with the exception of it being a combination of audio, and now it appears video, with the move toward offering Echo with a screen.
It'll be interesting to see if it innovates with Fire TV and moves in a similar direction.
The future of Alexa and Echo will probably be immersive
Based upon the response of Amazon to audio ads launched by VoiceLabs in May 2017 for devices using Alexa, it appears the company wasn't impressed with the results, as it was shut down by Amazon.
Interestingly, CEO Adam Marchick said consumers were highly receptive to the audio ads. He also said there was a lot of advertiser demand from CPG companies, to prompt people to add products to their shopping carts.
It's possible the results were OK, but Amazon may have been looking for a lot more. I think Amazon sees video being a part of the future of Alexa and Echo, and is probably positioning itself to offer a more immersive ad experience for consumer, by which I mean one that includes all the senses.
The strong sales of Echo Dot doesn't lend itself to that, since it doesn't include a screen at this time. But the strategy to me seems to be to get the devices in the home and grow and retain hefty market share, and then promote the idea of a premium device and experience, led now by Amazon Echo Show, which does have a screen.
I think we'll probably see Amazon eventually roll out a lower cost Echo with a screen in the not-too-distant future, if it is in fact looking to ramp up its video business by including visuals with the audio of Alexa.
Conclusion
Not to be lost in all of this is the ongoing growth of Amazon Prime. While we all know a percentage of the people getting temporary free Prime subscriptions during the Christmas season are going to drop out, but a significant number will stay on as well.
Amazon is obviously building an ecosystem with its Prime, Alexa, Echo, and probably Fire TV, which will make it extremely difficult to compete against.
As it builds that out, not only is it generating more revenue from its Prime members, which most investors know about, but it seems like those using Alexa are highly engaged when ordering from the e-commerce giant.
This is prepping Prime subscribers for the convenience of using Alexa and Echo to accept ads in the future on the device. Ads that won't be considered intrusive, but part of the experience of being offered suggestions that are based upon the comprehensive database Amazon has on its customer's buying habits and interests.
Once again, I think Amazon has outmaneuvered its competitors and is about to become a strong player in the digital ad space. This should add yet another solid revenue stream to its growing business.
Disclosure: I/we have no positions in any stocks mentioned, and no plans to initiate any positions within the next 72 hours.
I wrote this article myself, and it expresses my own opinions. I am not receiving compensation for it (other than from Seeking Alpha). I have no business relationship with any company whose stock is mentioned in this article.
About this article:ExpandAuthor payment: Seeking Alpha pays for exclusive articles. Payment calculations are based on a combination of coverage area, popularity and quality.Tagged: Investing Ideas, Long Ideas, TechnologyWant to share your opinion on this article? Add a comment.Disagree with this article? Submit your own.To report a factual error in this article, click here