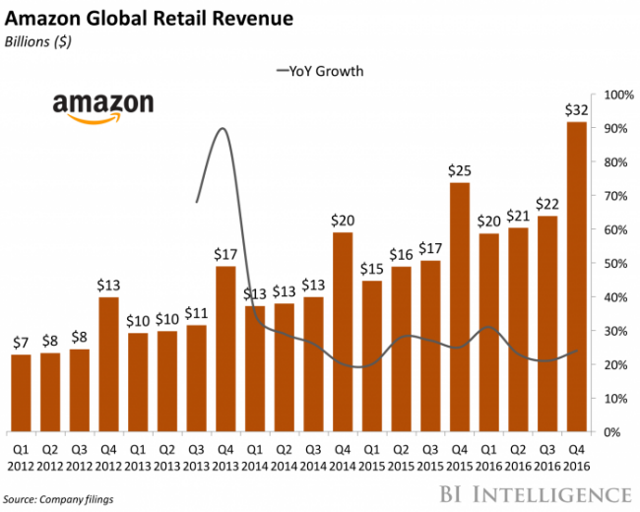 Amazon's (NASDAQ:AMZN) Prime membership program now counts 80 million members worldwide, up from 63 million last June, according to new estimates from Consumer Intelligence Research Partners (CIRP).
Prime's growth has helped fuel the company's rapid success in recent years, turning it into a dominant force in the US e-commerce sector with a 43% market share.
Unsurprisingly, the study found, Prime members tend to spend more with Amazon than non-Prime members. Prime members spend $1,300 per year with the e-commerce giant, on average, compared with $700 for non-Prime members. This increased spend helps Amazon offset some of its costs associated with free shipping and other Prime perks.
Prime's growth has been mostly concentrated in the US, where the total number of Prime members reached 58 million at the end of Q1 2017, a 38% year-over-year (YoY) increase, according to CIRP. That means 60% of Amazon's US customers now have Prime memberships. Prime's rapid adoption in the US has been a transformative force in the retail market, driving up Amazon's revenue and market share, while department stores and big box retailers suffer declining sales and foot traffic.
Source: Amazon Prime subscribers hit 80 million
One could argue that Costco (NASDAQ:COST) and Amazon are in very different businesses – after all, how many times have you ordered the 6-pound tub of Nutella from Amazon (we have to admit we were tempted by it). Yes, on the surface you could say Costco is where you go to stock up on household items, clothes and food and Amazon is where you go to get those little things you can't find anywhere else or use just because of the simplicity of the service and the convenience of not having to battle.
But let's think about why Costco rose to fame – they offered cheap items, but you had to buy it in bulk. You could get cheap cereal, but you have to buy it in 3-packs. Anyone for 64 oz of Hershey's syrup?
With Amazon Prime, you can find good deals, you don't have to buy a lot of it and you have it in 1-2 days, if not same day if you live in some cities. And when you run out, you can have Amazon order more for you with the automatic Prime buttons.
You can see this battle playing out in membership numbers, with Amazon Prime subscriber rolls quickly approaching Costco's 88 million members. It will be an interesting battle to see if one business model wins out over the other. We think both companies will continue to thrive and survive, but each will have to start inching toward the other one's model – which could be why services like Boxed.com have exploded recently. If you're not familiar with Boxed, they what could be best described as "Amazon meets Costco." Check out our podcast with Boxed CEO Chief Huang here.
About this article:ExpandTagged: Investing Ideas, Quick Picks & Lists, TechnologyProblem with this article? Please tell us. Disagree with this article? Submit your own.Follow Tematica Research and get email alerts