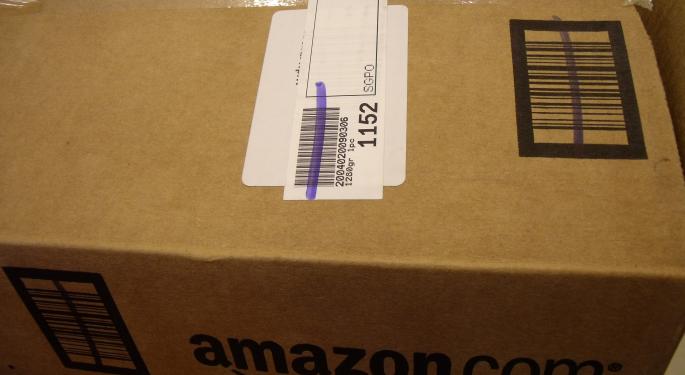 Related AMZN The Market In 5 Minutes: Thursday, March 10, 2016 The Best ETF Since The Start Of The Bull Market Is… Box Benefits From IBM Deals; More To Come With Microsoft? (Investor's Business Daily)
In a pair of new reports, Wall Street analysts weigh in on two important recent developments for Amazon.com, Inc. (NASDAQ: AMZN).
First, Pacific Crest analyst Edward Yruma discussed Amazon's new fashion show
Style Code Live." According to Yruma, the new show is an innovative approach to apparel marketing.
"We believe this move, coupled with a move into private label, highlights Amazon's willingness to be innovative and to approach the category differently than with its traditional values of low cost and fast shipping," he explained.
Pacific Crest has an Overweight rating on Amazon and an $800 price target for the stock.
Related Link: Rolfe: Berkshire Still Better Bet Than Small Caps
Bank of America analyst Justin Post instead chose to focus on Amazon's air cargo news. This week, Air Transport Services Group Inc. (NASDAQ: ATSG) announced a deal with Amazon to operate an air cargo network for U.S. Amazon customers. Air Transport will be operating at least 20 planes on behalf of Amazon.
While bears could see the cargo operation as yet another massive expense for Amazon, Post believes investors should look past the initial costs.
"We are optimistic that the Street will see investments in fulfillment/logistics as positive steps toward building an even bigger competitive moat, with opportunity for incremental 3P shipping revs. in the future," Post noted.
Bank of America has a Buy rating and $750 price target for Amazon.
Disclosure: The author holds no position in the stocks mentioned.
Image Credit: Public Domain
Latest Ratings for AMZN
DateFirmActionFromTo
Mar 2016
BMO Capital
Initiates Coverage on
Outperform
Feb 2016
Bernstein
Maintains
Outperform
Feb 2016
Canaccord Genuity
Upgrades
Hold
Buy
View More Analyst Ratings for AMZN
View the Latest Analyst Ratings
Posted-In: Analyst Color Long Ideas News Contracts Events Markets Analyst Ratings Tech Best of Benzinga
© 2016 Benzinga.com. Benzinga does not provide investment advice. All rights reserved.

Related Articles (AMZN + ATSG) The Market In 5 Minutes: Thursday, March 10, 2016 The Best ETF Since The Start Of The Bull Market Is… How Has FANG Performed In The 7-Year Bull Market? Mid-Afternoon Market Update: Crude Oil Rises 3.5%; Zagg Shares Fall Following Weak Q4 Results The Market In 5 Minutes: Wednesday, March 9, 2016 Mid-Day Market Update: Blue Buffalo Pet Products Rises Following Strong Q4 Results; Ocean Rig UDW Shares Slide
View Comments and Join the Discussion! View the discussion thread.
Get Benzinga's Newsletters
Zing Talk: Benzingas Top Stories
Morning Market Primer
Weekly ETF Outlook
Weekly Options Outlook
Daily Ratings Summary
Technical Chart of the Day
Weekly Economic Outlook
Sign up for email alerts on AMZN
Trending Recent
1
AAPL: Apple CFO Has 'No Confidence' In Company, Chowdhry Warns
2
LL: Whitney Tilson Shorts Lumber Liquidators Again, Says Co. Has 50% Chance Of…

Support.com (NASDAQ:SPRT) holds its special meeting on Sept. 10 to vote on its merger with Greenridge Generation Holdings. The merger's acceptance requires that more than 50% of owners of SPRT stock vote to approve the deal.

Source: Shutterstock.com

The two parties announced their

Never underestimate the power of a good quarter to move a company's stock in the right direction. This dynamic was apparent with NetApp (NASDAQ:NTAP) on Thursday, as its shares were trading more than 4% higher in late-afternoon action following the publication of its first-quarter 2022 figures.<

tags:

After a strong run, Cisco Systems  (CSCO)  stock has been cooling off lately.

At one point, shares were up 3% on Wednesday, then flipped to a decline of 1.4%, before settling lower by 0.54%.

The stock got off to another strong start on Thursday, rallying almost 2% i

tags:

The price-drop curse remains in place.

After falling immediately following the release of 10 of its past 11 quarterly reports, the share price of video gaming retailer GameStop (NYSE:GME) is down -- again -- in Wednesday's after-hours trading, following the post-close release of the

New York State Common Retirement Fund trimmed its holdings in RBC Bearings Incorporated (NASDAQ:ROLL) by 6.6% in the second quarter, according to the company in its most recent Form 13F filing with the Securities & Exchange Commission. The fund owned 31,075 shares of the industrial product

2023-05-29 17:30:25

2023-05-29 01:30:06

Here's Advertisement

2023-05-28 21:30:31

2023-05-28 19:30:13

2023-05-28 17:30:02

2023-05-28 07:31:11

2023-05-28 05:30:18

2023-05-28 01:30:11

2023-05-27 19:30:15