Ahead of another earnings report from Apple (AAPL) analysts were anxious about iPhone shipments in general and the Chinese market in particular. This recurring pattern of doom and gloom has been beneficial to savvy investors ignoring all that noise and instead trusting Apple's management on the company's operations rather than reading too much into anecdotal evidence from suppliers.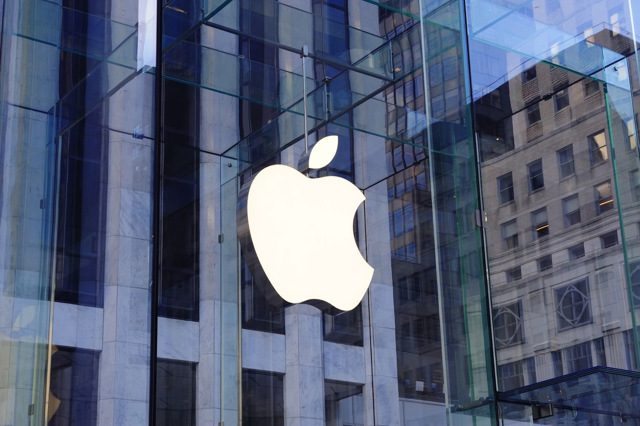 Source: Digital Trends, ALL COURTESY remains
One comment in the earnings call from Apple clearly stands out, as it is unique:
And so I do think – I don't buy the view that market's saturated. I don't see that from a market point of view or – and certainly not from an iPhone point of view. I think the smartphone market is sort of like the best market for a consumer product company in the history of the world and – but that's how I feel about it. It's a terrific market, and we're very happy to be a part of it.
This perfectly sums up why Apple is such a fantastic investment and shows that Wall Street consistently underestimates Apple's business. In fact, after the company proved analysts wrong again, they even had to admit missing on iPhone shipment estimates by miles. I am not sure that this has ever happened before, certainly not with Apple though. Here are five more things that stood out from the stellar report.
$61.1B
Apple crushed estimates yet again, beating expectations in 10 out of the last 13 quarters. Apple recorded Q2 revenue of $61.1B and thus delivered on its previous $60B to $62B guidance with 16% Y/Y growth. That is staggering growth for a company the size of Apple. EPS came in at $2.73 vs. $2.10 in the prior year. More than 52.2M iPhones were sold in the quarter, raking in $38B in revenue (62% of total sales). The best thing about those figures is that iPhone X's premium price apparently does not scare consumers:
And customers chose iPhone X more than any other iPhone each week in the March quarter, just as they did following its launch in the December quarter. Since we split the line with the launch of iPhone 6 and 6 Plus in 2014, this is the first cycle in which the top of the line iPhone model has also been the most popular.
Source: Apple Earnings Call
Such dominance in pricing is unique in the consumer products market and thus shows the strength of the Apple brand in attracting ever more customers. For the next quarter, Apple is guiding for revenue between $51.5B and $53.5B, which is basically in line with its prior year result but more at the upper end of analysts' estimates calling for $51.6B. While this at first glance appears to be zero growth, investors need to consider that Apple delivered stellar growth in the past two quarters with iPhone X and is now expecting a softer quarter ahead of the next product releases.
One analyst has to be singled out here as he consistently is way off with his expectations – Mr. Toni Sacconaghi from Bernstein. He predicted Apple to guide revenue of $47B to $49B, which is a great distance away from what the company really guided.
$728
That is the average selling price for Apple's most recent March quarter, which is up $73 compared to the prior year, representing around 11% growth. Compared to the outstanding December quarter, ASP dropped by $68, which shows that despite iPhone X being the best selling iPhone in every single week during the quarter, older models have actually gained in Apple's product mix. It should be noted that ASP was slightly below consensus estimates of $742 which could hint that the product mix is weakening. However, these concerns are really moaning on very high level and do not really warrant the term concern at all. Still, I would not be surprised if analysts will try to drive down the stock price ahead of next quarter's earnings by reiterating this point.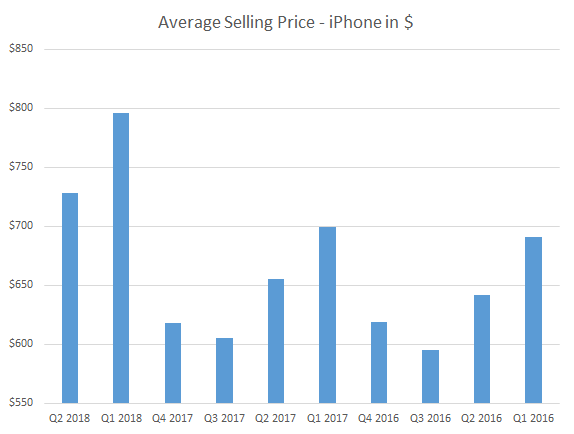 Source: Author's illustration based on Apple Press Releases
The importance of rising ASP compared to FY2017 shows itself in a units vs. revenue growth comparison. Apple sold around 3% more iPhones in the quarter yet revenue grew by a significant 14%.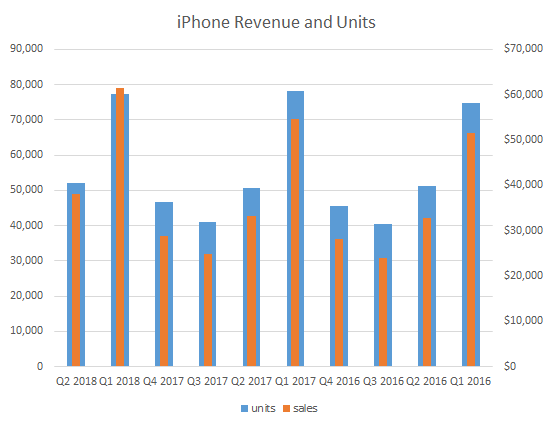 Source: Author's illustration based on Apple Press Releases
$275B
With Apple, numbers are monstrous. From August 2012 to March 2018, the company returned a record $275B to shareholders via dividends and buybacks ($200B). At current market cap, this represents around 1/3 of the company's valuation. For the future, Apple announced a new $100B share repurchase program, which will be started during the June quarter and should provide even more upside potential and downside protection to the stock.
What's more, on the dividend front, the company hiked its dividend by 16%, which may seem light given the company's war chest of cash, but is a responsible action to pursue. In the years ahead, investors can expect consistent double-digit dividend growth from a company generating record sales and still boasting a sub-30% EPS-based payout ratio. On a YTD basis, the FCF dividend payout ratio is even lower at around 22%.
With over $13 billion in annual dividend payments, we are proud to be among the largest dividend payers in the world and we continue to plan for annual dividend increases going forward.
Source: Apple Earnings Call
Of course, there was at least one analyst, Steven Milunovich from UBS, who questioned the soft dividend increase but Luca Maestri replied in a brilliant fashion:
Let's start with the dividend. We're increasing it by 16%. This is the largest increase that we've done since we've reintroduced the dividend back in August of 2012. So we think it's a very meaningful increase for all the investors that value income
This is exactly the type of attitude a CFO should display. Instead of thinking about short-term rewards with a whopping 30%+ increase, Apple plays it comparatively conservative and instead ensures to keep enough cash and flexibility in its capital allocation strategy to be able to quickly and independently pursue opportunities as they arise.
31%
Apple's most underestimated business segment so far is its Services division. It posted stellar 31% Y/Y growth and generated $9.19B in sales, crushing consensus estimates of $8.4B. This segment is poised to continue growing quickly and has already jumped from $6B in Q2/2016 to above $9B for the current quarter.
The company's second largest revenue segment is fueled by the strength of Apple's ecosystem boasting more than 40M subscribers to Apple Music and strong growth across AppleCare and iCloud storage revenue. In all five geographic segments, Services revenue grew by more than 25% Y/Y. Such broad-based growth for a company the size of Apple is truly unique and has analysts cheering during the call.
And the best thing really is that there is no sign of any slowdown of momentum. Apple itself is targeting to double services revenue of 2016 by 2020, which would represent $48.8B or around $12.2B on average by quarter. Compared to the reported quarter, this represents another 33% growth over the next two years, and given the strong momentum we are seeing right now, I would not be surprised if Apple would even exceed that.
Other? China?
Yes, there are even more highlights to be found in Apple's report. Its "Other" category (certainly a very expressive name) accumulated almost $4B in sales, representing 38% Y/Y growth. This segment features Apple's newly released HomePod, Apple Watch, AirPods and Beats products. The wearable segment within that category recorded almost 50% Y/Y growth, which means that this business alone is now the size of a Fortune 300 company.
And then there is China. Apple's performance in China really surprised analysts as they were calling for a decline, yet it delivered 21% Y/Y growth in Greater China, which is the strongest growth it has seen there over the last 10 quarters. This growth is driven by iPhone X, wearables and Apple's services growth engine.
Investor Takeaway
As Apple continues to fire on all cylinders, investors should not wait any longer to invest in a company which is in a market that itself termed to be "the best market for a consumer product company in the history of the world" to be in.
One comment on Apple's earnings call termed that "Apple [is] in a historic sweet spot, and managing it well". I couldn't agree more here.
Digesting all of Apple's figures and its future trajectory, it is absolutely shocking and a great gift at the same time that Apple is only trading at a valuation in the mid-teens. If the market ever assigns Apple a 20-25 times earnings valuation, which it certainly deserves, the stock will catapult to $200 and then $300. As long as this does not happen, we should welcome the opportunity to purchase such a one-of-a-kind company at discount prices.
The future is bright. Not only is Apple seeing tremendous growth in Services and its Other segments but Mac and iPhone are also doing extremely well. Future ground-breaking technologies and initiatives in health data, augmented reality and a wider iPhone offering will act as further catalysts.
To sum up: Apple = Buy it now or regret it later, or as another reader phrased it: AAPL = Always Always Play Long
What's your opinion on Apple? Did you add before earnings or even after?
Disclosure: I am/we are long AAPL.
I wrote this article myself, and it expresses my own opinions. I am not receiving compensation for it (other than from Seeking Alpha). I have no business relationship with any company whose stock is mentioned in this article.
Additional disclosure: I am not offering financial advice but only my personal opinion. Investors may take further aspects and their own due diligence into consideration before making a decision.