As I have written in my recent update on Cleveland-Cliffs, Inc. (Cliffs Natural Resources) (CLF), market participants have been very disappointed with the latest news on steel tariffs. As a result, many steel-related names found themselves under increased pressure.
Frankly, the whole value stocks group has had performance problems for quite some time now as the capital was directed towards the infallible FAANG. Now, it looks like the market is finally ready to reassess its darlings. Facebook (FB) is under pressure, Tesla (TSLA) has made a decisive breakout past the $290-300 area and is developing very significant downside momentum.
In this environment, its high time to look at stocks that were unloved by the market. You cant expect them to outperform on the very same day Amazon (AMZN) and Facebook are getting crushed, but with time, theyll attract fresh-money interest. One of such stocks on my watchlist is AK Steel (AKS).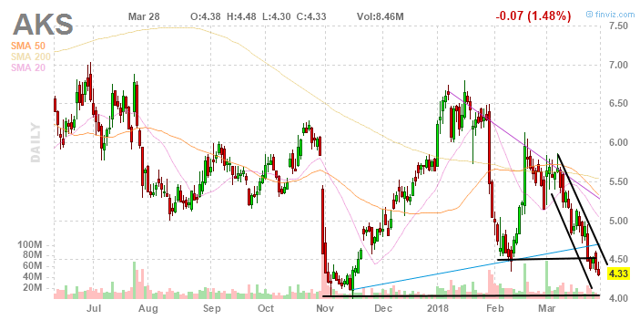 Technically, AK Steel continues to decline in a tight downside channel. The stock has recently gone through the local support at $4.50 and slides lower. I see a significant chance that AK Steel will meet serious support in the $4.00-4.20 area, but this remains to be seen. Currently, the technicals dont call for buy now, but fundamentals are more intriguing.
AK Steel has previously warned that rising expenses may mitigate the increase in steel prices. However, at that time the steel price chart did not look like this (I shared this chart in my recent Cliffs article, but I cant assume that everyone interested in AK Steel is also interested in Cliffs):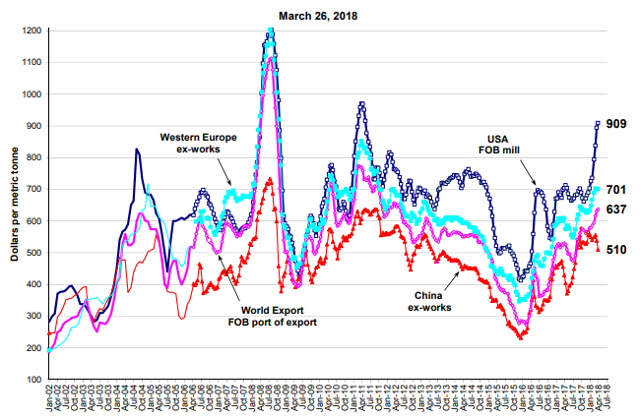 Source: steelbenchmarker.com
While AK Steels stock is under pressure, analysts estimates are climbing:

Source: Yahoo Finance
At current prices, AK Steel is trading at less than 5.5 forward P/E. This is a ridiculous valuation, but it highlights the degree of markets ignorance towards many resource stocks. As I have noted above, investors cant expect that the market will suddenly fall in love with value stocks after many months of ignoring them. However, the spread between fundamentals and the valuation of the company provides margin of safety even if in the short term, the trade goes in the wrong direction.
Another thing that Id like to mention is AK Steels underperformance after earnings reports. The next earnings report is scheduled for April 30, roughly a month away. If you are thinking about a shorter-term trade, this time should be sufficient enough for the market to catch up with fundamental improvements in the steel market and to provide some upside for AK Steel shares. For longer-term bets, current prices provide a decent entry point with a margin of safety.
AK Steel has not been the best-managed company, but the current punishment of the companys stock is reaching ridiculous levels, which is especially obvious when looking at earnings estimates dynamics. Earnings estimates are rising but shares fall at some point, this has to stop. Either analysts are badly wrong (I dont think so given positive steel price improvements) or the market is wrong (more likely in my view).
Catching falling knives is a difficult exercise, so Id prefer to see some positive momentum in AK Steel shares for a long entry. The stock is surely attractive on valuation and the only question is when the market will change its perceptions of such stocks as a group. When this happens, AK Steel shares will have plenty of upside.
If you like my work, don't forget to click on the big orange "Follow" button at the top of the screen and hit the "Like" button at the bottom of this article.
Disclosure: I am/we are long CLF.
I wrote this article myself, and it expresses my own opinions. I am not receiving compensation for it (other than from Seeking Alpha). I have no business relationship with any company whose stock is mentioned in this article.
Additional disclosure: I may trade any of the above-mentioned stocks.