AIG (NYSE:AIG) has recently hosted its Investor Day, whereby the company's management reaffirmed its commitment to meet or exceed its key financials goals. AIG still targets a ~9% normalized RoE in 2017, and we believe this number looks achievable, thanks to: 1) a 60% commercial P&C underlying loss ratio by YE17; 2) cost savings in excess of $1.4bn; and 3) more than $25bn of capital returns.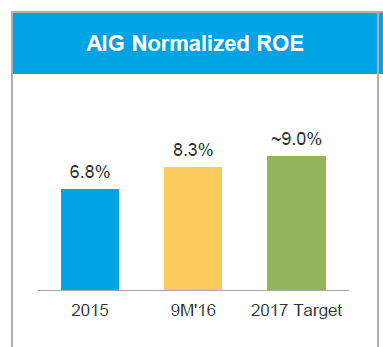 Source: Company data
On track to achieve its P&C loss ratio target
AIG still aims a 60% commercial lines underlying loss ratio by YE17. While the target represents a significant improvement from 66% as at YE15 (64% as at 9M16), we believe the company is well on track to achieve this goal. According to our estimates, around 200bps of the improvement has already come from the greater use of reinsurance (of which a large part of that is the quota share contract with Swiss Re), while the remainder should emerge from shifting AIG's business mix away from underperforming businesses towards more highly profitable business. There is no doubt that execution remains key to achieve targets in a declining pricing environment. As such, we believe AIG will be judged over the next year by showing improvement in its margin as investors understand there is a trajectory to reaching the year-end targets.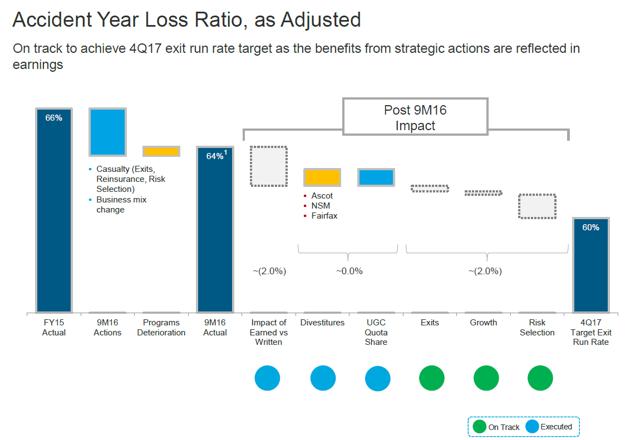 Click to enlarge
Source: Company data
AIG is ahead of its plan in cost savings
In a more challenging growth environment, AIG is focused on expense management to enhance margins. The company now expects to exceed its initial target for $1.4bn of expense savings in the next two years. Importantly, 57% of net savings target have been already achieved and earned.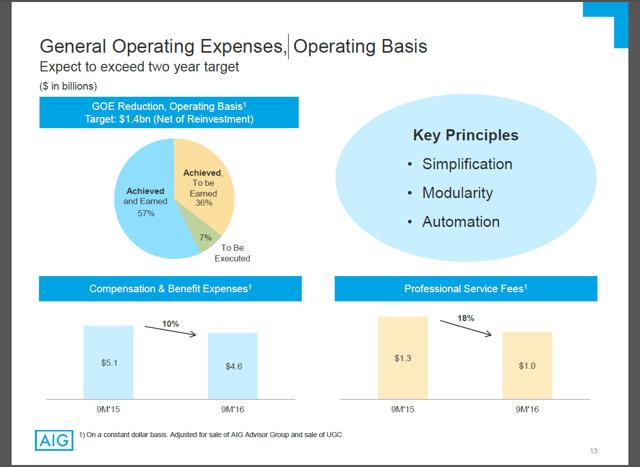 Click to enlarge
Source: Company data
We expect AIG to exceed its capital return target
According to the company's guidance, AIG is aiming to return more than $25bn of capital to shareholders through dividends and buybacks by YE17 (more than $11bn achieved so far). The chart below shows that AIG estimates $12-17bn of funding sources, or $2-7bn above the $10bn needed to achieve its $25bn capital return target. Sources of capital include operating subsidiary dividends and tax-sharing payments (capital benefit of $5-7bn), divestitures and run-off of legacy blocks ($4-5bn), capital freed from life reinsurance ($3-4bn), and asset allocation shifts (up to $1bn). We still see potential upside to AIG's capital deployment plans from legacy businesses monetization. According to our estimates, a much larger number (up to $15bn) than a $4-5bn capital reduction is possible, given the fact that more than $17bn (ex.DTA) of capital allocated to the legacy portfolio.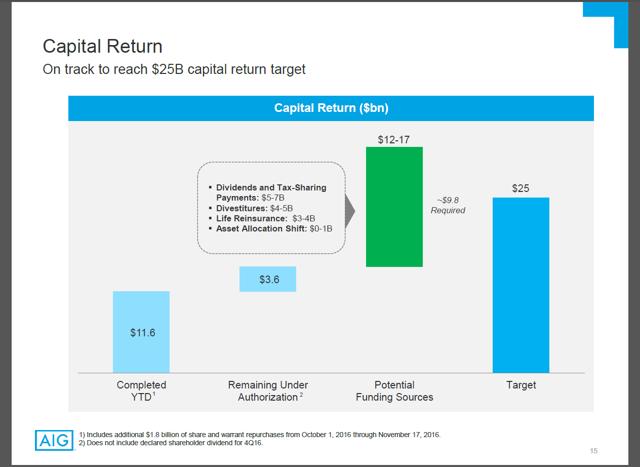 Click to enlarge
Source: Company data
Lower taxes and the SIFI saga
On a separate note, the company provided initial expectations regarding a potential lower corporate tax rate. As a reminder, on the campaign trail, President-elect Donald Trump proposed reducing the rate from 35% to 15%. AIG believes a reduction in the corporate tax rate to 25% would increase the company's RoE by ~90bps and a reduction to 20% would increase the RoE by ~150bps.
We also believe that AIG, MetLife (NYSE:MET) and Prudential Financial (NYSE:PRU) will likely lose their SIFI designation, given Mr.Trump's comments on regulatory environment. Should the companies avoid being designated as a non-bank SIFI, we think it would mean a more aggressive stance on share buybacks, which we would expect to drive their RoEs and valuation much higher.
Valuation
AIG is still trading at a discount to its peer group. Should AIG reach its target of a 9% return on equity, the discount to the sector's regression line would increase to 30%.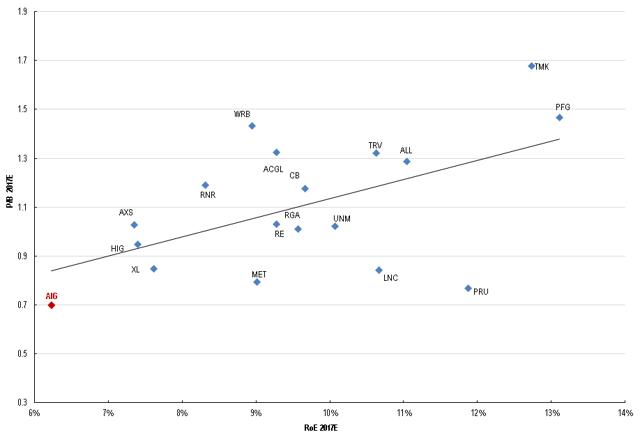 Click to enlarge
Source: Bloomberg, Renaissance Research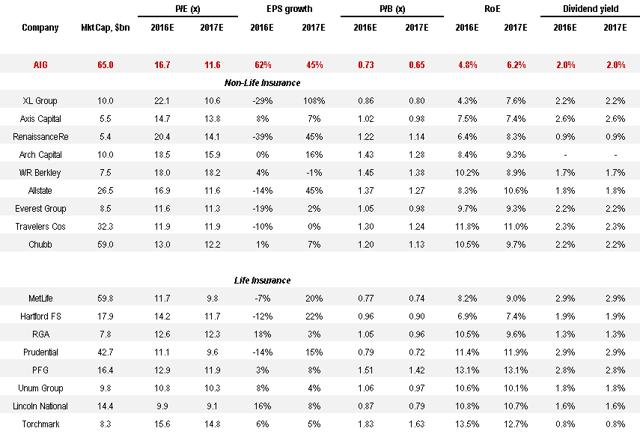 Click to enlarge
Source: Bloomberg, Renaissance Research
Bottom line
Life insurance stocks rallied after the U.S. elections amid rising bond yields, a steepening curve and hopes of a more favorable regulatory environment. Having said that, we still view AIG as an attractive turnaround/capital return story. The company is well on track to meet or even exceed its financial targets and we expect its valuation to expand further.
As a buy-side analyst and a deputy portfolio manager, I oversee a financials-focused fund, and will be continuously providing research coverage on developments with AIG and other insurers, banks, asset managers and financial companies. If you are interested in the topic, consider following us by clicking the "Follow" button beside our name at the top of the page. Thank you for reading.
Disclosure: I am/we are long AIG, PRU, MET.
I wrote this article myself, and it expresses my own opinions. I am not receiving compensation for it (other than from Seeking Alpha). I have no business relationship with any company whose stock is mentioned in this article.