Note: Throughout the article, Liberty Caribbean, or Liberty Latin America will be referred to as LILAK, despite any confusion this may result in as a consequence of the multiple share listings.
LILAK is a tracking share structure, tracking a collection of Central and South American assets operating within Liberty Global (LBTYA). The underlying businesses provide cable and wireless services throughout Chile, the Caribbean, and Puerto Rico (sort of).
M&A, misalignment of interests, poor operating results, and Acts of God have punished shareholders over the last year and a half. Now, shares of LILAK trade lower than public opinion on Trumps handling of Puerto Rico. However, ownership changes, a split out from LBTYA, and current price have de-risked the investment and shares are materially underpriced despite the negative impact of Hurricane Maria.
Capitalization: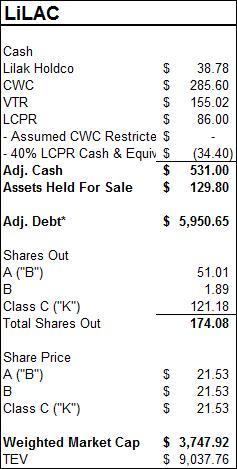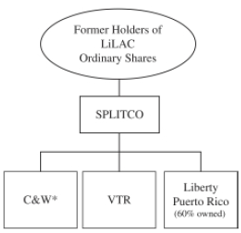 * The operations of C&W are provided through various consolidated subsidiaries, including the following subsidiaries where we own less than 100%: Cable & Wireless Panama, SA (C&W Panama) (a 49.0%-owned entity that owns most of our operations in Panama); the Bahamas Telecommunications Company Limited (BTC) (a 49.0%-owned entity that owns all of our operations in the Bahamas); and Cable & Wireless Jamaica Limited (C&W Jamaica) (an 82.0%-owned entity that owns the majority of our operations in Jamaica). Prior to September 1, 2017, C&W indirectly owned 81.1% of Cable & Wireless Barbados Limited (C&W Barbados) (which conducts part of our operations in Barbados). Effective as of September 1, 2017, a subsidiary of C&W completed the acquisition of the remaining 18.9% of C&W Barbados not already indirectly owned by C&W, such that C&W Barbados is now 100% indirectly owned by C&W.
LILAKs Share Performance: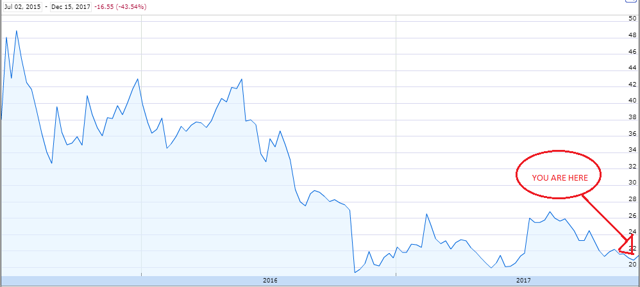 So How Did We Get HERE?
John Malone, Cable Cowboy, CEO of TCI and longtime Chairman of the Liberty Complex held a large ownership stake in Columbus Communications, a regional media business operating in the Caribbean. Columbus was approached by fellow Caribbean telecom operator Cable & Wireless (CWC) for a takeout which ultimately resulted in a $1.85Bn acquisition consideration including the distribution of $1.1Bn worth of CWC shares. Overnight, Malone became one of the largest owners of CWC shares, holding 13% of the outstanding equity[i].
Perhaps unsurprisingly (despite Mr. Malones recusal from voting and deliberations), within a year, LILAK made an audacious bid for CWC, paying $7.4Bn for the enterprise in a convoluted dual share offer utilizing both shares of LILA and LBTYA. The aggregate consideration implied a value of 81.04 pence per CWC Share, representing a premium of approximately 40% to the closing price of 58.00 pence per CWC share on the unaffected date. Needless to say, Malone was, assuredly, pleased.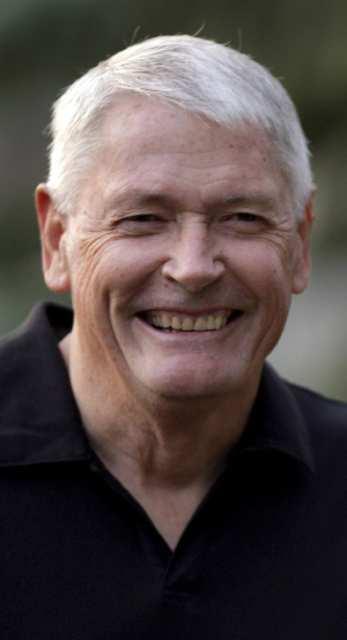 [A rather chuffed John Malone, courtesy of the LA Times: http://latimesblogs.latimes.com/.a/6a00d8341c630a53ef013488390bda970c-100wi]
For LILAK shareholders, once burned twice shy, many must have looked to better align themselves with Malone. The dual share offer structure of acquisition appeared to indicate that Malone had opted to take LILAK shares for consideration in preference to LBTY consideration, CHLLC (an entity controlled by Mr. Malone), which holds approximately 13% of the CWC Shares, has irrevocably undertaken to elect to receive the First Dual Share Alternative.

It is my belief that investors either moved into, or sustained their LILAK position to align themselves with Malone. However, per the fine print,
If valid elections for the Second Dual Share Alternative are made from CWC shareholders holding more than 22% of the CWC Shares, the entitlement to receive Liberty Global A&C Shares and LiLAC A&C Shares under the Second Dual Share Alternative will be scaled down as nearly as reasonably practicable pro rata to the holdings of CWC Shares of the CWC shareholders who make such elections and any such amounts so scaled down will be replaced by pro rata entitlements to Liberty Global A&C Shares under the Recommended Offer (excluding the LiLAC Alternative).
Malone did not end up with anything near 8.6% of the LILA shares, nor 9.9% of the LILAK shares. In plain English, everyone got on the bandwagon just as Malone got pro-rated off. More shareholder barfing ensues.
Things went from bad to worse. LILAKs second quarter 2016 report was disappointing. Prior to consummation of the deal, CWC had reported adj. operating cash (OCF) in the region of $950mm on a run rate basis. In its first reporting period, it became evident that the true run-rate was significantly lower, perhaps by $60mm after adjusting for one-off items. LILAKs 3Q report lowered CWC guidance just after management had purportedly established it. And there was a hurricane (this will become a theme). Investors fled in droves. Libertys management, perhaps already dealing with investor disappointment in its LBTYA/Ziggo guidance, had lost full faith and the shares nosedived.
As shares fell into the teens, the Company initiated a $300mm share repurchase program and insiders reported open market purchases. The Company repurchased 721K shares of the class A and 314K of the class C shares at prices circa $21. Shares rose further after it was announced that Malone had made significant open market purchases. Hurricane Maria then lay waste to Puerto Rico and several Caribbean markets, LILAK became a news item, and shares have surrendered any and all gains from improved operations across VTR and CWC and positive changes in ownership structure.
With that rosy backdrop, below are some thoughts on why now is a great time to buy.
Split-Off
The venerable Jason Zweig recently penned a column entitled Index Funds Rule the World, But Should They Rule You? [Spoiler alert: Probably not, and if you think they should you probably wouldnt be reading this] in which he describes an almost clich茅d potential dystopian future in which automated market could drive stocks to perilous heights. As an equity owner, that sounds like a dystopian future Id like to be part of.
Currently there are disparate rule-sets surrounding the inclusion of tracking stock into various indices. For instance, they are presently excluded from the S&P 1500 (500, 400, 600) indices. LILAK, in present form, does not represent residual ownership of those assets. However, pursuant to recent events, the tracking shares are being fully split out and will represent a genuine ownership stake in the underlying assets.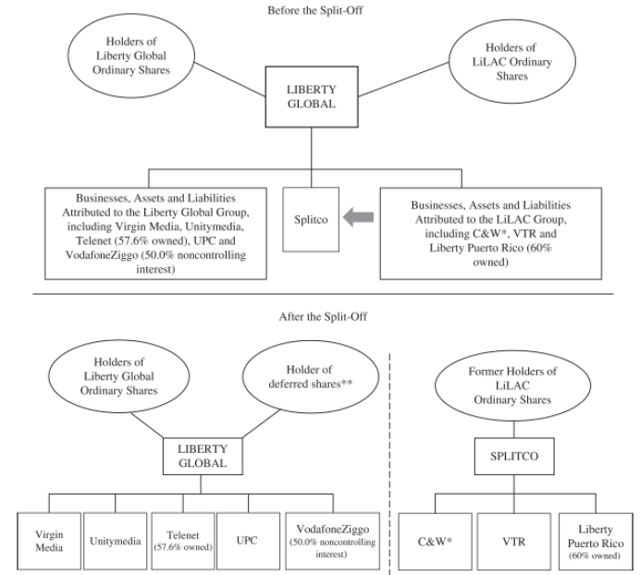 [Liberty Latin America Ltd S-1]
Tracking shares held as of record date 12/26/17 will receive equity shares in SplitCo LILAK on 12/29/17, the distribution date. This should eliminate any tracking discount baked into the current share price. Further, given market cap, LILAK seems as though it could be a potential candidate for the S&P 400, though S&P dont seem to like Liberty all that much. Humbug.
Puerto Rico
LILAK is 60% owner of Liberty Puerto Rico alongside minority partner Searchlight Capital Partners (Searchlight). Prior to Hurricane Maria, LPR was a relatively successful duopoly wireline pay-television and broadband service. Following hurricane Maria, it became apparent that the islands operations were bigly impaired.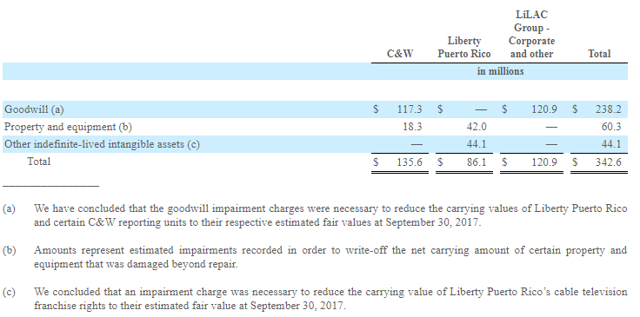 As the 3Q Investor Presentation dryly remarks, Fourth Quarter of 2017 is going to be very challenging for Liberty Puerto Rico. Given that even now, more than 2 months after the storm, only two thirds[ii] of the islands peak load power has been restored, that may be an understatement of sorts. The hurricane reportedly did in excess of $100mm in damage to the Liberty network PP&E. Insurance will ultimately cover $75mm per occurrence (ostensibly only one in PR) with a $15mm deductible. Given the operational interruption of the storm LPR will trip its bank loan covenants in the next testing period. The Liberty Puerto Rico loan indentures mandate a 4.50x Consolidated First Lien Net Leverage Ratio based on a L2QA basis. With nearly $1Bn in gross 1st Lien debt following the full draw on the Revolver, and only 66% of PR receiving electricity, the math just doesnt work.
Sure, thats bad news, but, Mr. Market has since erased more in LILAK market value than the entire Puerto Rican enterprise was ever worth to Liberty. In the trailing twelve months ended 6/30/17, the last unaffected period, LPR generated nearly $220mm in OCF vs. Capex of $90mm. Due to the economic situation of PR even prior to Maria, it was a low growth operation. L2QA revenues as of 6/30 had grown 2% from the prior year period despite marked increases in B2B sales. At 8x OCF, netted against the outstanding LPR bank debt facility, a 60% interest in the business would be worth less than $3/share to LILAK.
What LILAK maintains, however, is an option on LPR. Because the LPR term loan was siloed to that particular operation, bankers have no recourse on any of the other LILAK operations, assets, or markets. The last thing in the world the lender group (with multiple par lenders among them) would want is to take control of LPR and have to front $100mm in PP&E spend to recover their initial loan principal.
There are provisions to cure the default, but these would be prohibitively expensive in 4Q, especially given guidance that LPR doesnt expect insurance proceeds until next year. I expect that LILAK, Searchlight, and the bank lenders come to an amicable agreement that would allow LILAK to selectively inject equity into the business so long as it is value accretive to shareholders. Both the Management and Board have a fiduciary duty to shareholders, so it behooves them to look out for us LILAK-owning little guys.
LILAK should be able to utilize excess capital from VTR and CWC to finance repairs in future periods beyond the full LPR Revolver draw post 3Q quarter close. It seems unlikely that there will be many other opportunities to allocate just over a proportional $60mm in pre-insurance proceeds ($0.35/share) to ultimately reestablish a business worth, perhaps, $2.50-$3.00/share. In this sense, LPR should be treated like a free option at todays share price.
Malone-rship:
Per the S-1, Malone now owns 6% of the business. Admittedly, a small percentage of his overall net worth, but not so small as to escape his notice. He was recently in the market purchasing shares up to nearly $25/share. Bloomberg recently published an article illustrating the varying ownership and voting stakes Malone possesses: Breaking Down John Malone's Investments, Company by Company. The numbers dont seem to add up quite right, but directionally the graph seems correct, and the important consideration is that Malone now owns more of LILAK proportionally than LBTYA (~3.7%). And, even more importantly, he doesnt seem to own any other LATAM cable assets. Remember that if Hurricane Maria turns out to have bageled Puerto Rico, it will have wiped out, perhaps, $1Bn in proportional enterprise value but the enterprise value decline in LILAK as a consequence of the fallout surrounding the CWC deal was perhaps 3x that large. Hurricane John > Hurricane Maria, and now hes on your side.
Competition:
VTR operates in a relatively mature market, closely resembling a developed market ecosystem. Despite rigorous competition and relatively small sub population, the business is growing at a rapid clip and still generating highly attractive returns on invested capital. There appears to be continued runway for profitable growth through additional network build and mobile sub adds. As a business that resembles developed operators in both market structure and profitability, I believe the business merits a similar valuation.
LPR well, see coverage above.
The real question mark for LILAK seems to surround CWC. As mentioned in the opening, CWC was purchased for $7.4Bn valuation. Assuming PR is worth $0, and VTR is worth 9x OIBDAE, today the implied EV of CWC is ~$4.7Bn. That appears to be a market overreaction.
CWC operates as a duopolist in most markets with competitor Digicel. Despite what has largely been a consolidated market, competition has been intense. Neither company comes close to earning their cost of capital. I believe the framework for assessing the Caribbean can best be described in Edward Chancellors introduction of Capital Returns,
The Capital Cycle turns down as excess capacity becomes apparent and past demand forecasts are shown to have been overly optimistic. As profits collapse, management teams are changed, capital expenditure is slashed, and the industry starts to consolidated. The reduction in investment and contraction in industry paves the way for a recovery of profits. For an investor who understands the capital cycle this is the moment when a beaten down stock becomes potentially interesting. (pg. 4)
Digicel is owned and operated by Irish billionaire Dennis OBrien. Everyones goal in life should be to find someone as patient and loving to them as OBriens bank lenders are to Digicel. OBrien distributed over $1Bn in dividends from Digicel over a three year period culminating with a failed IPO launch in 2015 [For an interesting look, please see this brilliant post covering the offer: $DCEL: Denis's Cash Extraction Lifeline] as demand softened, investment spend ramped, and the business sought equity capital. Despite frightening cash interest coverage ratios, high leverage levels, and, astonishingly, de minimis (absent?) FX hedges, the banking group extended a new facility to Digicel earlier this year. Following a difficult quarter, impacted by the hurricanes, Digicel is levered 6.5x (gross) with near-term cash requirements for capex to repair hurricane damage.
With the balance sheet stretched to the limit, Digicel is moving from a period of rapid infrastructure build-out to one of retrenchment. They recently laid off 25% of their workforce, and hired new management. New CEO Alexander Graf Matuschka von Greiffenclau ("AMG") will replace Colm Davies. AMG seems to be renowned for his turnaround/restructuring work at Veon (cum Vimpelcom). While at Veon, AMG simplified the corporate structure, reduced costs, sold/merged assets and saw stated leverage decrease by nearly half. Prior to his role at Veon, AMG held a similar position at Nokia. Now, at Digicel, capex net of insurance proceeds is expected to decrease from nearly $600mm for FY16 to $460mm for FYE18.
So to recap: Profits drop. Check. Management team change. Check. Capex spend slashed. Check. Industry consolidation. Check.
There have been other entrants into the mobile side of the business in both Bahamas (Aliv) and Barbados (Ozone). Deep Blue has promised to enter the subsea cable market. It is too early to say how persistent the competition will remain, especially given that they have been aggressively seeking share via highly promotional onboarding campaigns.
Management Alignment
Balan Nair was recently appointed CEO of LILAK. Having been with LILAK since 2007, and having served as CTO and EVP, I see no reason that management strategy or outlook should change materially.
Per the S-1,
Mr. Nairs base salary will be $1.25 million per year, subject to annual increase at the discretion of Splitcos Compensation Committee. Mr. Nair will receive a cash bonus of $1.5 million on the first payroll date of Liberty LA after the Employment Agreement Effective Date. The Employment Agreement provides for an award of SARs based on 200,000 Class A common shares and 400,000 Class C common shares (the SAR Award) to be granted no later than 15 days after the Employment Agreement Effective Date. The SAR Award will vest in three equal annual installments beginning on March 15, 2019.
600K shares represents many multitudes of base pay. Further, he will be compensated in Annual Equity Awards. I assume that would cause him to think twice before making value-destructive acquisitions.
Valuation Framework
Please note that numbers wont match reported results exactly due to rounding, date used for exchange rate, use of proportionate numbers etc.
LILAK is a combination of CWC, VTR and LPR. Management guidance has pegged OIBDA growth at 7-9% on a consolidated basis. That 7-9% includes $75mm expected Opex synergies, and would be largely skewed towards CWCs operations given relative size and that PR was a low single digit grower. Taking management at face value, Proportionate OIBDA would increase at an even higher clip due to both the proportionate ownership of CWC vs. PR (~80% vs. 60%, respectively, at time of guidance issuance) and the buy-in of the Barbados minority stake post the close of the second quarter.
Imagining future performance for LILAK, it seems probable that they are able to implement meaningful improvements to the margin profile. CWC should reap the benefits from heavy capital investment into the Jamaican market, where despite strong competition from Digicel, theyve already demonstrated pricing power. Investments in programming, such as exclusive rights to the British Premier League, and the introduction of new products, such as wifi connected boxes, should drive medium to long term sub growth at reduced customer acquisition cost, albeit to the detriment of current margins. There are potential improvements in the Panamanian market (Proyecto de Ley 479), CWCs largest market, which might result in consolidation of the telecom space, especially with Digicels retrenchment ongoing. The management team has a number of capital allocation options to generate shareholder value organic growth, buying out minority investors, repurchasing shares, reinvesting in LPR, etc. Further, success builds upon itself; successfully packaging quad play should reduce churn and spread network costs across a larger user base. Better break-evens lead to lower hurdles on network expansions. Larger orders allow for better procurement. All of those benefits are then magnified by the financial leverage.
Assuming that CWC returns to its expected 1Q16 run-rate OIBDA (synergy inclusive), that Chile maintains current growth trajectory, and that LPR is negatively impacted by population flight and resultant dis-synergy, it seems entirely within reason to expect proportional OIBDA to improve to in-excess of $1.3Bn in 2 years time. In such an event, I believe shares would be worth $40. Discounted to present at 13.5%, Fair Value for LILAK is 40% higher than trading price.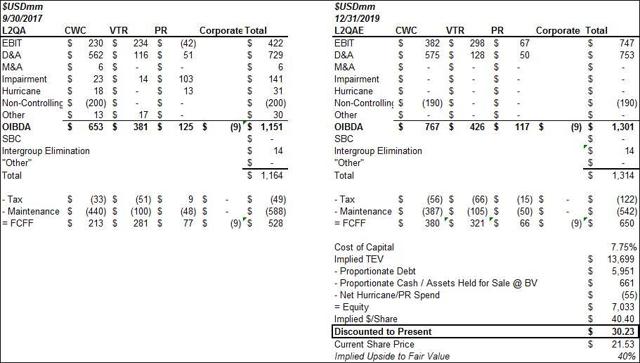 Summation:
Buffeted by competition and natural disasters, negative sentiment on LILAK has blown out required equity returns to the point where the Enterprise is being valued like a Brazilian Mobile business, and not a geographically diversified, subscription-based, primarily broadband and cable business. Lazy investors, not caring to read through the 5 or 6 quarterly disclosures around the business havent bothered sharpening their pencils on the name to work out the proportionate economics. Many not-so-lazy investors have been put off by the tracking structure and the Malone optics.
The Company all but rang a bell and declared the equity too cheap when shares were near this level last year. Malone purchased shares through $25 and now owns a significant stake in the equity. The largest risk (in my eyes) to the business was the value destruction from poor deal-making, following the CWC buy. With the CEO aligned, and Malone an outsize owner, that risk is diminished.
The business has been growing its RGU base despite falling landline numbers. The introduction of wifi connected boxes, contracts with Netflix (NASDAQ:NFLX) and OTT providers, and exclusive programming should continue the trend. Both the purchase of the Barbados minority and the share repurchases seem to have been consummated at a highly accretive values to the enterprise.
The business is better capitalized than its chief competitors, has a stickier revenue base, and has purchased protection against FX risk. In the event of macroeconomic challenges, I believe it worth remembering the outstanding quote attributed to Jim Butcher, You dont have to run faster than the bear to get away. You just have to run faster than the guy next to you.
To bring it all together, LILAK represents a top tier operating team with a manageable balance sheet, long runway for growth, enfeebled competitor, shareholder-aligned management and board, and multiple levers to deploy capital at attractive returns for owners. It is currently priced at basement levels. There is inherent risk in the balance sheet, the markets, the competition, and even the weather, but it strikes me that you are being adequately compensated for the risk. Remember reader, Good things happen to cheap stocks.
[i] [CWC finalises Columbus International acquisition]
[ii][https://energy.gov/sites/prod/files/2017/12/f46/Hurricanes%20Maria%20and%20Irma%20Event%20Summary%20December%206%2C%202017.pdf ]
Disclosure: I am/we are long LILAK.
I wrote this article myself, and it expresses my own opinions. I am not receiving compensation for it (other than from Seeking Alpha). I have no business relationship with any company whose stock is mentioned in this article.
Editor's Note: This article discusses one or more securities that do not trade on a major U.S. exchange. Please be aware of the risks associated with these stocks.
About this article:ExpandAuthor payment: $35 + $0.01/page view. Authors of PRO articles receive a minimum guaranteed payment of $150-500.Tagged: Investing Ideas, Long Ideas, Services, CATV Systems, Editors' Picks, PROWant to share your opinion on this article? Add a comment.Disagree with this article? Submit your own.To report a factual error in this article, click here