Greetings from Breckenridge, Colorado!
Today as I write this, I'm wrapping up a three-day ski / snowboard trip with my son David. This was an 18th birthday present for him and it was awesome to get to spend some low-key time with just him.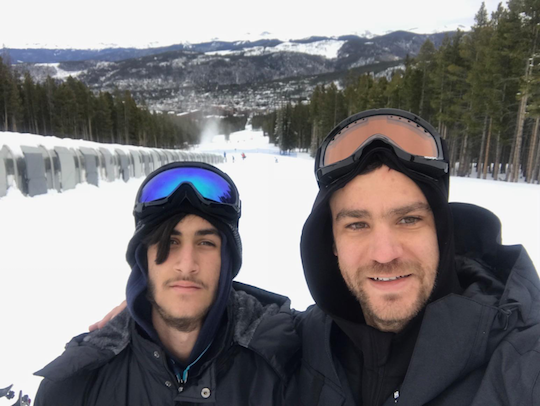 Having the opportunity to enjoy experiences like this is a real privilege. And this is really why I'm so passionate about markets and investments.
It's not just about the money (although it is always fun to see your investments grow), it's about the freedom and experiences that those wise investments help create.
Today, I want us to take a look at a few of those companies that provide experiences like the one David and I just had.
Incidentally, these companies represent some great income candidates for your retirement account
A Great Season For Resorts
Companies that offer special experiences for consumers are in a great spot right now.
With the job market continuing to grow steadily and unemployment at historically low levels, more people have extra spending money for special trips.
It also helps that the stock market has been steadily making new highs.
This creates a "wealth effect" in which investors have more money available to spend, and more importantly, the confidence that if they spend some of their gains, they'll be able to make the money back in the market.
So big ticket purchases (like ski trips, cruises, or theme parks) are now much easier to justify.
Good Dividends, Great Gains
I've got three specific "experience companies" on my radar right now, all of which continue to benefit from the strong consumer trends.
Vail Resorts (MTN) operates a network of different ski resorts that have become big attractions across the U.S. These resorts include Breckenridge — where David and I were at this week.
While winter is the strongest season for MTN, the company has been able to make good use of its properties year round by catering to outdoor enthusiasts.
The company pays a 1.9% dividend, which is a decent yield, but the real value is in the stock price which continues to climb as earnings accumulate.
Cedar Fair (FUN), and Six Flags (SIX) are two theme park companies that pay much higher dividends. FUN pays a 5.1% yield and SIX will currently give you a 4.1% yield.
I like all three of these companies as long-term investments. But if you pay close attention to special buying opportunities, you can improve your overall returns by picking up shares at a discount…
Limited Time Stock Sales
Every so often, you get a special opportunity to buy some of these stocks "on sale".
This year, the Rocky Mountains have had a slow start to the ski season. With very little natural snowfall in November and December, a few of the properties have had to offer discounts or concessions to their customers.
David and I actually had to push our trip back by a few weeks because of the lack of snow.
I wouldn't be surprised to see MTN report disappointing earnings for the 4th quarter this year, which could send shares temporarily lower.
The thing to remember is that this company has a great long-term business and some excellent assets in terms of the iconic mountains they operate.
So while this quarter may be disappointing, it's really just a small blip on the radar. The important trends (strong consumer spending and great resort locations) will keep this stock trading higher over the long-run.
Investors that don't get sidetracked by minor disappointments along the way will be able to accumulate wealth much more effectively than those who jump ship after just one quarter's earnings miss.
So if you see any of these stocks go on sale in the next few months, I would suggest buying cheap and locking in those long-term cash payments!
I hope you're enjoying this special holiday season.
I'm looking forward to getting home and being with the rest of the family. We'll be spending a lot of time with extended family over the next couple of weeks and making some great memories.
Happy holidays from my family to yours!
Zach Scheidt
Editor, The Daily Edge
Twitter FacebookEmail