The legalization of recreational marijuana sales in California could create a $5 billion annual windfall for the state, and three new California marijuana laws are being implemented to prepare CA for the boon.
On Nov. 17, 2017, the Bureau of Cannabis Control released 276 pages of regulations California marijuana businesses must abide by on Jan. 1, 2018. That's when recreational sales are officially legal.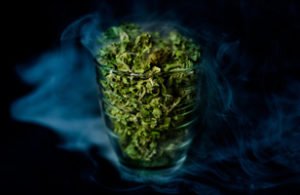 moneymorning.com/wp-content/blogs.dir/1/files/2017/11/weed-in-a-glass-75×49.jpg 75w, moneymorning.com/wp-content/blogs.dir/1/files/2017/11/weed-in-a-glass.jpg 308w" sizes="(max-width: 300px) 100vw, 300px" title="California marijuana laws" />
Three of the most important California cannabis laws provide clear guidelines on how businesses should operate. By knowing all the laws, more companies can meet the compliancy needed to obtain cannabis licenses.
More licenses means more marijuana can be sold.
The laws also help protect the safety of children, communities, and cannabis customers, which will lead to less opposition for businesses trying to set up a new location.
They include:
Cannabis businesses can't be located within 600 feet of schools. Shops have to close by 10:00 p.m. Cannabis businesses need 24-hour video surveillance.
And even if those laws seem like no-brainers, it's still important that the Bureau of Cannabis Control published them now.
The biggest takeaway for investors is that California is still on track to legalize cannabis on Jan. 1, 2018.
And we have all the details on how investors can stake their claim in the future $5 billion California cannabis market…
California Marijuana Laws Set the Stage for a $5 Billion Windfall
California state agencies had a difficult task unifying medical and recreational marijuana legalization.
In 2015, Gov. Jerry Brown (D-CA), signed three bills that mandated California have comprehensive regulations on medical marijuana by 2018, according to The Cannabist.
Three different departments then started work on creating those regulations.
The Department of Food and Agriculture worked on rules for cultivators. The Department of Public Health worked on rules for manufacturers, and the Department of Consumer Affairs' Bureau of Cannabis Control worked on rules for retailers, distributors, and testers.
VideoHow Medical Marijuana Could End the U.S. Opioid Crisis
During the planning phase for medical cannabis regulations, Proposition 64 was passed on Nov. 8, 2016. That legalized recreational marijuana use in the state.
The goal of the agencies was to release medical marijuana regulations in the fall of 2017, and the regulations would shape recreational marijuana laws in California.
However, Senate Bill 94 called for merging recreational and medical marijuana laws into one unified system, and it passed in June 2017.
In September, the three agencies withdrew their draft for medical regulations and started on a new set of rules.
The rules, including the three we mentioned earlier, were released on Nov. 17.
Lori Ajax, the chief of California's Bureau of Cannabis Control, says there's still a lot of work to be done, according to The Cannabist.
However, clarifying the regulations for California marijuana shops, distributors, testers, cultivators, and manufacturers is putting the state on track to sell recreational marijuana.
And when that happens, it will become the epicenter of the U.S. marijuana industry…
Legal marijuana sales in North America are projected to reach $24.5 billion by 2025, according to New Frontier Data.
California could account for 20% of those sales or more, with the University of California's Agricultural Issues Center projecting the state's total marijuana sales will be $5 billion annually.
Special Report: Cannabis Is the Gold Rush of the 21st Century – 30 Stocks to Invest in Now. Details Here…
"At this point, it's impossible to know marijuana's full economic impact on California, but it's safe to say it will be in the billions of dollars. Other states will look at California's success in rolling this out as their model for legislation," Money Morning Director of Technology and Venture Capital Research Michael A. Robinson told me.
The vote across America for marijuana legalization is expected to create one of the biggest wealth grabs in history, transforming everyday Americans into millionaires overnight.
That's whyRobinson has created the "bible of weed investing" forMoney Morningreaders.
Your Next Profit Opportunity Is in the Marijuana Industry
Join the conversation. Click here to jump to comments…