Oil prices pushed past $70 for the first time in a month in late-day trading Thursday. The rally is breathing new life into the energy sector, which is up 2.5% at this writing. For the past quarter, energy stocks have been lagging the broader market, so shareholders are cheering the newfound strength. To celebrate the potential breakout, I'm highlighting the best three energy stocks to buy.
My process for finding today's targets was simple. First, I sorted a list of the most liquid oil-related stocks by percentage change and focused on the biggest gainers. Second, I reviewed the chart of each to settle on the cleanest patterns. Despite today's jump, many remain in downtrends and still need time to set up a trading opportunity properly.
7 Healthcare Stocks to Buy Before $3.5 Trillion Floods In
To round out the trio, I included a sector fund to provide a diversified way to play.
Energy Sector Select SPDR Fund (NYSEARCA:XLE) Conoco Phillips (NYSE:COP) Hess Corp (NYSE:HES)
After performing technical analysis on each chart, I'll build out a smart options trade to profit.
Energy Stocks to Buy: Energy Sector Select SPDR Fund (XLE)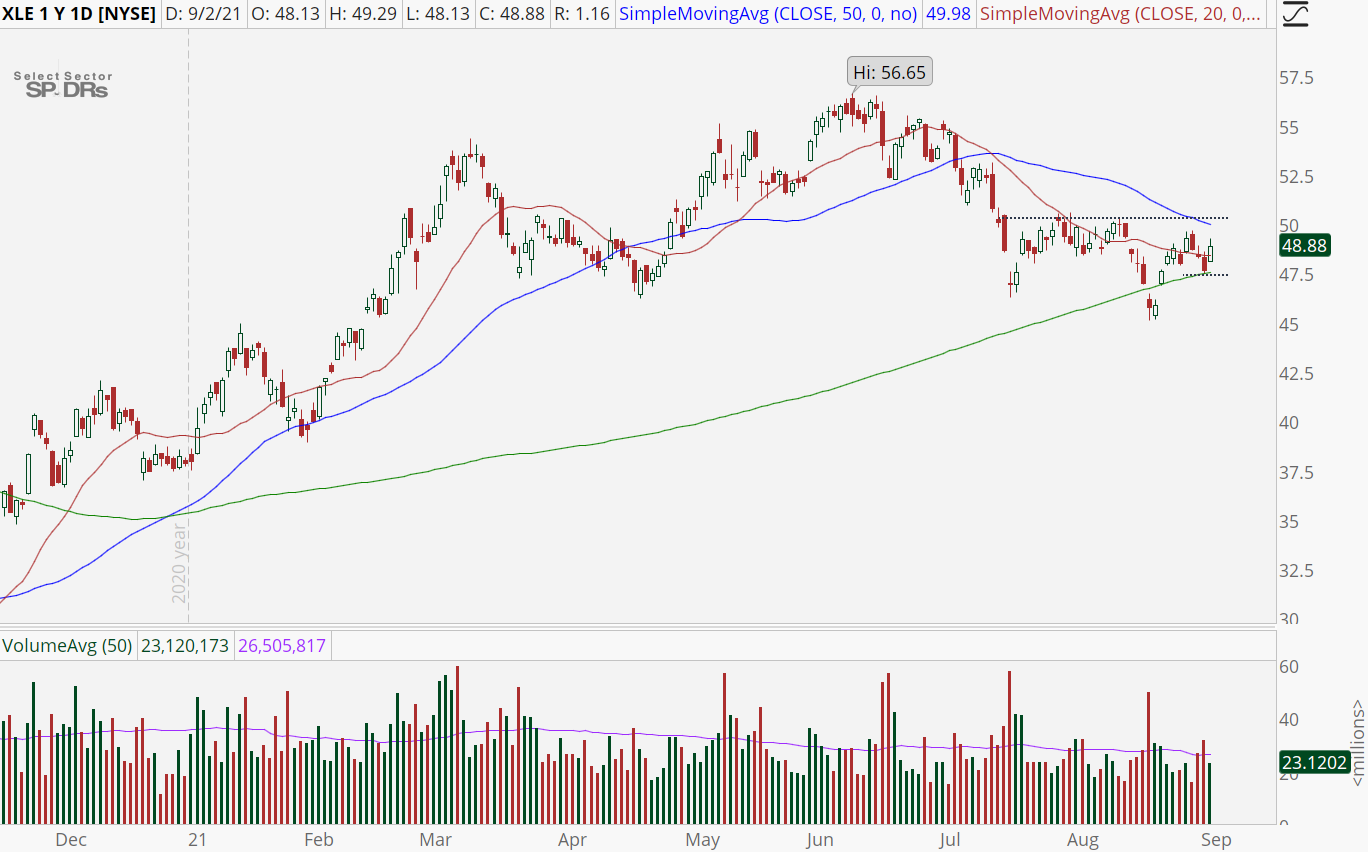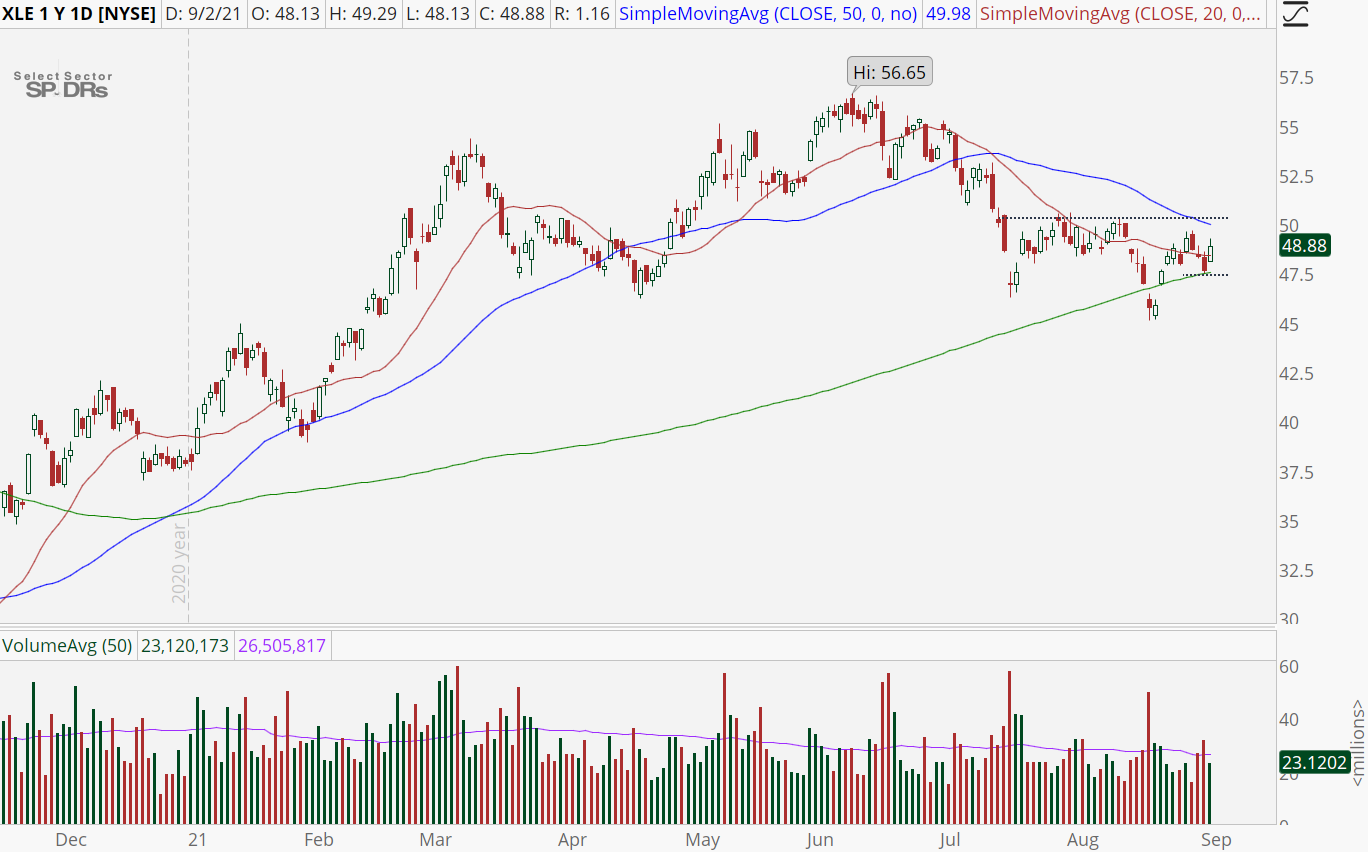 Source: The thinkorswim® platform from TD Ameritrade
While XLE may not be ready for a directional trade due to the multiple overhead resistance zones, it does appear stable enough to warrant a cash flow play. I'm thinking naked puts. Thursday's climb created a higher pivot low for the fund. As a bonus, we bounced right at the rising 200-day moving average. You'll recall that higher pivots denote increasing demand.
The 50-day moving average and old resistance zones loom overhead and need to be taken out before the trend fully turns higher. In the meantime, I think today's jump gives the green light to at least selling out-of-the-money puts.
The Trade: Sell the Oct $44 put for 60 cents.
Consider it a bet that XLE stays above $44 for the next 43 days. If it does, then you'll pocket the max gain of $60 per contract.
Conoco Phillips (COP)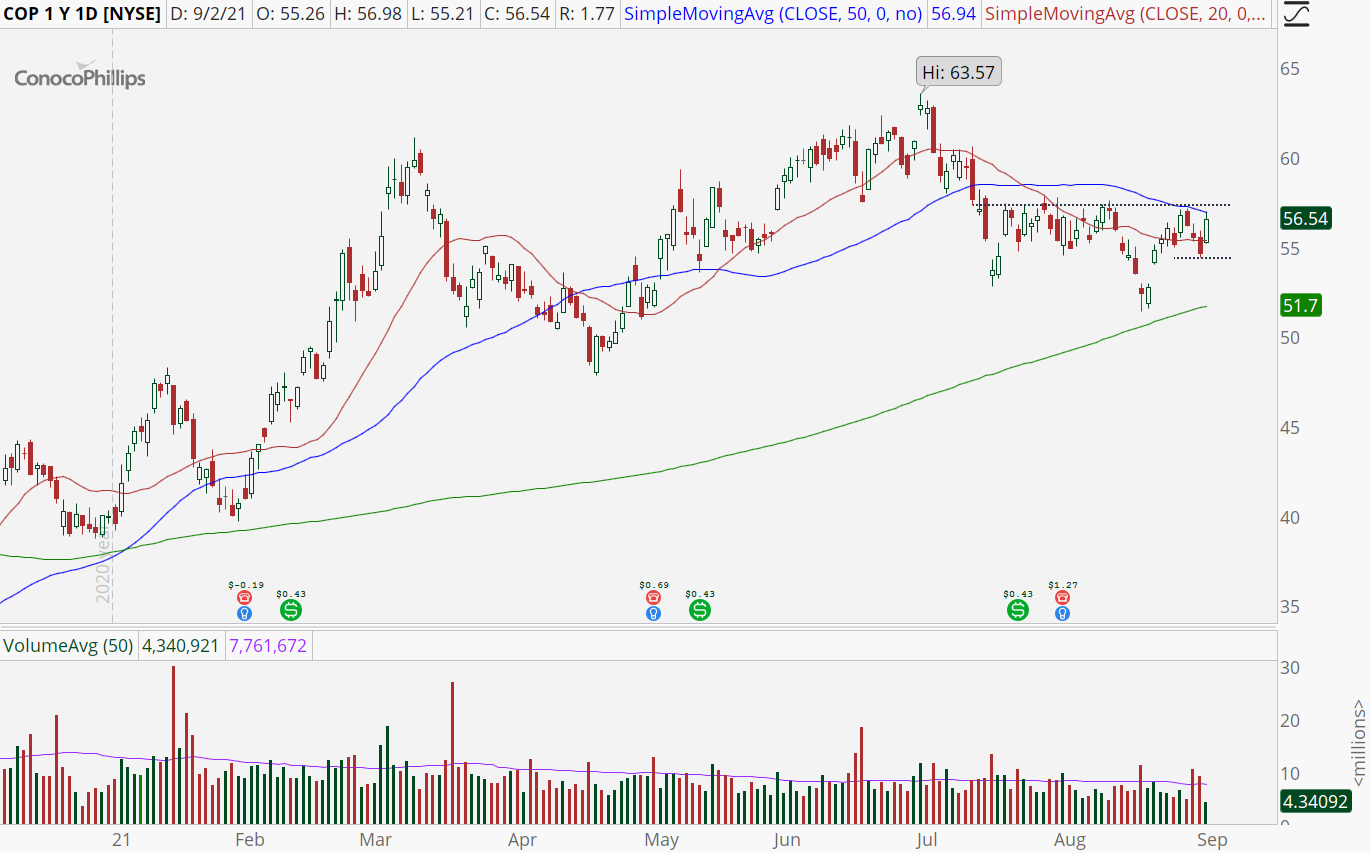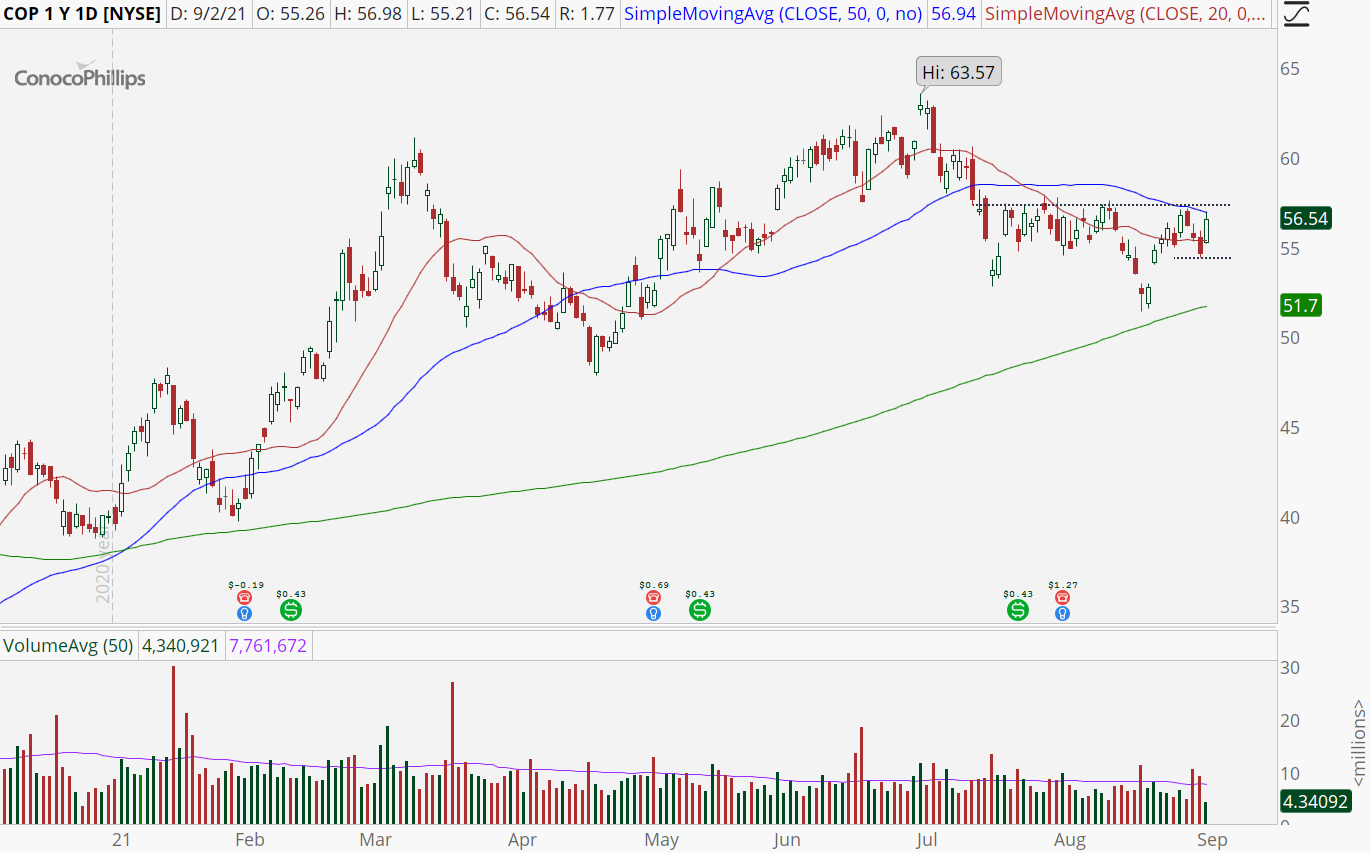 Source: The thinkorswim® platform from TD Ameritrade
Conoco Phillips has the best-looking chart of all the largest players. It is, therefore, my stock of choice if you want a lower volatility play. My analysis for COP stock mirrors XLE. The higher pivot low just formed gives bulls a slight edge, but major resistance at the 50-day moving average and the cluster of swing highs near $57.50 require keeping our optimism in check.
You could wait for a breakout, then go directional with a call spread. Or, sell naked puts or put spreads now as a wager that prices will at least hold steady for the next few weeks. To give a bit of variety to today's trade ideas, let's build out a call spread. Be sure to wait until COP stock rises beyond $57.50 before pulling the trigger.
The Trade: Buy the Nov $57.50/$62.50 bull call for around $1.70.
Hess Corp (HES)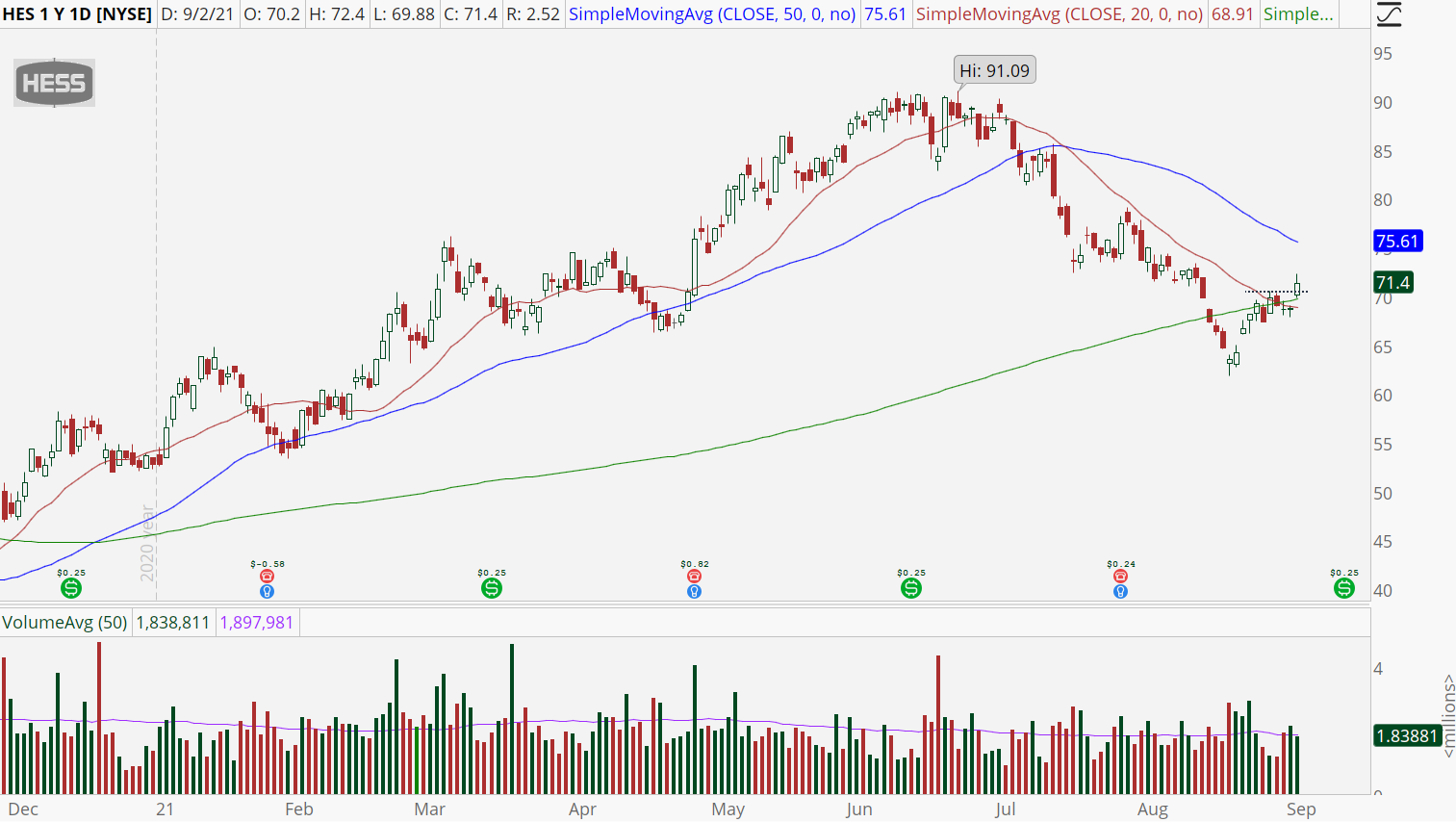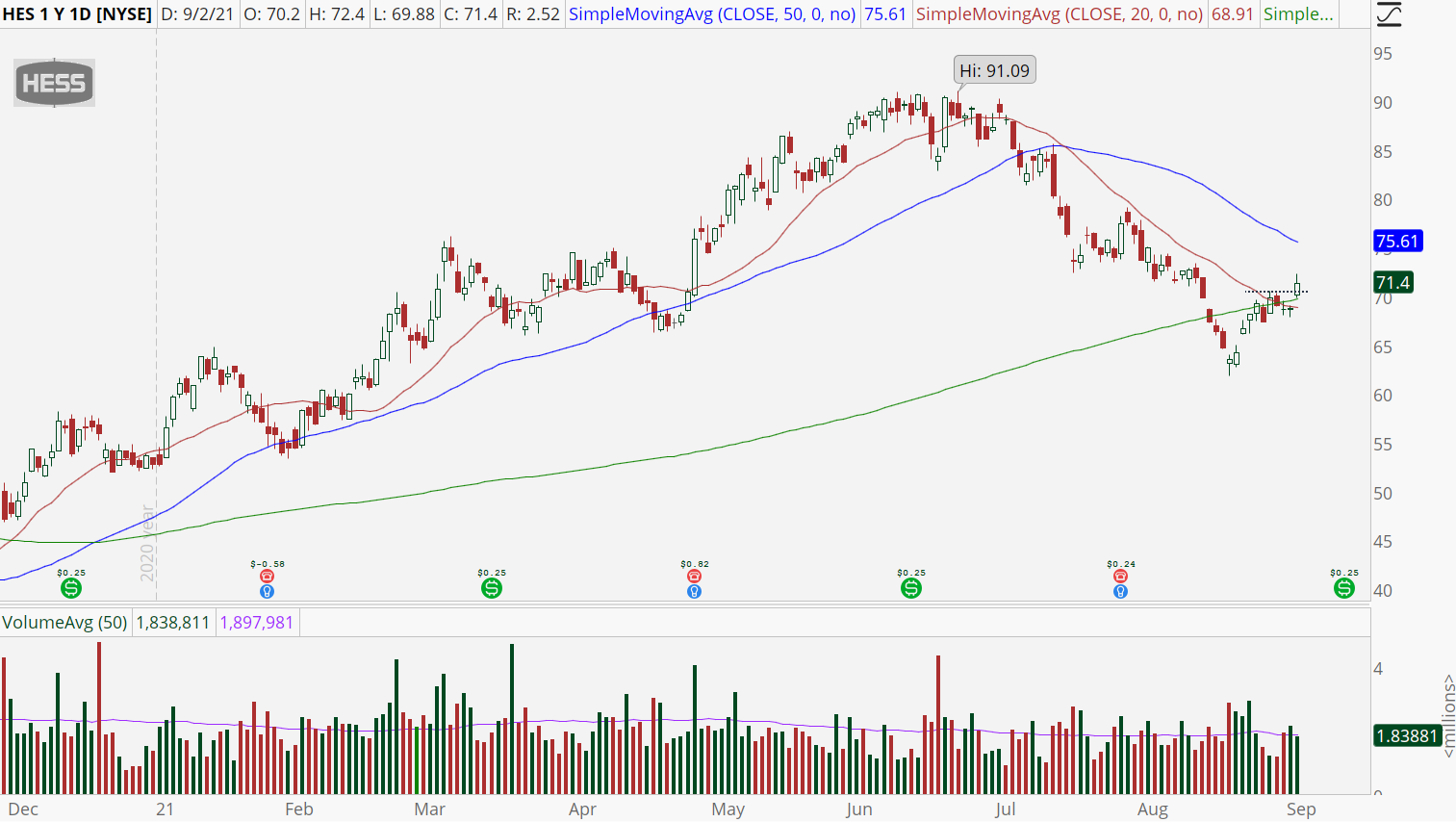 Source: The thinkorswim® platform from TD Ameritrade
The final of today's energy stocks provides the most volatile option. This can be both a boon and a curse, but I'm banking on it, working to our advantage if oil prices continue to rise. Thursday was a victory for HES stock in two ways. First, it pushed above its 20-day and 200-day moving averages. Second, it also breached the previous pivot high to signal a potential change in trend. Couple these with the trio of accumulation days that accompanied its mid-August upswing, and you could make the case that the bottom is in.
Let's go with a bull put spread to bank on the juicier premiums available in HES options. The following bet will payout as Hess shares sit above $62.50 at expiration.
The Trade: Sell the Oct $62.50/$57.50 bull put spread for 50 cents.
On the date of publication, Tyler Craig was LONG XLE. The opinions expressed in this article are those of the writer, subject to the InvestorPlace.com Publishing Guidelines.
For a free trial to the best trading community on the planet and Tyler's current home, click here!