According to a Goldman Sachs report, the global ride-hailing market is expected to grow from $36 billion in 2017 to $285 billion by 2030. The average number of ride-hailing trips a day globally are expected to grow from 15 million in 2017 to 97 million by 2030. The ride-hailing companies are expected to charge an average 23% commission on the gross sales, translating to net revenues of $65 billion by 2030 for the industry. While Uber (Private:UBER) continues to remain the market leader in the industry, its recent troubles have helped drive usage for competitors, such as Lyft (Private:LYFT), to higher levels. Lyft may even beat Uber to an IPO listing this year.
Lyft's Growth
Lyft, still largely focused in the US, has grown significantly during the past year. According to its Co-Founder and President John Zimmer, Lyft more than doubled the 162.6 million rides it provided in 2016. It is now available in all the 50 US states. Last year, Lyft also made its first international presence when it began operating its service in Toronto, Canada. Lyft has clearly benefited from all the turmoil at Uber. Here is an interesting infographic, courtesy recode, that shows how Lyft made big advances in San Francisco and New York, when compared with Uber.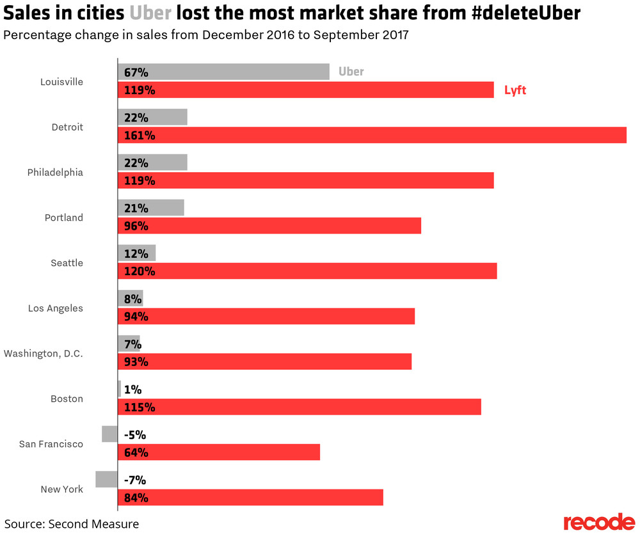 Besides market expansion for the ride-sharing service, Lyft also has been actively focused on the autonomous driving market. Last year, Lyft entered into several partnerships with automakers such as Ford (NYSE:F), Tata Motors' (NYSE:TTM) Jaguar Land Rover, and General Motors (NYSE:GM) to test self-driving vehicles in the network. It launched an open platform that is designed to give these automakers and tech companies the ability to work on self-driving cars that will be accessible to its ride-sharing network.
It officially launched the service last month in Boston when it sent autonomous vehicles, developed by the startup NuTonomy, to pick passengers in Boston's Seaport district. The riders are randomly paired with one of NuTonomy's self-driving cars when they use the Lyft app in the Seaport area. The car comes with a driver behind the wheel who is ready to take control, when needed. The partnership will help establish user confidence in the driverless car model along with helping improve the performance through feedback from pilot participants. Later this month, Lyft will also launch a similar service for the Consumer Electronics Show happening in Las Vegas. Attendees will be able to ride the autonomous cars on 20 pre-defined routes and destinations. The service will be provided in collaboration with Aptiv, which will work on the automated driving vehicles, while Lyft will take on the dispatch.
Lyft is not the only ride-sharing service to offer autonomous cars. Uber already has the service running in Pittsburgh and Phoenix. But Uber is being sued over its autonomous driving technology by Alphabet (NASDAQ:GOOG) (NASDAQ:GOOGL) and has also been involved in a few traffic incidents in these markets.
Lyft's Financials
Lyft's user growth has translated to higher revenues in 2017. While the company still does not disclose detailed financials, recent reports revealed that its gross revenues grew from $150 million in the first half of 2016 to $483 million for the first half of 2017. During the same period, losses have reduced from $283 million to $206 million. During the same period, Uber is estimated to have earned $3 billion in revenues with losses of $2 billion.
Lyft has been venture funded so far and has raised $4.2 billion from investors including Fidelity Management & Research Company, Ontario Teachers' Pension Plan, Capital G, Icahn Enterprises, Rakuten, Coatue Management, Andreessen Horowitz, Founders Fund, Mayfield Fund, FLOODGATE, K9 Ventures, and fbFund. Its last funding round was held in December 2017 , when it raised $500 million at a valuation of $11.5 billion from investors including Fidelity Management & Research Company and Ontario Teachers' Pension Plan. Valuation has grown steadily from $10 billion back in October 2017 and $7.5 billion in April 2017. It is still a far cry from Uber's valuation of $68 billion.
Many believe that Lyft is very close to going public as it is about to select its IPO advisors to help it list. It also added Kristina Omari as its first-ever vice president of corporate development and customer relations – a move expected to be part of the IPO initiative.
About this article:ExpandTagged: Investing Ideas, IPO Analysis, TechnologyWant to share your opinion on this article? Add a comment.Disagree with this article? Submit your own.To report a factual error in this article, click here